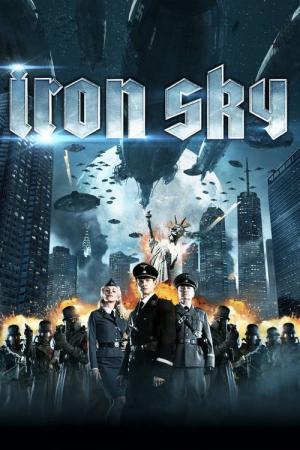 12 Best Movies Like Iron Sky ...
If you liked this movie , you will probably love these too! In this collection we highlight some of the best films that share a very similar mood to 'Iron Sky', and are worth checking out.
1.
Guardians of the Galaxy (2014)
2h 1m Action Science Fiction Adventure
Light years from Earth, 26 years after being abducted, Peter Quill finds himself the prime target of a manhunt after discovering an orb wanted by Ronan the Accuser.
2.
Star Trek IV: The Voyage Home (1986)
1h 59m Science Fiction Adventure
It's the 23rd century, and a mysterious alien power is threatening Earth by evaporating the oceans and destroying the atmosphere. In a frantic attempt to save mankind, Kirk and his crew must time travel back to 1986 San Francisco where they find a world of punk, pizza and exact-change buses that are as alien as anything they've ever encountered in the far reaches of the galaxy. A thrilling, action-packed Star Trek adventure!
3.
Starship Troopers 3: Marauder (2008)
1h 45m Adventure Science Fiction Action
The war against the Bugs continues! A Federation Starship crash-lands on the distant Alien planet OM-1, stranding beloved leader Sky Marshal Anoke and several others, including comely but tough pilot Lola Beck. It's up to Colonel/General Johnny Rico, reluctant hero of the original Bug Invasion on Planet P, to lead a team of Troopers on a daring rescue mission.
4.
Independence Day (1996)
2h 25m Action Adventure Science Fiction
On July 2, a giant alien mothership enters orbit around Earth and deploys several dozen saucer-shaped 'destroyer' spacecraft that quickly lay waste to major cities around the planet. On July 3, the United States conducts a coordinated counterattack that fails. On July 4, a plan is devised to gain access to the interior of the alien mothership in space, in order to plant a nuclear missile.
1h 36m Comedy Science Fiction
When the nefarious Dark Helmet hatches a plan to snatch Princess Vespa and steal her planet's air, space-bum-for-hire Lone Starr and his clueless sidekick fly to the rescue. Along the way, they meet Yogurt, who puts Lone Starr wise to the power of "The Schwartz." Can he master it in time to save the day?
6.
Transformers: Dark of the Moon (2011)
2h 34m Action Science Fiction Adventure
The Autobots continue to work for NEST, now no longer in secret. But after discovering a strange artifact during a mission in Chernobyl, it becomes apparent to Optimus Prime that the United States government has been less than forthright with them.
7.
Spacehunter: Adventures in the Forbidden Zone (1983)
1h 30m Adventure Science Fiction
Three women makes an emergency landing on a planet plagued with a fatal disease, but are captured by dictator Overdog. Adventurer Wolff goes there to rescue them and meets Niki, the only Earthling left from a medical expedition. Combining their talents, they try to rescue the women.
8.
Iron Sky: The Coming Race (2019)
9.
The Adventures of Pluto Nash (2002)
2h 7m Science Fiction Action Adventure
The fate of the galaxy rests in the hands of bitter rivals. One, James Kirk, is a delinquent, thrill-seeking Iowa farm boy. The other, Spock, a Vulcan, was raised in a logic-based society that rejects all emotion. As fiery instinct clashes with calm reason, their unlikely but powerful partnership is the only thing capable of leading their crew through unimaginable danger, boldly going where no one has gone before. The human adventure has begun again.
11.
Battlestar Galactica (1978)
1h Drama Science Fiction
When the 12 Colonies of Man are wiped out by a cybernetic race called the Cylons, Commander Adama and the crew of the battlestar Galactica lead a ragtag fleet of human survivors in search of a "mythical planet" called Earth.
12.
Turks in Space (2006)
explore
Check out more list from our community