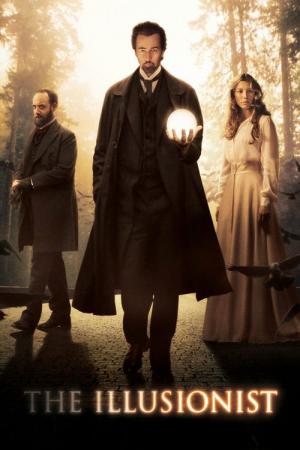 14 Best Movies Like The Illusionist ...
If you liked this movie , you will for sure love these too! In this list we highlight some of the best films that share a very similar mood to 'The Illusionist', and are worth checking out.
2h 4m Drama Romance Crime Mystery
Virgil Oldman is a world renowned antiques expert and auctioneer. An eccentric genius, he leads a solitary life, going to extreme lengths to keep his distance from the messiness of human relationships. When appointed by the beautiful but emotionally damaged Claire to oversee the valuation and sale of her family's priceless art collection, Virgil allows himself to form an attachment to her – and soon he is engulfed by a passion which will rock his bland existence to the core.
1h 56m Thriller Crime
An FBI agent and an Interpol detective track a team of illusionists who pull off bank heists during their performances and reward their audiences with the money.
3.
Young Sherlock Holmes (1985)
1h 49m Action Adventure Family
Sherlock Holmes and Dr. Watson meet as boys in an English Boarding school. Holmes is known for his deductive ability even as a youth, amazing his classmates with his abilities. When they discover a plot to murder a series of British business men by an Egyptian cult, they move to stop it.
1h 48m Drama Mystery Thriller
When a willful young man tries to venture beyond his sequestered Pennsylvania hamlet, his actions set off a chain of chilling incidents that will alter the community forever.
1h 46m Mystery Crime Drama Thriller
The gruesome death of a prostitute brings suspicion on one of her clients, James Wayland, a brilliant, self-destructive and epileptic heir to a textile fortune. So detectives Braxton and Kennesaw take Wayland in for questioning, thinking they can break the man. But despite his troubles, Wayland is a master of manipulation, and during the interrogation, he begins to turn the tables on the investigators, forcing them to reveal their own sinister sides.
2h 7m Fantasy Drama Thriller Mystery Romance
Sam Wheat is a banker, Molly Jensen is an artist, and the two are madly in love. However, when Sam is murdered by his friend and corrupt business partner Carl Bruner over a shady business deal, he is left to roam the earth as a powerless spirit. When he learns of Carl's betrayal, Sam must seek the help of psychic Oda Mae Brown to set things right and protect Molly from Carl and his goons.
7.
Lady in the Water (2006)
1h 50m Drama Thriller Fantasy Mystery
Apartment building superintendent Cleveland Heep rescues what he thinks is a young woman from the pool he maintains. When he discovers that she is actually a character from a bedtime story who is trying to make the journey back to her home, he works with his tenants to protect his new friend from the creatures that are determined to keep her in our world.
8.
What Lies Beneath (2000)
2h 10m Drama Horror Mystery Thriller
When Claire Spencer starts hearing ghostly voices and seeing spooky images, she wonders if an otherworldly spirit is trying to contact her. All the while, her husband tries to reassure her by telling her it's all in her head. But as Claire investigates, she discovers that the man she loves might know more than he's letting on.
2h 18m Drama Thriller Mystery
World War II soldier-turned-U.S. Marshal Teddy Daniels investigates the disappearance of a patient from a hospital for the criminally insane, but his efforts are compromised by his troubling visions and also by a mysterious doctor.
1h 39m Mystery Thriller
Detective Kyle Bodine falls for Rachel Munro who is trapped in a violent marriage. After shooting her husband, Kyle relucantly agrees to help hide the body, but Kyle's partner is showing an unusual flair for finding clues.
11.
The Hidden Face (2011)
1h 32m Thriller Mystery
A Spanish orchestra conductor deals with the mysterious disappearance of his girlfriend.
2h 16m Romance Science Fiction Fantasy Thriller
David Aames has it all: wealth, good looks and gorgeous women on his arm. But just as he begins falling for the warmhearted Sofia, his face is horribly disfigured in a car accident. That's just the beginning of his troubles as the lines between illusion and reality, between life and death, are blurred.
2h 9m Drama Thriller Mystery
In honor of his birthday, San Francisco banker Nicholas Van Orton, a financial genius and a cold-hearted loner, receives an unusual present from his younger brother, Conrad: a gift certificate to play a unique kind of game. In nary a nanosecond, Nicholas finds himself consumed by a dangerous set of ever-changing rules, unable to distinguish where the charade ends and reality begins.
14.
The Sixth Sense (1999)
1h 47m Mystery Thriller Drama
Following an unexpected tragedy, a child psychologist named Malcolm Crowe meets an eight year old boy named Cole Sear, who is hiding a dark secret.
explore
Check out more list from our community