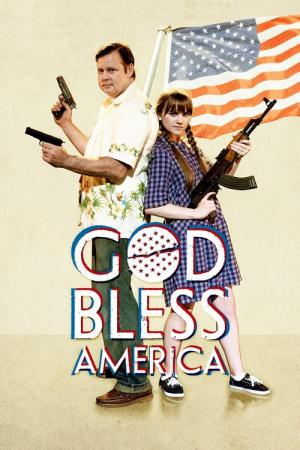 28 Best Movies Like God Bless America ...
If you liked this movie , you will for sure love these too! In this selection we highlight some of the best films that share a very similar premise to '', and are worth checking out.
1h 53m Crime Drama Thriller
On the day of his daughter's birthday, William "D-Fens" Foster is trying to get to the home of his estranged ex-wife to see his daughter. His car breaks down, so he leaves his car in a traffic jam in Los Angeles and decides to walk. He goes to a convenience store and tries to get some change for a phone call, but the Korean owner does not oblige, tipping Foster over the edge. The unstable Foster, so frustrated with the various flaws he sees in society, begins to psychotically and violently lash out against them.
1h 34m Comedy Crime
A picture perfect middle class family is shocked when they find out that one of their neighbors is receiving obscene phone calls. The mom takes slights against her family very personally, and it turns out she is indeed the one harassing the neighbor. As other slights befall her beloved family, the body count begins to increase.
1h 36m Comedy Action Drama
After his wife falls under the influence of a drug dealer, an everyday guy transforms himself into Crimson Bolt, a superhero with the best intentions, though he lacks for heroic skills.
4.
Shakes the Clown (1991)
1h 27m Comedy Crime
Shakes plods about his duties as party clown, and uses all of his free time getting seriously drunk. Binky, another clown, wins the spot on a local kiddie show, which depresses Shakes even more, and his boss threatens him with unemployment if he can't get his act under control.
5.
Observe and Report (2009)
1h 27m Comedy Crime Drama
Mall security guard Ronnie Barnhardt is called into action to stop a flasher from turning shopper's paradise into his personal peep show. But when Barnhardt can't bring the culprit to justice, a surly police detective is recruited to close the case.
1h 36m Comedy Crime Drama Thriller Horror
The activities of rampaging, indiscriminate serial killer Ben are recorded by a willingly complicit documentary team, who eventually become his accomplices and active participants. Ben provides casual commentary on the nature of his work and arbitrary musings on topics of interest to him, such as music or the conditions of low-income housing, and even goes so far as to introduce the documentary crew to his family. But their reckless indulgences soon get the better of them.
7.
The Last Supper (1995)
1h 32m Comedy Thriller Crime Drama
A group of idealistic, but frustrated, liberals succumb to the temptation of murdering rightwing pundits for their political beliefs.
8.
Natural Born Killers (1994)
1h 58m Crime Thriller Drama
Two victims of traumatized childhoods become lovers and psychopathic serial murderers irresponsibly glorified by the mass media.
9.
Gridlock'd (1997)
1h 31m Crime Drama Comedy
After a friend overdoses, Spoon and Stretch decide to kick their drug habits and attempt to enroll in a government detox program. Their efforts are hampered by seemingly endless red tape, as they are shuffled from one office to another while being chased by drug dealers and the police.
10.
Burn After Reading (2008)
1h 36m Comedy Drama
When a disc containing memoirs of a former CIA analyst falls into the hands of gym employees, Linda and Chad, they see a chance to make enough money for Linda to have life-changing cosmetic surgery. Predictably, events whirl out of control for the duo, and those in their orbit.
11.
Six Ways to Sunday (1997)
1h 37m Comedy
Norman Reedus stars as Harry Odum, a henpecked, 18-year-old momma's boy in Youngstown, Ohio, who -- with his violent temper -- impresses a local boss of the Jewish Mafia. Soon he's found his calling as a hit man alongside his crack addict partner Arnie Finklestein (Adrien Brody), and he discovers that his rage and complicated psychosis fuel his murderous abilities. Harry also falls for the organization's limping, Hungarian-born maid Iris (Elina Lowensohn), a romance complicated by Harry's Oedipal, sexual relationship with his domineering mother Kate (Deborah Harry).
1h 33m Comedy Crime Drama
Ray Pluto has many problems. He is satirized in the tabloids as the "loser cop." His partner is starting to seem suspiciously attracted to him. A pair of screenwriters across the hall keep bugging him for help. The superintendent of his building is stabbed by hoodlums hired by his own rebellious daughter. To top it off, a sexually aggressive chiropractor may just be Ray's undoing.
1h 33m Comedy Crime Drama
After spending 12 years in prison for keeping his mouth shut, notorious safe-cracker Dom Hemingway is back on the streets of London looking to collect what he's owed.
14.
Small Apartments (2012)
1h 36m Comedy Crime
When a clumsy deadbeat accidentally kills his landlord, he must do everything in his power to hide the body, only to find that the distractions of lust, the death of his beloved brother, and a crew of misfit characters force him on a journey where a fortune awaits him.
15.
American Psycho (2000)
1h 42m Thriller Drama Crime Horror
A wealthy New York investment banking executive hides his alternate psychopathic ego from his co-workers and friends as he escalates deeper into his illogical, gratuitous fantasies.
16.
Seven Psychopaths (2012)
1h 50m Comedy Crime
A struggling screenwriter inadvertently becomes entangled in the Los Angeles criminal underworld after his oddball friends kidnap a gangster's beloved Shih Tzu.
1h 54m Crime Drama
A mentally unstable Vietnam War veteran works as a night-time taxi driver in New York City where the perceived decadence and sleaze feed his urge for violent action, attempting to save a preadolescent prostitute in the process.
18.
Death to Smoochy (2002)
1h 49m Comedy Crime Drama Thriller
Tells the story of Rainbow Randolph, the corrupt, costumed star of a popular children's TV show, who is fired over a bribery scandal and replaced by squeaky-clean Smoochy, a puffy fuscia rhinoceros. As Smoochy catapults to fame - scoring hit ratings and the affections of a network executive - Randolph makes the unsuspecting rhino the target of his numerous outrageous attempts to exact revenge and reclaim his status as America's sweetheart.
19.
World's Greatest Dad (2009)
45m Action & Adventure Reality
La Isla also known as La Isla: El Reality is a Mexican reality show that aired on August 20, 2012 It was produced by Be-Tv together with TV Azteca and is based on the Colombian Reality Desafío Caracol TV.. The program shows three groups of players: the first two are composed of Mexican characters, known as famosos and showbiz celebridades, and a third team players called The Desconocidos.
1h 32m Drama Comedy Crime
A miserable conman and his partner pose as Santa and his Little Helper to rob department stores on Christmas Eve. But they run into problems when the conman befriends a troubled kid.
1h 31m Comedy Crime Drama
Upon his release from a mental hospital following a nervous breakdown, the directionless Anthony joins his friend Dignan, who seems far less sane than the former. Dignan has hatched a hair-brained scheme for an as-yet-unspecified crime spree that somehow involves his former boss, the (supposedly) legendary Mr. Henry.
23.
Revenge for Jolly! (2012)
1h 24m Comedy Drama
Harry is having a very, very bad day. He returns home from an all-night drinking binge with his cousin Cecil, to discover that his little dog Jolly...Harry's one true love and the source of light in his dark, solitary life-has been murdered. Brokenhearted and beyond consolation, he vows to track down the dog's murderer at any cost. Armed with a stockpile of firepower in the trunk of his car, he and Cecil embark on a frenzied, alcohol-fueled wild-goose chase, leaving a bloody path of destruction in their wake.
1h 37m Crime Drama Comedy
A bigoted junkie cop suffering from bipolar disorder and drug addiction manipulates and hallucinates his way through the festive season in a bid to secure promotion and win back his wife and daughter.
25.
Leaves of Grass (2009)
1h 44m Comedy Crime Thriller
An Ivy League professor returns home, where his pot-growing twin brother has concocted a plan to take down a local drug lord.
1h 36m Drama Comedy
A talentless teen will do anything to get on TV's "The Voice." Meanwhile, her father, a municipal worker, creates an uproar when a video of his rants at City Hall goes viral.
27.
Violet & Daisy (2011)
1h 28m Thriller Crime Drama Action Comedy
Two teenage assassins accept what they think will be a quick-and-easy job, until an unexpected target throws them off their plan.
explore
Check out more list from our community