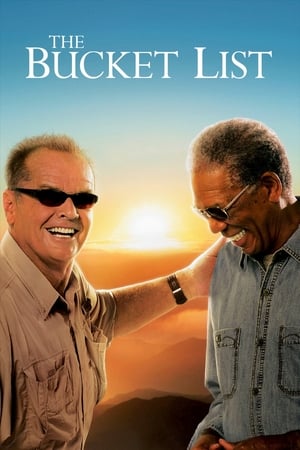 14 Best Movies Like The Bucket List ...
If you liked this movie , you will probably love these too! In this list we highlight some of the best films that share a very similar premise to 'The Bucket List', and are worth checking out.
1.
A Walk in the Woods (2015)
After spending two decades in England, Bill Bryson returns to the U.S., where he decides the best way to connect with his homeland is to hike the Appalachian Trail with one of his oldest friends.
1h 44m
Author: Bill Bryson
Director: Ken Kwapis
Screenplay: Bill Holderman
Screenplay: Rick Kerb
Adventure Comedy Drama
An aging, booze-addled father takes a trip from Montana to Nebraska with his estranged son in order to claim what he believes to be a million-dollar sweepstakes prize.
1h 55m
Director: Alexander Payne
Writer: Bob Nelson
Drama Adventure
3.
Hector and the Search for Happiness (2014)
Hector is a quirky psychiatrist who has become increasingly tired of his humdrum life. As he tells his girlfriend, Clara, he feels like a fraud: he hasn't really tasted life, and yet he's offering advice to patients who are just not getting any happier. So Hector decides to break out of his deluded and routine driven life. Armed with buckets of courage and child-like curiosity, he embarks on a global quest in hopes of uncovering the elusive secret formula for true happiness. And so begins a larger than life adventure with riotously funny results.
1h 54m
Director, Screenplay: Peter Chelsom
Novel: François Lelord
Screenplay: Maria von Heland
Screenplay: Tinker Lindsay
Adventure Drama Comedy
4.
Me and Earl and the Dying Girl (2015)
Greg is coasting through senior year of high school as anonymously as possible, avoiding social interactions like the plague while secretly making spirited, bizarre films with Earl, his only friend. But both his anonymity and friendship threaten to unravel when his mother forces him to befriend a classmate with leukemia.
1h 45m
Novel, Screenplay: Jesse Andrews
Director: Alfonso Gomez-Rejon
Comedy Drama
6.
Something's Gotta Give (2003)
Harry Sanborn is an aged music industry exec with a fondness for younger women like Marin, his latest trophy girlfriend. Things get a little awkward when Harry suffers a heart attack at the home of Marin's mother, Erica. Left in the care of Erica and his doctor, a love triangle starts to take shape.
2h 8m
Director, Screenplay: Nancy Meyers
Drama Comedy Romance
Famous and wealthy funnyman George Simmons doesn't give much thought to how he treats people until a doctor delivers stunning health news, forcing George to reevaluate his priorities with a little help from aspiring stand-up comic Ira.
2h 26m
Director, Writer: Judd Apatow
Comedy Drama
8.
Knockin' on Heaven's Door (1997)
Two young men, Martin and Rudi, both suffering from terminal cancer, get to know each other in a hospital room. They drown their desperation in tequila and decide to take one last trip to the sea. Drunk and still in pajamas they steal the first fancy car they find, a 60's Mercedes convertible. The car happens to belong to a bunch of gangsters, which immediately start to chase it, since it contains more than the pistol Martin finds in the glove box.
1h 27m
Author, Director: Thomas Jahn
Author: Til Schweiger
Comedy Crime
66-year-old Warren Schmidt is a retired insurance salesman and has no particular plans other than to drive around in the motor home his wife insisted they buy. He's not altogether bitter, but not happy either, as everything his wife does annoys him, and he disapproves of the man his daughter is about to marry. When his wife suddenly dies, he sets out to postpone the imminent marriage of his daughter to a man he doesn't like, while coping with discoveries about his late wife and himself in the process.
2h 5m
Director, Screenplay: Alexander Payne
Author: Louis Begley
Writer: Jim Taylor
Drama Comedy
Three sixty-something friends take a break from their day-to-day lives to throw a bachelor party in Las Vegas for their last remaining single pal.
1h 45m
Director: Jon Turteltaub
Screenplay: Dan Fogelman
Comedy
11.
The Intouchables (2011)
A true story of two men who should never have met – a quadriplegic aristocrat who was injured in a paragliding accident and a young man from the projects.
1h 53m
Director, Screenplay: Éric Toledano
Director, Screenplay: Olivier Nakache
Novel: Philippe Pozzo di Borgo
Drama Comedy
Major Dad is an American sitcom created by Richard C. Okie and John G. Stephens, developed by Earl Pomerantz, that originally ran from 1989 to 1993 on CBS, starring Gerald McRaney as Major John D. MacGillis and Shanna Reed as his wife Polly. The cast also includes Beverly Archer, Matt Mulhern, Jon Cypher, Marisa Ryan, Nicole Dubuc and Chelsea Hertford.
30m
Comedy
Jackie is a divorced mother of two. Isabel is the career minded girlfriend of Jackie's ex-husband Luke, forced into the role of unwelcome stepmother to their children. But when Jackie discovers she is ill, both women realise they must put aside their differences to find a common ground and celebrate life to the fullest, while they have the chance.
2h 4m
Screenplay, Story: Gigi Levangie Grazer
Director: Chris Columbus
Screenplay: Ronald Bass
Screenplay: Jessie Nelson
Screenplay: Steven Rogers
Screenplay: Karen Leigh Hopkins
Drama Romance Comedy
14.
The Magic of Belle Isle (2012)
In an effort to tap into his original talent, a wheelchair-bound author moves to a rural town, where he befriends a single mother and her three kids, who help reignite his passion for writing.
1h 49m
Director, Screenplay: Rob Reiner
Screenplay: Guy Thomas
Screenplay: Andrew Scheinman
Comedy Drama
explore
Check out more list from our community