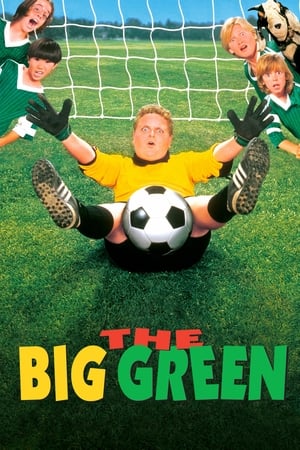 14 Best Movies Like The Big Green ...
If you liked this movie , you will probably love these too! In this selection we highlight some of the best films that share a very similar mood to 'The Big Green', and are worth checking out.
1.
The Mighty Ducks (1992)
1h 41m Comedy Family Drama
After reckless young lawyer Gordon Bombay gets arrested for drunk driving, he must coach a kids hockey team for his community service. Gordon has experience on the ice, but isn't eager to return to hockey, a point hit home by his tense dealings with his own former coach, Jack Reilly. The reluctant Gordon eventually grows to appreciate his team, which includes promising young Charlie Conway, and leads them to take on Reilly's tough players.
1h 37m Comedy Family
A decade has passed in the small town where the original Sandlot gang banded together during the summer of '62 to play baseball and battle the Beast. Now comes the sequel, a campy romp back to the dugout where nine new kids descend on the diamond only to discover that a descendant of the Beast lives in Mr. Mertle's backyard--a monster of mythical proportions known as "The Great Fear."
3.
D3: The Mighty Ducks (1996)
1h 44m Action Comedy Drama Family
The Ducks are offered scholarships at Eden Hall Academy but struggle with their new coach's methods and come under pressure from the board to retain their scholarships before their big game against the Varsity team.
4.
Rookie of the Year (1993)
1h 43m Comedy Family
12-year-old Henry Rowengartner, whose late father was a minor league baseball player, grew up dreaming of playing baseball, despite his physical shortcomings. After Henry's arm is broken while trying to catch a baseball at school, the tendon in that arm heals too tightly, allowing Henry to throw pitches that are as fast as 103 mph. Henry is spotted at nearby Wrigley Field by Larry "Fish" Fisher, the general manager of the struggling Chicago Cubs, after Henry throws an opponent's home-run ball all the way from the outfield bleachers back to the catcher, and it seems that Henry may be the pitcher that team owner Bob Carson has been praying for.
5.
Little Big League (1994)
1h 59m Comedy Family
When the owner of the Minnesota Twins passes away, he bequeaths the team to his preteen grandson. The newly minted head honcho quickly appoints himself manager, causing unrest in an organisation that struggles to take orders from a 12-year-old.
6.
Soccer Dog: The Movie (1999)
1h 39m Comedy Family
A heart-warming comedy about the friendship between the new kid in town and a soccer-playing dog on the lam from the dog-catcher. It's up to these two underdogs to win the PeeWee Soccer League championship game.
7.
D2: The Mighty Ducks (1994)
1h 46m Action Comedy Drama Family
After Gordon Bombay's hockey comeback is cut short he is named coach of Team USA Hockey for the Junior Goodwill Games. Bombay reunites the Mighty Ducks and introduces a few new players, however, he finds himself distracted by his newfound fame and must regather if the Ducks are to defeat tournament favourites Iceland.
1h 36m Comedy Family
The California Atoms are in last place with no hope of moving up. But by switching the mule from team mascot to team member, (He can kick 100 yard field goals!) they start winning, and move up in the rankings, Hurrah! The competition isn't so happy.
1h 34m Comedy Family
Jack Cooper (Matt LeBlanc) could be a world-class baseball pitcher if he didn't keep buckling under the pressure. He tries to keep his spirits up after he's traded to a minor league team but loses all hope when he discovers that Ed, one of his teammates, is a chimp. Ed used to be the team mascot, but was promoted to third base when the owners realized he had a talent for baseball. As Jack struggles to get used to his new surroundings, Ed helps him regain his confidence on and off the field.
10.
Air Bud: Golden Receiver (1998)
1h 30m Comedy Family
Josh and Buddy move from basketball to American football in this first of several sequels to the original Air Bud.
11.
Necessary Roughness (1991)
1h 48m Comedy
When the Texas Southern Armadillos football team is disqualified for cheating and poor grades, the University is forced to pick from a team that actually goes to school. Will they even win a single game?
1h 25m Drama Comedy Romance
Story revolves around a young boxer, Izzy Daniels, who trains to follow in his father's footsteps by winning the Golden Glove. When his friend, Mary, however, asks him to substitute for a team member in a Double Dutch tournament, the young man discovers a hidden passion for jump roping
1h Science Fiction Animation Drama
The now 50 year old Scientific Boys Club decides to build a ship with which they plan to sail to Mars on the "Ethereal Current", curious to see if there is life on Mars.
14.
MVP: Most Valuable Primate (2000)
1h 33m Comedy Family
Jack is a three-year-old chimpanzee who has been the subject of a long-term experiment by Dr. Kendall, a researcher who been teaching Jack to communicate through sign language. Jack scrambles onto the ice in the midst of practice for Steven's junior league hockey team, and he and his teammates discover the monkey has a natural talent for the game.
explore
Check out more list from our community