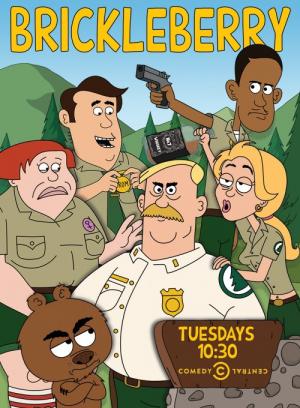 17 Best Shows Like Brickleberry ...
If you liked this film , you will definitely love these too! In this collection we highlight some of the best films that share a very similar premise to '', and are worth checking out.
An eager young rookie joins the ragtag small-town police force led by his dad as they bumble, squabble and snort their way through a big drug case.
22m Animation Comedy Sci-Fi & Fantasy Action & Adventure
Rick is a mentally-unbalanced but scientifically-gifted old man who has recently reconnected with his family. He spends most of his time involving his young grandson Morty in dangerous, outlandish adventures throughout space and alternate universes. Compounded with Morty's already unstable family life, these events cause Morty much distress at home and school.
Sick, twisted, politically incorrect and Freakin' Sweet animated series featuring the adventures of the dysfunctional Griffin family. Bumbling Peter and long-suffering Lois have three kids. Stewie (a brilliant but sadistic baby bent on killing his mother and taking over the world), Meg (the oldest, and is the most unpopular girl in town) and Chris (the middle kid, he's not very bright but has a passion for movies). The final member of the family is Brian - a talking dog and much more than a pet, he keeps Stewie in check whilst sipping Martinis and sorting through his own life issues.
The series focuses on an eccentric motley crew that is the Smith family and their three housemates: Father, husband, and breadwinner Stan Smith; his better half housewife, Francine Smith; their college-aged daughter, Hayley Smith; and their high-school-aged son, Steve Smith. Outside of the Smith family, there are three additional main characters, including Hayley's boyfriend turned husband, Jeff Fischer; the family's man-in-a-goldfish-body pet, Klaus; and most notably the family's zany alien, Roger, who is "full of masquerades, brazenness, and shocking antics."
28m Animation Comedy Action & Adventure Mystery
Set in a ruined medieval city called Dreamland, Disenchantment follows the grubby adventures of a hard-drinking princess, her feisty elf companion and her personal demon.
7.
Solar Opposites (2020)
25m Comedy Animation Sci-Fi & Fantasy
A family of aliens from a much better world must take refuge in middle America after the destruction of their planet. Their mission: protect the Pupa, a living super computer that will one day evolve into its true form, consume them and terraform the Earth.
Ugly Americans is an American animated sitcom created by Devin Clark and developed by David M. Stern. The program focuses on the life of Mark Lilly, a social worker employed by the Department of Integration, in an alternate reality version of New York City inhabited by monsters and other creatures. Daniel Powell serves as executive producer and Aaron Augenblick is supervising producer and animation director.Ugly Americans aired on Comedy Central from March 17, 2010 to April 25, 2012 with a total of 31 episodes over two seasons.
22m Comedy Action & Adventure Animation
Sterling Archer is the world's most daunting spy. He works for ISIS, a spy agency run by his mother. In between dealing with his boss and his co-workers - one of whom is his ex-girlfriend - Archer manages to annoy or seduce everyone that crosses his path. His antics are only excusable because at the end of the day, he still somehow always manages to thwart whatever crises was threatening mankind.
10.
BoJack Horseman (2014)
Meet the most beloved sitcom horse of the 90s - 20 years later. BoJack Horseman was the star of the hit TV show "Horsin' Around," but today he's washed up, living in Hollywood, complaining about everything, and wearing colorful sweaters.
Teenage friends find their lives upended by the wonders and horrors of puberty in this edgy comedy from real-life pals Nick Kroll and Andrew Goldberg.
12.
The Life & Times of Tim (2008)
The Life & Times of Tim is an HBO comedy animated television series, which premiered on September 28, 2008. The series was created by Steve Dildarian, and is about a hapless man in his mid-20's named Tim who lives in New York City with his girlfriend Amy. Throughout the series, Tim constantly finds himself in increasingly awkward situations in both his work and personal life.The first season aired in 2008 and has since been aired in numerous countries, and has developed a cult following. The second season debuted on February 19, 2010 on HBO. On June 4, 2010, HBO announced it was canceling the show. There were rumors that it was going to be picked up by another network. On the 16th of August, 2010, it was announced HBO had reversed their original decision to cancel the show, and as a result, a third season was ordered. Season 3 of The Life and Times of Tim premiered on December 16, 2011. The first season was released on DVD on February 9, 2010, the second season was released on DVD on December 13, 2011, and the third season was released on DVD on December 18, 2012.On April 20, 2012, HBO cancelled the series after three seasons.The theme song is "I'll Never Get Out of This World Alive" performed by country music star Hank Williams.
13.
Lucas Bros Moving Co (2013)
14.
The Cleveland Show (2009)
15.
Cavalcade of Cartoon Comedy (2008)
Seth MacFarlane's Cavalcade of Cartoon Comedy is an American cartoon web series created by Seth MacFarlane. The series is based on the cutaway jokes on Family Guy.
16.
Pickle & Peanut (2015)
A buddy comedy series about two unlikely friends — an emotional pickle and a freewheeling peanut.
explore
Check out more list from our community