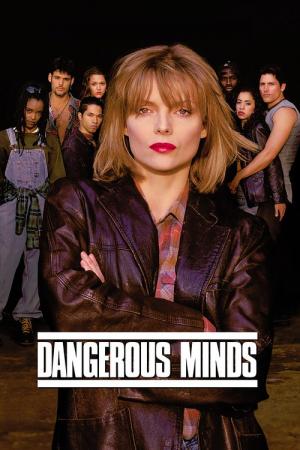 12 Best Movies Like Dangerous Minds ...
If you liked this movie , you will definitely love these too! In this collection we highlight some of the best films that share a very similar mood to 'Dangerous Minds', and are worth checking out.
1h 48m Drama TV Movie
In the fall of 1994, a teacher at Chicago's run-down Steinmetz High conspires with the school's academic decathlon team to cheat on an academic competition.
2.
One Eight Seven (1997)
1h 59m Drama Thriller
After surviving a stabbing by a student, teacher Trevor Garfield moves from New York to Los Angeles. There, he resumes teaching as a substitute teacher. The education system, where violent bullies control the classrooms and the administration is afraid of lawsuits, slowly drives Garfield mad.
3.
Boyz n the Hood (1991)
1h 52m Drama Crime
Boyz n the Hood is the popular and successful film and social criticism from John Singleton about the conditions in South Central Los Angeles where teenagers are involved in gun fights and drug dealing on a daily basis.
1h 42m Action Drama Thriller
The story of five teenage girls who form an unlikely bond after beating up a teacher who has sexually harassed them. They build a solid friendship but their wild ways begin to get out of control.
1h 48m Comedy Music Drama
A former professional dancer volunteers to teach dance in the New York public school system and, while his background first clashes with his students' tastes, together they create a completely new style of dance. Based on the story of ballroom dancer, Pierre Dulane.
6.
To Sir, with Love (1967)
1h 45m Drama
Idealistic engineer-trainee and his experiences in teaching a group of rambunctious white high school students from the slums of London's East End.
2h 5m Drama Action Crime
Teenagers at a juvenile detention center, under the leadership of their counselor, gain self-esteem by playing football together.
8.
The Ron Clark Story (2006)
1h 30m TV Movie Drama
A passionate and innovative teacher leaves his small hometown to teach in one of Harlem's toughest schools. But to break through to this students, Ron Clark must use unconventional methods, including his ground-breaking classroom rules, to drive them toward their potential.
2h 16m Drama History
Based on a true story, in which Richmond High School head basketball coach Ken Carter made headlines in 1999 for benching his undefeated team due to poor academic results.
10.
Music of the Heart (1999)
2h 4m Drama
Story of a schoolteacher's struggle to teach violin to inner-city Harlem kids.
1h 48m Drama
When principal Joe Clark takes over decaying Eastside High School, he's faced with students wearing gang colors and graffiti-covered walls. Determined to do anything he must to turn the school around, he expels suspected drug dealers, padlocks doors and demands effort and results from students, staff and parents. Autocratic to a fault, this real-life educator put it all on the line.
12.
Up the Down Staircase (1967)
2h 4m Drama
Sylvia Barrett is a rookie teacher at New York's inner-city Calvin Coolidge High: her lit classes are overcrowded, a window is broken, there's no chalk, books arrive late. The administration is concerned mainly with forms and rules (there's an up and and a down staircase); bells ring at the wrong time. Nevertheless, she tries. How she handles the chaos and her despair in her first semester makes up the film: a promising student drops out, another sleeps through class, a girl with a crush on a male teacher gets suicidal, and a bright but troublesome student misunderstands Sylvia's reaching out. A discussion of Dickens, parents' night, and a mock trial highlight the term. Can she make it?
explore
Check out more list from our community