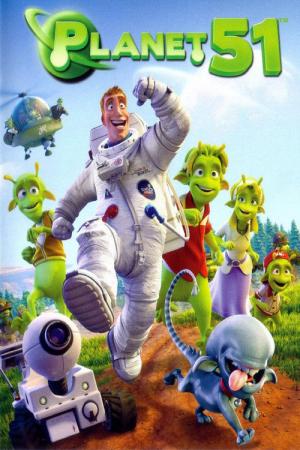 11 Best Movies Like Planet ...
If you liked this film , you will definitely love these too! In this selection we highlight some of the best films that share a very similar mood to 'Planet 51', and are worth checking out.
1h 38m Animation Family Science Fiction
WALL·E is the last robot left on an Earth that has been overrun with garbage and all humans have fled to outer space. For 700 years he has continued to try and clean up the mess, but has developed some rather interesting human-like qualities. When a ship arrives with a sleek new type of robot, WALL·E thinks he's finally found a friend and stows away on the ship when it leaves.
2.
Hey Arnold! The Movie (2002)
1h 16m Animation Family
When a powerful developer named Mr. Scheck wants to knock down all the stores and houses in Arnold's neighborhood to build a huge "mall-plex", it looks likes the neighborhood is doomed to disappear. But with the help of a superhero and a mysterious deep-voiced stranger, Arnold and Gerald will need to recover a crucial document in order to save their beloved neighborhood.
3.
Buzz Lightyear of Star Command: The Adventure Begins (2000)
1h 10m Animation Family Comedy Science Fiction Adventure
Buzz Lightyear must battle Emperor Zurg with the help of three hopefuls who insist on being his partners.
4.
Stitch! The Movie (2003)
1h Comedy Adventure Family Animation
The continuing adventures of Lilo, a little Hawaiian girl, and Stitch, the galaxy's most wanted extraterrestrial. Stitch, Pleakley, and Dr. Jumba are all part of the household now. But what Lilo and Stitch don't know is that Dr. Jumba brought one of his alien "experiments" to Hawaii.
5.
Leroy & Stitch (2006)
1h 13m Animation Comedy Family
Lilo, Stitch, Jumba and Pleakley have finally caught all of Jumba's genetic experiments and found the one true place where each of them belongs. Stitch, Jumba and Pleakley are offered positions in the Galactic Alliance, turning them down so they can stay on Earth with Lilo. But Lilo realizes her alien friends have places where they belong, and it's finally time to say "aloha."
1h 37m Animation Comedy Family Fantasy
An orphaned boy raised by underground creatures called Boxtrolls comes up from the sewers and out of his box to save his family and the town from the evil exterminator, Archibald Snatcher.
7.
Lilo & Stitch 2: Stitch Has a Glitch (2005)
1h 8m Animation Family Comedy Science Fiction
Now, we find the rowdy extraterrestrial getting used to life with his new ohana. However, a malfunction in the ultimate creation of Dr. Jumba soon emerges, which reinstates his destructive programming and threatens to both ruin his friendship with Lilo and to short him out for good!
8.
Cloudy with a Chance of Meatballs (2009)
1h 30m Animation Comedy Family
Inventor Flint Lockwood creates a machine that makes clouds rain food, enabling the down-and-out citizens of Chewandswallow to feed themselves. But when the falling food reaches gargantuan proportions, Flint must scramble to avert disaster. Can he regain control of the machine and put an end to the wild weather before the town is destroyed?
9.
Happily N'Ever After (2006)
10.
Battle for Terra (2007)
1h 25m Action Adventure Animation Science Fiction
A peaceful alien planet faces annihilation, as the homeless remainder of the human race sets its eyes on Terra. Mala, a rebellious Terrian teenager, will do everything she can to stop it.
1h 34m Fantasy Comedy Animation Science Fiction Family
When Earth is taken over by the overly-confident Boov, an alien race in search of a new place to call home, all humans are promptly relocated, while all Boov get busy reorganizing the planet. But when one resourceful girl, Tip, manages to avoid capture, she finds herself the accidental accomplice of a banished Boov named Oh. The two fugitives realize there's a lot more at stake than intergalactic relations as they embark on the road trip of a lifetime.
explore
Check out more list from our community