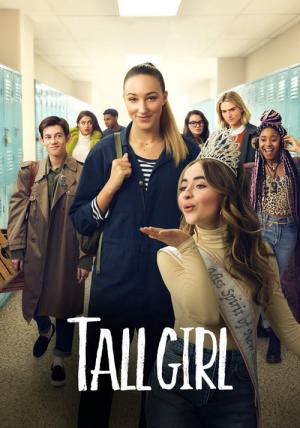 14 Best Movies Like Tall Girl ...
If you liked this one , you will probably love these too! In this selection we highlight some of the best films that share a very similar premise to 'Tall Girl', and are worth checking out.
1h 35m Comedy Romance
High school hotshot Zach Siler is the envy of his peers. But his popularity declines sharply when his cheerleader girlfriend, Taylor, leaves him for sleazy reality-television star Brock Hudson. Desperate to revive his fading reputation, Siler agrees to a seemingly impossible challenge. He has six weeks to gain the trust of nerdy outcast Laney Boggs -- and help her to become the school's next prom queen.
1h 40m Romance Comedy
Bianca's universe turns upside down when she learns that her high school refers to her as a 'DUFF' (Designated Ugly Fat Friend). Hoping to erase that label, she enlists the help of a charming jock and her favorite teacher. Together they'll face the school's mean girl and remind everyone that we are all someone's DUFF… and that's totally fine.
1h 22m Comedy Romance
John Twiller takes down his high school yearbook and begins to reminiscence about that time he first moved into the neighborhood in 1956. His teenage self, Jack is obsessed with Lily one of the more popular girls around. The sole obstacle is Angelo, her bullying boyfriend. With the help of his pals Crutch, Floyd, and Spider, he makes every attempt possible to change her mind.
4.
Never Been Kissed (1999)
1h 47m Romance Comedy Drama
Josie Geller, a baby-faced junior copywriter at the Chicago Sun-Times, must pose as a student at her former high school to research contemporary teenage culture. With the help of her brother, Rob, Josie infiltrates the inner circle of the most popular clique on campus. But she hits a major snag in her investigation -- not to mention her own failed love life -- when she falls for her dreamy English teacher, Sam Coulson.
5.
Sierra Burgess Is a Loser (2018)
6.
10 Things I Hate About You (1999)
1h 37m Comedy Romance Drama
On the first day at his new school, Cameron instantly falls for Bianca, the gorgeous girl of his dreams. The only problem is that Bianca is forbidden to date until her ill-tempered, completely un-dateable older sister Kat goes out, too. In an attempt to solve his problem, Cameron singles out the only guy who could possibly be a match for Kat: a mysterious bad boy with a nasty reputation of his own.
1h 31m Drama Comedy Romance Family
Nicole and Chase live next door to each other but are worlds apart. However, they plot a scheme to date each other in order to attract the interest and jealousy of their respective romantic prey. But in the mist of planning a gala centennial celebration, Nicole and Chase find that the one they always wanted was closer than they ever thought.
8.
To All the Boys I've Loved Before (2018)
1h 40m Comedy Romance
Lara Jean's love life goes from imaginary to out of control when her secret letters to every boy she's ever fallen for are mysteriously mailed out.
9.
A Walk to Remember (2002)
1h 41m Drama Romance
When the popular, restless Landon Carter is forced to participate in the school drama production he falls in love with Jamie Sullivan, the daughter of the town's minister. Jamie has a "to-do" list for her life and also a very big secret she must keep from Landon.
10.
High School Musical 3: Senior Year (2008)
1h 57m Comedy Drama Family Music Romance
It's almost graduation day for high school seniors Troy, Gabriella, Sharpay, Chad, Ryan and Taylor ― and the thought of heading off in separate directions after leaving East High has these Wildcats thinking they need to do something they'll remember forever. Together with the rest of the Wildcats, they stage a spring musical reflecting their hopes and fears about the future and their unforgettable experiences growing up together. Will their final show break them apart or bring them together for the greatest moment in Wildcat history?
11.
A Cinderella Story (2004)
1h 35m Comedy
Routinely exploited by her wicked stepmother, the downtrodden Samantha Montgomery is excited about the prospect of meeting her Internet beau at the school's Halloween dance.
12.
F*&% the Prom (2017)
1h 32m Comedy Drama
Maddy and Cole were inseparable friends until high school started and Maddy became the most popular girl on campus. When she starts feeling lonely and heartbroken, she reconnects with Cole and the duo conspire to destroy the ultimate teen popularity contest
1h 39m Drama Comedy Romance
Halley is convinced true love doesn't exist based on the crazy relationships around her. Her mother is divorcing her father who is dating a younger woman Halley can't stand. Her crazed sister is planning a wedding but has second thoughts and her best friend has fallen madly in love for the first time leaving Halley to feel even more alone.
14.
The Edge of Seventeen (2016)
1h 45m Comedy Drama
Two high school girls are best friends until one dates the other's older brother, who is totally his sister's nemesis.
explore
Check out more list from our community