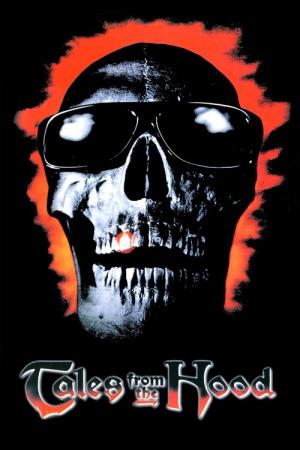 29 Best Movies Like Tales From The Hood ...
If you liked this movie , you will probably love these too! In this collection we highlight some of the best films that share a very similar mood to '', and are worth checking out.
1.
Henry: Portrait of a Serial Killer (1986)
1h 23m Crime Drama Horror Thriller
Henry likes to kill people, in different ways each time. Henry shares an apartment with Otis. When Otis' sister comes to stay, we see both sides of Henry: "the guy next door" and the serial killer.
1h 27m Horror
A psychotic man, troubled by his childhood abuse, loose in NYC, kills young women and takes their scalps as trophies. Will he find the perfect woman in photographer Anna, and end his killing spree?
2h 2m Action Crime Drama Thriller
On his first day on the job as a narcotics officer, a rookie cop works with a rogue detective who isn't what he appears.
2h 7m Crime Mystery Thriller
Two homicide detectives are on a desperate hunt for a serial killer whose crimes are based on the "seven deadly sins" in this dark and haunting film that takes viewers from the tortured remains of one victim to the next. The seasoned Det. Sommerset researches each sin in an effort to get inside the killer's mind, while his novice partner, Mills, scoffs at his efforts to unravel the case.
5.
Menace II Society (1993)
1h 37m Drama Crime
Sobering and incisive, this cautionary drama centers on a street tough 18-year-old facing a moral quandary while trying to turn his life around.
1h 33m Horror Thriller
A female psychologist wants to understand the minds of a confessed serial killer who spent the last five years in a mental hospital because of his state.
1h 45m Crime Horror Thriller
Three college students, Phil, Ed, and Henry take a road trip into Mexico for a week of drinking and carefree fun only to have Phil find himself a captive of a group of satanic Mexican drug smugglers who kill tourists and whom are looking for a group of new ones to prepare for a sacrifice.
8.
From a Whisper to a Scream (1987)
1h 49m Action Crime Drama Thriller
Tom Ludlow is a disillusioned L.A. Police Officer, rarely playing by the rules and haunted by the death of his wife. When evidence implicates him in the execution of a fellow officer, he is forced to go up against the cop culture he's been a part of his entire career, ultimately leading him to question the loyalties of everyone around him.
1h 45m Crime Drama Thriller Mystery
When the trail goes cold on a murder investigation of a policeman, an undercover narcotics officer is lured back to the force to help solve the case.
11.
Alice Sweet Alice (1976)
1h 53m Crime Horror Thriller Drama
When Ann, husband George, and son Georgie arrive at their holiday home they are visited by a pair of polite and seemingly pleasant young men. Armed with deceptively sweet smiles and some golf clubs, they proceed to terrorize and torture the tight-knit clan, giving them until the next day to survive.
13.
Hostel: Part III (2011)
1h 28m Horror
Set in Las Vegas, the film centers on a man who attends his best friend's bachelor party, unaware of an insidious agenda that plays into hunting humans.
14.
The Hills Have Eyes (1977)
1h 30m Horror Thriller
On the way to California, a family has the misfortune to have their car break down in an area closed to the public, and inhabited by violent savages ready to attack.
15.
The Silence of the Lambs (1991)
1h 59m Crime Drama Thriller Horror
Clarice Starling is a top student at the FBI's training academy. Jack Crawford wants Clarice to interview Dr. Hannibal Lecter, a brilliant psychiatrist who is also a violent psychopath, serving life behind bars for various acts of murder and cannibalism. Crawford believes that Lecter may have insight into a case and that Starling, as an attractive young woman, may be just the bait to draw him out.
16.
Campfire Stories (2001)
1h 58m Crime
Set during the Rodney King riots, a robbery homicide investigation triggers a series of events that will cause a corrupt LAPD officer to question his tactics.
18.
The Last House on the Left (1972)
1h 24m Horror Thriller
A disturbed gang of youths kidnap, torture and murder two teenage girls; unbeknownst to the gang, the parents of one of the girls live nearby...
19.
The Killing Gene (2007)
1h 44m Crime Drama Horror Thriller
There is something horribly wrong with the bodies found in the dark city streets. Some are mutilated while others have the Price equation (wΔz = Cov (w,z) = βwzVz) carved into their flesh. Detective Eddie Argo and his new partner Helen Westcott unearth the meaning of the odd equation and realise each victim is being offered a gruesome choice: kill your loved ones, or be killed. Before long it becomes clear that the perpetrator has suffered a similar fate and is now coping by seeking a way to solve this philosophical dilemma.
1h 49m Horror Mystery Thriller
In her many years as a social worker, Emily Jenkins believes she has seen it all, until she meets 10-year-old Lilith and the girl's cruel parents. Emily's worst fears are confirmed when the parents try to harm the child, and so Emily assumes custody of Lilith while she looks for a foster family. However, Emily soon finds that dark forces surround the seemingly innocent girl, and the more she tries to protect Lilith, the more horrors she encounters.
21.
One False Move (1992)
1h 45m Crime Drama Thriller
Following a series of drug deals and murders, three criminals -- Fantasia, Ray Malcolm and Pluto -- travel from Los Angeles to Houston, finally arriving in a small Arkansas town to go into hiding. Two detectives from the LAPD, who are already on the case, contact the town's sheriff, Dale Dixon, to alert him of the fugitives' presence in the area. Underestimating Dixon, the criminals have no idea what they are about to face.
22.
New Jersey Drive (1995)
1h 38m Crime Drama
New Jersey Drive is a 1995 film about black youths in Newark, New Jersey, the unofficial "car theft capital of the world". Their favorite pastime is that of everybody in their neighborhood: stealing cars and joyriding. The trouble starts when they steal a police car and the cops launch a violent offensive that involves beating and even shooting suspects.
1h 21m Horror Thriller
V/H/S: VIRAL's segments include the story of a deranged illusionist who obtains a magical object of great power, a homemade machine that opens a door to a parallel world, teenage skaters that unwillingly become targets of a Mexican death cult ritual, and a sinister, shadowy organization that is tracking a serial killer. The segments are tied together by the story of a group of fame-obsessed teens following a violent car chase in LA that unwittingly become stars of the next internet sensation.
1h 50m Horror Drama Thriller
Four successful elderly gentlemen, members of the Chowder Society, share a gruesome, 50-year old secret. When one of Edward Wanderley's twin sons dies in a bizarre accident, the group begins to see a pattern of frightening events developing.
26.
Tales from the Crypt (1972)
28.
The Exorcist III (1990)
1h 50m Horror Mystery
Set fifteen years after the original film, The Exorcist III centers around the philosophical Lieutenant William F. Kinderman who is investigating a baffling series of murders around Georgetown that all contain the hallmarks of The Gemini, a deceased serial killer. It eventually leads him to a catatonic patient in a psychiatric hospital who has recently started to speak, claiming he is the The Gemini and detailing the murders, but bears a striking resemblance to Father Damien Karras.
explore
Check out more list from our community