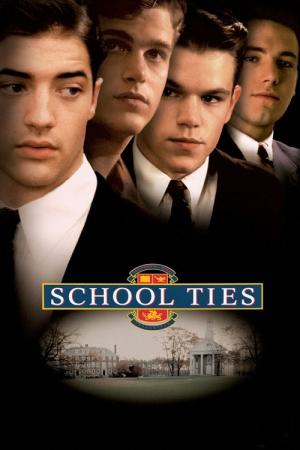 13 Best Movies Like School Ties ...
If you liked this one , you will definitely love these too! In this collection we highlight some of the best films that share a very similar premise to 'School Ties', and are worth checking out.
1h 52m
High school seniors Wade (Jason James Richter) and Lorna (Kate Hudson) have spent all their lives in the small logging town of Calamus Grove, a conservative place where change comes slowly. Jesse Howl (Douglas Spain), a teenager of Native American ancestry, has just moved to Calamus Grove, and soon finds he doesn't fit in this close-knit community. Wade and Lorna go out of their way to befriend Jesse, and soon find that they're also regarded as outcasts among their peers. Eager to get away from the narrow minds which are stifling them, the three friends grab a car and take off for a summer road trip that turns out to be full of lessons in life and love.
2.
The Emperor's Club (2002)
1h 48m Drama Romance
William Hundert is a passionate and principled Classics professor who finds his tightly-controlled world shaken and inexorably altered when a new student, Sedgewick Bell, walks into his classroom. What begins as a fierce battle of wills gives way to a close student-teacher relationship, but results in a life lesson for Hundert that will still haunt him a quarter of a century later.
3.
Finding Forrester (2000)
2h 16m Drama
Gus Van Sant tells the story of a young African American man named Jamal who confronts his talents while living on the streets of the Bronx. He accidentally runs into an old writer named Forrester who discovers his passion for writing. With help from his new mentor Jamal receives a scholarship to a private school.
1h 48m Drama
When principal Joe Clark takes over decaying Eastside High School, he's faced with students wearing gang colors and graffiti-covered walls. Determined to do anything he must to turn the school around, he expels suspected drug dealers, padlocks doors and demands effort and results from students, staff and parents. Autocratic to a fault, this real-life educator put it all on the line.
6.
Scent of a Woman (1992)
2h 36m Drama
Charlie Simms is a student at a private preparatory school who comes from a poor family. To earn the money for his flight home to Gresham, Oregon for Christmas, Charlie takes a job over Thanksgiving looking after retired U.S. Army officer Lieutenant Colonel Frank Slade, a cantankerous middle-aged man who lives with his niece and her family.
1h 38m Drama
A hardcore US racist skinhead who, because of his intelligence, leads a gang dedicated to fighting the enemy: the supposed American-Jewish conspiracy for domination. However, he's hiding a secret: he's Jewish-born, a brilliant scholar whose questioning of the tenets of his faith has left him angry and confused, turning against those who he thinks have a tragic history of their own making.
2h 29m Drama
A young woman witnesses a bus accident, and is caught up in the aftermath, where the question of whether or not it was intentional affects many people's lives.
22m Animation Comedy Sci-Fi & Fantasy
Evil Con Carne is an American animated series/spin-off of Grim & Evil and sister show of The Grim Adventures of Billy & Mandy, created by Maxwell Atoms. The series first appeared on Cartoon Network during the show Grim & Evil, along with The Grim Adventures of Billy and Mandy. The two series later became separate programs in 2003. While The Grim Adventures of Billy and Mandy ran for six seasons, Evil Con Carne only ran fourteen episodes and ended on October 22, 2004. It was also part of Cartoon Network's series, Cartoon Cartoons, and is the 15th and final cartoon of the series. Season 2 was released unannounced in 2004.On April 13, 2012, the series returned to Cartoon Network in reruns on the revived block, Cartoon Planet.
10.
Circle of Friends (1995)
1h 43m Drama Romance
Three girlhood friends now at college share first loves, first kisses and first betrayals. At the center of it all is the best-looking boy on campus. Can a self-conscious dreamer hook the biggest fish in the pond?
2h 6m Drama War
The son of a Vietnam War Veteran must deal with neighborhood bullies as well as his dad's post-traumatic stress disorder while growing up in the deep south in the 1970's.
12.
The Inevitable Defeat of Mister & Pete (2013)
1h 48m Drama
Coming of age story about two inner city youths, who are left to fend for themselves over the summer after their mothers are taken away by the authorities.
1h 42m Action Drama Thriller
The story of five teenage girls who form an unlikely bond after beating up a teacher who has sexually harassed them. They build a solid friendship but their wild ways begin to get out of control.
explore
Check out more list from our community