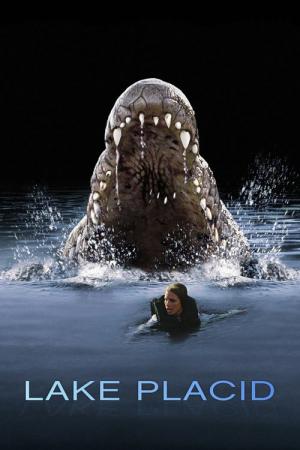 13 Best Movies Like Lake Placid ...
If you liked this one , you will for sure love these too! In this selection we highlight some of the best films that share a very similar mood to 'Lake Placid', and are worth checking out.
1.
Anacondas: The Hunt for the Blood Orchid (2004)
1h 36m Adventure Action Horror Thriller
The blood orchid - a rare flower that could hold the secret of eternal life and be worth a fortune to the company that finds it. Led by a pharmaceutical research team, a scientific expedition sets out to explore deep into the jungles of Borneo to locate and bring back samples of the legendary plant. Battling through rainstorms to make their way upriver, the group encounters poisonous insects and a ferocious crocodile, only to discover they're being stalked by an even greater danger: a gathering of giant anacondas! Heat-sensing, fifty-foot-long flesh-eaters that'll go after anyone that crosses their path!
1h 33m Horror Action Science Fiction Thriller
A game warden moves his family to Lake Placid, once the site of deadly crocodile attacks. Locals assure him the crocs are gone, but his mischievous young son finds a few baby crocs and begins feeding them. They quickly grow into very big adults and start attacking the game warden's family and nearby town.
52m Sci-Fi & Fantasy Action & Adventure
When strange anomalies start to appear all over England, Professor Cutter and his team must track down and capture all sorts of dangerous prehistoric creatures from Earth's distant past and near future.
1h 22m Horror Action Comedy Science Fiction Thriller
A massive ball of furry creatures from another world eat their way through a small mid-western town followed by intergalactic bounty hunters opposed only by militant townspeople.
1h 40m Horror
A large man-eating crocodile terrorizes tourists and locals near Krabi, in Thailand. Michael Madsen plays a hunter stalking the immense reptile, while sub-plots include a rivalry between a foreigner, who owns a crocodile-farm, and a Thai man who plays a part in framing the foreigner for the crocodile's rampage.
1h 39m Comedy Horror Science Fiction
Sleepy New Haven California is a small town with a big problem. A sixty foot slithering horror has arrived and shattered the town's tranquillity on it's path of death and destruction... Growing violent and more savage with each attack the gigantic creature soon becomes an unstoppable feeding machine raging beyond control of it's creator, leaving only the stripped bones of it's victims in it's wake.
7.
Black Water: Abyss (2020)
1h 38m Horror Thriller Adventure Mystery
An adventure-loving couple convince their friends to explore a remote, uncharted cave system in the forests of Northern Australia. With a tropical storm approaching, they abseil into the mouth of the cave, but when the caves start to flood, tensions rise as oxygen levels fall and the friends find themselves trapped. Unknown to them, the storm has also brought in a pack of dangerous and hungry crocodiles.
8.
Scouts Guide to the Zombie Apocalypse (2015)
1h 33m Comedy Horror
Three scouts and lifelong friends join forces with one badass cocktail waitress to become the world's most unlikely team of heroes. When their peaceful town is ravaged by a zombie invasion, they'll fight for the badge of a lifetime and put their scouting skills to the test to save mankind from the undead.
9.
Sharknado 2: The Second One (2014)
1h 26m Thriller Science Fiction
A freak weather system turns its deadly fury on New York City, unleashing a Sharknado on the population and its most cherished, iconic sites - and only Fin and April can save the Big Apple.
10.
Tremors II: Aftershocks (1996)
1h 40m Action Horror Comedy Science Fiction Thriller
Those supersucking desert creatures are back --- and this time they're south of the border. As the creatures worm their way through the oil fields of Mexico, the only people who can wrangle them are veteran Earl Bassett and survivalist Burt Gummer. Add to that team a young punk out for cash and a fearless scientist, and the critters don't stand a chance.
1h 28m Comedy Horror
Each year the population of sleepy Lake Victoria, Arizona explodes from 5,000 to 50,000 residents for the annual Spring Break celebration. But then, an earthquake opens an underwater chasm, releasing an enormous swarm of ancient Piranha that have been dormant for thousands of years, now with a taste for human flesh. This year, there's something more to worry about than the usual hangovers and complaints from locals, a new type of terror is about to be cut loose on Lake Victoria.
1h 39m Action Horror Thriller
From the director of Wolf Creek comes this terrifying look at nature's perfect killing machine. When a group of tourists stumble into the remote Australian river territory of an enormous crocodile, the deadly creature traps them on a tiny mud island with the tide quickly rising and darkness descending. As the hungry predator closes in, they must fight for survival against all odds.
13.
Lake Placid: The Final Chapter (2012)
explore
Check out more list from our community