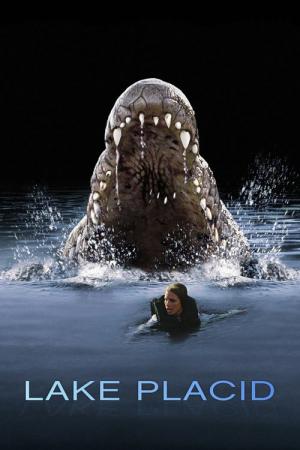 12 Best Movies Like Lake Placid ...
If you liked this one , you will probably love these too! In this list we highlight some of the best films that share a very similar premise to 'Lake Placid', and are worth checking out.
1.
Jersey Shore Shark Attack (2012)
1h 26m TV Movie Action Science Fiction Comedy Drama Horror
Many years ago, hundreds of locals and tourists were massacred by giant man-eating sharks in the infamous 1916 Jersey Shore attacks. But that's just a legend... or is it? It's a holiday weekend on the Jersey Shore and, unbeknownst to anyone, underwater drills have attracted dozens of albino bull sharks to the pier. When a man goes missing, TC (The Complication), Nookie and friends fear the worst and plead with the police chief to close down the beach. It isn't until a famous singer is eaten alive during a performance on the pier that the shark hunt begins. Now, the Preppies must work together with the Guidos in order to save the Jersey Shore and its inhabitants from another vicious slaughter.
1h 33m Horror Action Science Fiction Thriller
A game warden moves his family to Lake Placid, once the site of deadly crocodile attacks. Locals assure him the crocs are gone, but his mischievous young son finds a few baby crocs and begins feeding them. They quickly grow into very big adults and start attacking the game warden's family and nearby town.
1h 39m Action Horror Thriller
From the director of Wolf Creek comes this terrifying look at nature's perfect killing machine. When a group of tourists stumble into the remote Australian river territory of an enormous crocodile, the deadly creature traps them on a tiny mud island with the tide quickly rising and darkness descending. As the hungry predator closes in, they must fight for survival against all odds.
4.
Lake Placid vs. Anaconda (2015)
1h 32m Action Horror
A giant alligator goes head to head with a giant Anaconda. The town sheriff must find a way to destroy the two monsters before they kill the whole town.
5.
Anacondas: The Hunt for the Blood Orchid (2004)
1h 36m Adventure Action Horror Thriller
The blood orchid - a rare flower that could hold the secret of eternal life and be worth a fortune to the company that finds it. Led by a pharmaceutical research team, a scientific expedition sets out to explore deep into the jungles of Borneo to locate and bring back samples of the legendary plant. Battling through rainstorms to make their way upriver, the group encounters poisonous insects and a ferocious crocodile, only to discover they're being stalked by an even greater danger: a gathering of giant anacondas! Heat-sensing, fifty-foot-long flesh-eaters that'll go after anyone that crosses their path!
6.
Lake Placid: The Final Chapter (2012)
1h 43m Comedy Horror
A large spider from the jungles of South America is accidentally transported in a crate with a dead body to America where it mates with a local spider. Soon after, the residents of a small California town disappear as the result of spider bites from the deadly spider offspring. It's up to a couple of doctors with the help of an insect exterminator to annihilate these eight legged freaks.
8.
Sharknado 2: The Second One (2014)
1h 26m Thriller Science Fiction
A freak weather system turns its deadly fury on New York City, unleashing a Sharknado on the population and its most cherished, iconic sites - and only Fin and April can save the Big Apple.
1h 36m Horror Comedy Action Adventure Fantasy
Hick handymen Val McKee and Earl Bassett can barely eke out a living in the Nevada hamlet of Perfection, so they decide to leave town -- despite an admonition from a shapely seismology coed who's picking up odd readings on her equipment. Before long, Val and Earl discover what's responsible for those readings: 30-foot-long carnivorous worms with a proclivity for sucking their prey underground.
10.
An American Werewolf in Paris (1997)
1h 45m Horror Comedy
An American man unwittingly gets involved with werewolves who have developed a serum allowing them to transform at will.
1h 32m Action Adventure Horror Science Fiction
When a science experiment goes horribly wrong, gigantic fish gain appetites for human flesh.
1h 24m Horror
When the body of a man is found completely destroyed in the swamps in Louisiana, the medical investigator Sam Rivers is assigned to investigate the murder. He travels with the biologist Mary Callahan to the location where the victim lived in a floating house and he meets his family and friends. They find that Chinese snake-heads genetically engineered that belong to a wealthy hunter are attacking and killing the locals. While the group fights to survive, the hunter Jeff arrives with his team to hunt the predators.
explore
Check out more list from our community