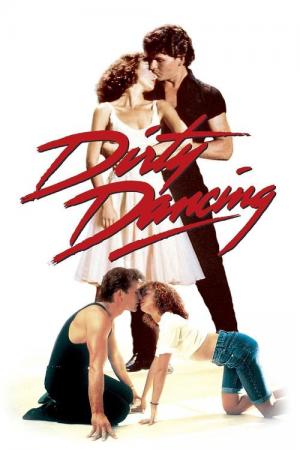 14 Best Movies Like Dirty Dancing ...
If you liked this movie , you will definitely love these too! In this list we highlight some of the best films that share a very similar mood to 'Dirty Dancing', and are worth checking out.
1h 34m Romance Music Family
Honey Daniels dreams of making a name for herself as a hip-hop choreographer. When she's not busy hitting downtown clubs with her friends, she teaches dance classes at a nearby community center in Harlem, N.Y., as a way to keep kids off the streets. Honey thinks she's hit the jackpot when she meets a hotshot director casts her in one of his music videos. But, when he starts demanding sexual favors from her, Honey makes a decision that will change her life.
1h 56m Romance Drama
Two young kids fall in love with each other. But the passion is too consuming for the parents of Jade. The parents try to stop them from seeing each other. But when this doesn't work, David burns down the house and is sent away. This doesn't stop him from seeing her. When he gets out he goes to look for her. But the passion for his first love is too strong and she has to leave.
3.
Dirty Dancing: Havana Nights (2004)
1h 26m Drama Romance
In pre-revolution Cuba, Katey Miller is about to defy everyone's expectations. Instead of a parent-approved suitor, Katey is drawn to the sexy waiter, Javier, who spends his nights dancing in Havana's nightclubs. As she secretly learns to dance with Javier, she learns the meanings of love, sensuality and independence.
2h 3m Romance Drama
An epic love story centered around an older man who reads aloud to a woman with Alzheimer's. From a faded notebook, the old man's words bring to life the story about a couple who is separated by World War II, and is then passionately reunited, seven years later, after they have taken different paths.
1h 52m Romance Drama Music
All-stars from the previous Step Up installments come together in glittering Las Vegas, battling for a victory that could define their dreams and their careers.
1h 53m Drama Music Romance
Ren MacCormack is transplanted from Boston to the small southern town of Bomont where loud music and dancing are prohibited. Not one to bow to the status quo, Ren challenges the ban, revitalizing the town and falling in love with the minister's troubled daughter Ariel in the process.
1h 36m Romance Drama
Three lives of three young people intersect over the course of one summer. A rich student and a young working-class man accidentally destroy a diner when their impromptu road race takes a disastrous turn. Ordered by a judge to spend the summer repairing the building, they find themselves becoming rivals for the affections of the owner's daughter.
1h 35m Drama Romance
Alex Owens, a teen juggling between two odd jobs, aspires to become a successful ballet dancer. Nick, who is her boss and lover, supports and encourages her to fulfil her dream.
2h 2m Fantasy Drama Romance
When Bella Swan moves to a small town in the Pacific Northwest, she falls in love with Edward Cullen, a mysterious classmate who reveals himself to be a 108-year-old vampire. Despite Edward's repeated cautions, Bella can't stay away from him, a fatal move that endangers her own life.
24m Action & Adventure Animation Comedy Drama Mystery Sci-Fi & Fantasy
The Holy Grail War is a battle royale among seven magi who serve as Masters. Masters, through the use of the command seals they are given when they enter the war, command Heroic Spirits known as Servants to fight for them in battle. In the Fifth Holy Grail War, Rin Tohsaka is among the magi entering the competition. With her Servant, Archer, she hopes to obtain the ultimate prize—the Holy Grail, a magical artifact capable of granting its wielder any wish.One of Rin's classmates, Shirou Emiya, accidentally enters the competition and ends up commanding a Servant of his own known as Saber. As they find themselves facing mutual enemies, Rin and Shirou decide to form a temporary alliance as they challenge their opponents in the Holy Grail War.
2h 6m Drama Music Romance
Young Cuban Rafael just buried his mother, and comes to Houston to meet his father John for the first time. The difficult part is that John doesn't know he is Rafael's father. John runs a dance studio, and everyone prepares for the World Open Dance championship in Las Vegas. It soon becomes clear Rafael is a very good dancer, and Ruby is the biggest hope for the studio at the championship.
1h 46m Romance Drama Comedy
Tessa Young is a dedicated student, dutiful daughter and loyal girlfriend to her high school sweetheart. Entering her first semester of college, Tessa's guarded world opens up when she meets Hardin Scott, a mysterious and brooding rebel who makes her question all she thought she knew about herself -- and what she wants out of life.
13.
Step Up Revolution (2012)
1h 39m Music Drama Romance
Emily arrives in Miami with aspirations to become a professional dancer. She sparks with Sean, the leader of a dance crew whose neighborhood is threatened by Emily's father's development plans.
14.
According to Greta (2009)
1h 32m Drama Romance
Dumped on her grandparents for the summer by her indifferent mother, acerbic and self-destructive teenager Greta disrupts the elderly couple's staid life on the Jersey Shore. Eventually, a romance helps Greta face down her demons.
explore
Check out more list from our community