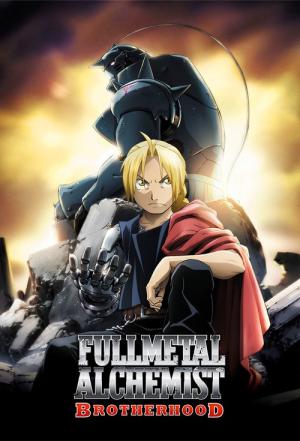 13 Best Shows Like Fullmetal Alchemist Brotherhood ...
If you liked this film , you will definitely love these too! In this selection we highlight some of the best films that share a very similar mood to '', and are worth checking out.
1.
Fullmetal Alchemist (2003)
25m Action & Adventure Animation Sci-Fi & Fantasy
Two young brothers are raised as alchemists, but when they are severely injured trying to perform a forbidden act, they begin searching for the one thing that can save them; the fabled philosopher's stone.
2.
Fullmetal Alchemist the Movie: Conqueror of Shamballa (2005)
1h 45m Action Adventure Animation Drama
Munich, Germany, 1923. Two years have passed since Edward Elric was dragged from his own world to ours, leaving behind his country, his friends and his younger brother, Alphonse. Stripped of his alchemical powers, he has been all this time researching rocketry together with Alphonse Heiderich, a young man who resembles his own brother, hoping to one day find a way back home. His efforts so far had proven fruitless, but after lending a hand to a troubled gipsy girl, Edward is thrown in a series of events that can wreak havoc in both worlds. Meanwhile, at his own world, Alphonse Elric ventures deeper into the mysteries of alchemy in search for a way to reunite with his older brother.
25m Action & Adventure Animation Comedy Sci-Fi & Fantasy Mystery
Lucy is a 17-year-old girl, who wants to be a full-fledged mage. One day when visiting Harujion Town, she meets Natsu, a young man who gets sick easily by any type of transportation. But Natsu isn't just any ordinary kid, he's a member of one of the world's most infamous mage guilds: Fairy Tail.
6.
No Game, No Life (2014)
23m Action & Adventure Animation Comedy Sci-Fi & Fantasy
This is a surreal comedy that follows Sora and Shiro, shut-in NEET siblings and the online gamer duo behind the legendary username "Kuuhaku." They view the real world as just another lousy game; however, a strange e-mail challenging them to a chess match changes everything—the brother and sister are plunged into an otherworldly realm where they meet Tet, the God of Games.The mysterious god welcomes the two to Disboard, a world where all forms of conflict are settled through high-stake games. This system works thanks to a fundamental rule wherein each party must wager something they deem to be of equal value to the other party's wager. In this strange land where the very idea of humanity is reduced to child's play, the indifferent genius gamer duo of Sora and Shiro have finally found a real reason to keep playing games: to unite the sixteen races of Disboard, defeat Tet, and become the gods of this new, gaming-is-everything world.
24m Action & Adventure Animation Comedy
Asta and Yuno are two orphans who want the same thing: to become the Wizard King. Locked in a friendly rivalry, they work hard towards their goal. While Yuno excels at magic, Asta has a problem uncommon in this world: he has no powers! But, on the day they receive their grimoires, they surprise everyone. To reach their goal, they'll each find their own path to greatness—with or without magic.
29m Action Drama Fantasy Animation
Kurosaki Ichigo, the temporary Shinigami (Death God) for Kuchiki Rukia, discovers his mother's killer as one of the Hollows he has been hunting. He does battle with it in a prideful battle of revenge.
1h 15m Comedy
Made under the restrictions of "no zoom, pan, editing or post-sound," directors Shinobu Yaguchi and Takuji Suzuki skewer Japanese social conventions in 14 short episodes. In one segment a woman misreads an advertisement and arrives at a job interview dressed in a bunny suit. Another concerns a woman who hides to surprise her friends only to overhear their unkind appraisal of her hygiene. And another entitled "Grandpa from Hell" is a surreal yarn about a cult leader. Ranging from the humorous to the deeply bizarre, the film's static, minimalistic style makes such "Dogme 95" films as The Celebration (1998) look extravagant.
25m Animation Action & Adventure Sci-Fi & Fantasy
When summer break begins, Haruka is only thinking of hanging out with her friends—until one fateful night she learns that she's the keystone in an interdimensional battle for not only the Earth's future, but the very survival of all existence across the multiverse.
11.
Saint Seiya The Lost Canvas - The Myth of Hades (2009)
24m Animation Action & Adventure
An orphan known as Tenma becomes one of Athena's 88 warriors known as Saints and finds himself in a war fighting against his best friend Alone who is revealed to be the reincarnation of Athena's biggest enemy, the God Hades.
25m Animation Action & Adventure Comedy
Pretty Cure, known in Japan as Futari wa Pretty Cure, is a Japanese magical girl anime series The theme of the series revolves around Yin and Yang, which explains the relationship between Nagisa and Honoka trying to work together as Pretty Cures.
explore
Check out more list from our community