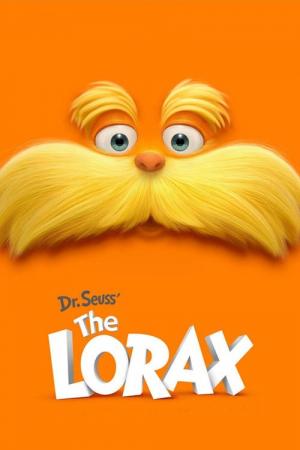 31 Best Movies Like The Lorax ...
If you liked this film , you will probably love these too! In this collection we highlight some of the best films that share a very similar premise to '', and are worth checking out.
1.
Cloudy with a Chance of Meatballs (2009)
1h 30m Animation Comedy Family
Inventor Flint Lockwood creates a machine that makes clouds rain food, enabling the down-and-out citizens of Chewandswallow to feed themselves. But when the falling food reaches gargantuan proportions, Flint must scramble to avert disaster. Can he regain control of the machine and put an end to the wild weather before the town is destroyed?
2.
Horton Hears a Who! (2008)
1h 26m Animation Comedy Family Adventure Fantasy
One day, Horton the elephant hears a cry from help coming from a speck of dust. Even though he can't see anyone on the speck, he decides to help it. As it turns out, the speck of dust is home to the Whos, who live in their city of Whoville. Horton agrees to help protect the Whos and their home.
1h 35m Animation Family Adventure Drama Comedy
Growing up can be a bumpy road, and it's no exception for Riley, who is uprooted from her Midwest life when her father starts a new job in San Francisco. Riley's guiding emotions— Joy, Fear, Anger, Disgust and Sadness—live in Headquarters, the control centre inside Riley's mind, where they help advise her through everyday life and tries to keep things positive, but the emotions conflict on how best to navigate a new city, house and school.
1h 38m Animation Family Adventure Comedy
Bolt is the star of the biggest show in Hollywood. The only problem is, he thinks it's real. After he's accidentally shipped to New York City and separated from Penny, his beloved co-star and owner, Bolt must harness all his "super powers" to find a way home.
5.
The Secret Life of Pets (2016)
1h 27m Adventure Comedy Animation Family
The quiet life of a terrier named Max is upended when his owner takes in Duke, a stray whom Max instantly dislikes.
6.
Rise of the Guardians (2012)
1h 37m Family Animation Fantasy Action Adventure
When an evil spirit known as Pitch lays down the gauntlet to take over the world, the immortal Guardians must join forces for the first time to protect the hopes, beliefs and imagination of children all over the world.
7.
Arthur Christmas (2011)
1h 37m Drama Animation Family Comedy
Each Christmas, Santa and his vast army of highly trained elves produce gifts and distribute them around the world in one night. However, when one of 600 million children to receive a gift from Santa on Christmas Eve is missed, it is deemed 'acceptable' to all but one—Arthur. Arthur Claus is Santa's misfit son who executes an unauthorised rookie mission to get the last present half way around the globe before dawn on Christmas morning.
1h 37m Animation Comedy Family Fantasy
An orphaned boy raised by underground creatures called Boxtrolls comes up from the sewers and out of his box to save his family and the town from the evil exterminator, Archibald Snatcher.
1h 42m Animation Adventure Family Fantasy
A teenager finds herself transported to a deep forest setting where a battle between the forces of good and the forces of evil is taking place. She bands together with a rag-tag group characters in order to save their world—and ours.
1h 34m Fantasy Comedy Animation Science Fiction Family
When Earth is taken over by the overly-confident Boov, an alien race in search of a new place to call home, all humans are promptly relocated, while all Boov get busy reorganizing the planet. But when one resourceful girl, Tip, manages to avoid capture, she finds herself the accidental accomplice of a banished Boov named Oh. The two fugitives realize there's a lot more at stake than intergalactic relations as they embark on the road trip of a lifetime.
1h 25m Adventure Animation Family
When an impulsive boy named Kenai is magically transformed into a bear, he must literally walk in another's footsteps until he learns some valuable life lessons. His courageous and often zany journey introduces him to a forest full of wildlife, including the lovable bear cub Koda, hilarious moose Rutt and Tuke, woolly mammoths and rambunctious rams.
12.
Monsters, Inc. (2001)
1h 32m Animation Comedy Family
James Sullivan and Mike Wazowski are monsters, they earn their living scaring children and are the best in the business... even though they're more afraid of the children than they are of them. When a child accidentally enters their world, James and Mike suddenly find that kids are not to be afraid of and they uncover a conspiracy that could threaten all children across the world.
13.
Cloudy with a Chance of Meatballs 2 (2013)
1h 35m Animation Family Comedy
After the disastrous food storm in the first film, Flint and his friends are forced to leave the town. Flint accepts the invitation from his idol Chester V to join The Live Corp Company, which has been tasked to clean the island, and where the best inventors in the world create technologies for the betterment of mankind. When Flint discovers that his machine still operates and now creates mutant food beasts like living pickles, hungry tacodiles, shrimpanzees and apple pie-thons, he and his friends must return to save the world.
14.
The Care Bears Movie (1985)
1h 17m Adventure Fantasy Animation Comedy Family
The Care Bears have their work cut out for them, because Nicolas, a lonely magician's assistant, is about to fall under the evil influence of a bad spirit who lives in an ancient magic book -- it seems Nicolas will do just about anything for friends. Aside from Nicolas, Kim and Jason are in trouble because they are starting not to trust people after suffering many disappointments.
15.
The Good Dinosaur (2015)
1h 33m Adventure Animation Family
An epic journey into the world of dinosaurs where an Apatosaurus named Arlo makes an unlikely human friend.
1h 47m Adventure Comedy Family Animation
In Ancient Polynesia, when a terrible curse incurred by Maui reaches an impetuous Chieftain's daughter's island, she answers the Ocean's call to seek out the demigod to set things right.
17.
Pooh's Heffalump Movie (2005)
1h 8m Family Animation Comedy Fantasy
Who or what exactly is a Heffalump? The lovable residents of the Hundred Acre Wood -- Winnie the Pooh, Rabbit, Tigger, Eeyore, Kanga and the rest of the pack -- embark on a journey of discovery in search of the elusive Heffalump. But as is always the case, this unusual road trip opens their eyes to so much more than just the creature they're seeking.
1h 35m Family Animation Comedy
Villainous Gru lives up to his reputation as a despicable, deplorable and downright unlikable guy when he hatches a plan to steal the moon from the sky. But he has a tough time staying on task after three orphans land in his care.
1h 32m Family Animation Fantasy Adventure Comedy Music
Lovable and friendly, the trolls love to play around. But one day, a mysterious giant shows up to end the party. Poppy, the optimistic leader of the Trolls, and her polar opposite, Branch, must embark on an adventure that takes them far beyond the only world they've ever known.
1h 30m Animation Comedy Fantasy Adventure
It ain't easy bein' green -- especially if you're a likable (albeit smelly) ogre named Shrek. On a mission to retrieve a gorgeous princess from the clutches of a fire-breathing dragon, Shrek teams up with an unlikely compatriot -- a wisecracking donkey.
21.
Barbie: Fairytopia (2005)
1h 10m Animation Family
Elina is a flower fairy who discovers that her home of Magic Meadow has been overcome by a horrible malady that is killing the flowers and making the fairies unable to fly. With the help of Bibble, a puffball and a giant butterfly named Hue she attempts to find Azura, a Guardian Fairy. She's challenged along the way by the evil Laverna who wants to usurp the Enchantress, the ruler of Fairytopia.
1h 25m Animation Family Comedy Fantasy
The Grinch hatches a scheme to ruin Christmas when the residents of Whoville plan their annual holiday celebration.
23.
Jack and the Cuckoo-Clock Heart (2013)
24.
Happily N'Ever After (2006)
1h 36m Comedy Adventure Family
A young Peruvian bear travels to London in search of a new home. Finding himself lost and alone at Paddington Station, he meets the kindly Brown family.
26.
Mune: Guardian of the Moon (2014)
27.
Stuart Little 2 (2002)
1h 18m Family Adventure Animation Comedy
Stuart, an adorable white mouse, still lives happily with his adoptive family, the Littles, on the east side of Manhattan's Central Park. More crazy mouse adventures are in store as Stuart, his human brother, George, and their mischievous cat, Snowbell, set out to rescue a friend.
28.
The Tigger Movie (2000)
1h 17m Family Animation Comedy
Winnie the Pooh, Piglet, Owl, Kanga, Roo, and Rabbit are preparing a suitable winter home for Eeyore, the perennially dejected donkey, but Tigger's continual bouncing interrupts their efforts. Rabbit suggests that Tigger go find others of his kind to bounce with, but Tigger thinks "the most wonderful thing about tiggers is" he's "the only one!" Just in case though, the joyously jouncy feline sets out to see if he can find relatives.
29.
Hey Arnold! The Movie (2002)
1h 16m Animation Family
When a powerful developer named Mr. Scheck wants to knock down all the stores and houses in Arnold's neighborhood to build a huge "mall-plex", it looks likes the neighborhood is doomed to disappear. But with the help of a superhero and a mysterious deep-voiced stranger, Arnold and Gerald will need to recover a crucial document in order to save their beloved neighborhood.
30.
The Lion King 1 1/2 (2004)
explore
Check out more list from our community