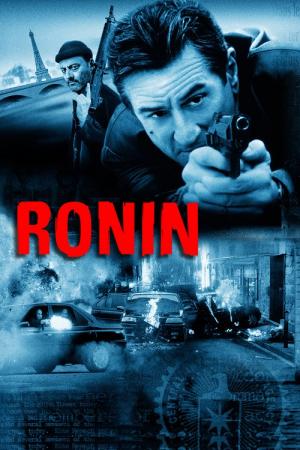 30 Best Movies Like Ronin ...
If you liked this movie , you will definitely love these too! In this selection we highlight some of the best films that share a very similar premise to '', and are worth checking out.
2h 4m Action Thriller Adventure Crime
Hired by a powerful member of the Russian mafia to avenge an FBI sting that left his brother dead, a psychopathic hitman known only as The Jackal proves an elusive target for the people charged with the task of bringing him down: a deputy FBI director, a Russian MVK Major, and a jailed IRA terrorist who can recognize him.
1h 51m Action Adventure Comedy Crime Thriller
When his peaceful life is threatened by a high-tech assassin, former black-ops agent, Frank Moses reassembles his old team in a last ditch effort to survive and uncover his assailants.
3.
From Paris with Love (2010)
1h 32m Action Crime Thriller
James Reese has a good job as an ambassador's aid in France, but his real passion is a side gig—working in a minor role in the CIA. He would love to be a full-fledged agent and can't believe his luck when he lands an assignment with Charlie Wax. Trigger-happy Charlie soon has James crying for his desk job, but when he learns that the same guys they're trying to catch are after him, James realises that Charlie may be his only hope of survival.
4.
Mission: Impossible (1996)
1h 50m Adventure Action Thriller
When Ethan Hunt, the leader of a crack espionage team whose perilous operation has gone awry with no explanation, discovers that a mole has penetrated the CIA, he's surprised to learn that he's the No. 1 suspect. To clear his name, Hunt now must ferret out the real double agent and, in the process, even the score.
1h 36m Action Thriller
This story is about a freelance agent (Seagal) who is the courier of a package from France to Germany. He soon finds that many people want to get their hands on it.
2h 6m Action Crime Thriller
On the day of his retirement, a veteran CIA agent learns that his former protégé has been arrested in China, is sentenced to die the next morning in Beijing, and that the CIA is considering letting that happen to avoid an international scandal.
8.
The Professional (1981)
1h 48m Action Adventure Thriller
French secret agent Joss Baumont is sent to kill the president Njala of an African country. However, a counter-order is given before he can execute his mission and he is abandoned in the hands of foreign authorities. He escapes and seeks revenge by pursuing what was his original mission.
1h 56m Action Adventure Thriller
Based on a shocking true story, Killer Elite pits two of the world's most elite operatives—Danny, an ex-special ops agent and Hunter, his longtime mentor—against the cunning leader of a secret military society. Covering the globe from Australia to Paris, London and the Middle East, Danny and Hunter are plunged into a highly dangerous game of cat and mouse—where the predators become the prey.
1h 55m Action Thriller
A dangerous CIA renegade resurfaces after a decade on the run. When the safe house he's remanded to is attacked by mercenaries, a rookie operative escapes with him. Now, the unlikely allies must stay alive long enough to uncover who wants them dead.
1h 55m Action Drama Crime
Eight years after fleeing the Congo following his assassination of that country's minister of mining, former assassin Jim Terrier is back, suffering from PTSD and digging wells to atone for his violent past. After an attempt is made on his life, Terrier flies to London to find out who wants him dead -- and why. Terrier's search leads him to a reunion with Annie, a woman he once loved, who is now married to an oily businessman with dealings in Africa.
12.
The Assignment (1997)
13.
Black Moon Rising (1986)
1h 40m Action
An FBI free-lancer stashes a stolen Las Vegas-crime tape in a high-tech car stolen by someone else.
1h 57m Drama Action Thriller Crime
When CIA Analyst Jack Ryan interferes with an IRA assassination, a renegade faction targets Jack and his family as revenge.
15.
The Bourne Ultimatum (2007)
1h 55m Action Drama Mystery Thriller
Bourne is brought out of hiding once again by reporter Simon Ross who is trying to unveil Operation Blackbriar, an upgrade to Project Treadstone, in a series of newspaper columns. Information from the reporter stirs a new set of memories, and Bourne must finally uncover his dark past while dodging The Company's best efforts to eradicate him.
1h 34m Action Crime Thriller
After a former elite agent rescues a 12-year-old Chinese girl who's been abducted, they find themselves in the middle of a standoff between Triads, the Russian Mafia and high-level corrupt New York City politicians and police.
17.
The Replacement Killers (1998)
1h 27m Action Drama Crime Thriller Mystery
Hired assassin John Lee is asked by Chinatown crime boss Terence Wei to murder the young son of policeman Stan Zedkov. Lee has the boy in his sights, but his conscience gets the better of him, and he spares the child's life. Afraid that Wei will take revenge on his family in China, Lee seeks out expert forger Meg Coburn to obtain the passport he needs to get out of the country, but a band of replacement killers is soon on his trail.
18.
The Transporter (2002)
1h 32m Action Crime Thriller
Former Special Forces officer, Frank Martin will deliver anything to anyone for the right price, and his no-questions-asked policy puts him in high demand. But when he realizes his latest cargo is alive, it sets in motion a dangerous chain of events. The bound and gagged Lai is being smuggled to France by a shady American businessman, and Frank works to save her as his own illegal activities are uncovered by a French detective.
2h 13m Crime Thriller Action
A man is released from prison to help American and Chinese authorities pursue a mysterious cyber criminal. The dangerous search leads them from Chicago to Hong Kong.
20.
The Art of War (2000)
1h 57m Crime Action Adventure
When ruthless terrorists threaten to bring down the United Nations, they frame the one man they believe can stop them: an international security expert named Shaw. Now he must run from his own allies and become a solitary force for good, as he tries to stop what could become World War III.
21.
The November Man (2014)
1h 48m Crime Action Thriller
An ex-CIA operative is brought back in on a very personal mission and finds himself pitted against his former pupil in a deadly game involving high level CIA officials and the Russian president-elect.
1h 49m Thriller Action Drama Crime
When his brother-in-law runs afoul of a drug lord, family man Chris Farraday turns to a skill he abandoned long ago—smuggling—to repay the debt. But the job goes wrong, and Farraday finds himself wanted by cops, crooks and killers alike.
1h 30m Action Crime
After the murder of their families by a terrorist bomb, five young adults are trained as a hi-tech, anti-terrorist team with a mission to search and destroy high-profile terrorist groups.
1h 33m Action Thriller Crime
Arthur Bishop is a 'mechanic' - an elite assassin with a strict code and unique talent for cleanly eliminating targets. It's a job that requires professional perfection and total detachment, and Bishop is the best in the business. But when he is ordered to take out his mentor and close friend Harry, Bishop is anything but detached.
25.
The Italian Job (2003)
1h 50m Action Crime
Charlie Croker pulled off the crime of a lifetime. The one thing that he didn't plan on was being double-crossed. Along with a drop-dead gorgeous safecracker, Croker and his team take off to re-steal the loot and end up in a pulse-pounding, pedal-to-the-metal chase that careens up, down, above and below the streets of Los Angeles.
2h 30m Action Crime Thriller
After fighting his way through an apartment building populated by an army of dangerous criminals and escaping with his life, SWAT team member Rama goes undercover, joining a powerful Indonesian crime syndicate to protect his family and uncover corrupt members of his own force.
1h 38m Thriller Action
An American backpacker gets involved with a ring of drug smugglers as their driver, and winds up on the run from his employers across Munich's autobahns.
explore
Check out more list from our community