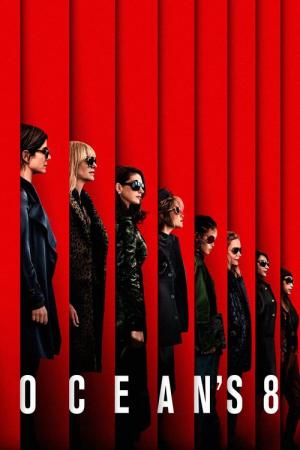 11 Best Movies Like Oceans ...
If you liked this one , you will for sure love these too! In this list we highlight some of the best films that share a very similar mood to 'Ocean's 8', and are worth checking out.
2h 15m Action Crime
A gang of South Korean thieves team up with a Hong Kong crew to steal a diamond necklace from a heavily-guarded casino safe in Macau. As the cops close in, old betrayals — and misunderstandings — resurface.
2.
Now You See Me 2 (2016)
2h 9m Thriller Action Comedy
One year after outwitting the FBI and winning the public's adulation with their mind-bending spectacles, the Four Horsemen resurface only to find themselves face to face with a new enemy who enlists them to pull off their most dangerous heist yet.
1h 56m Thriller Crime
An FBI agent and an Interpol detective track a team of illusionists who pull off bank heists during their performances and reward their audiences with the money.
4.
Gone in Sixty Seconds (2000)
1h 58m Action Crime Thriller
Upon learning that he has to come out of retirement to steal 50 cars in one night to save his brother Kip's life, former car thief Randall "Memphis" Raines enlists help from a few "boost happy" pals to accomplish a seemingly impossible feat. From countless car chases to relentless cops, the high-octane excitement builds as Randall swerves around more than a few roadblocks to keep Kip alive.
1h 42m Action Thriller Crime
An ex-cop turned con threatens to jump to his death from a Manhattan hotel rooftop. The NYPD dispatch a female police psychologist to talk him down. However, unbeknownst to the police on the scene, the suicide attempt is a cover for the biggest diamond heist ever pulled.
6.
3000 Miles to Graceland (2001)
2h 5m Action Adventure Comedy Crime Thriller
It was an ingenious enough plan: rob the Riviera Casino's count room during an Elvis impersonator convention. But Thomas Murphy decided to keep all the money for himself and shot all his partners, including recently-freed ex-con Michael Zane. With $3.2 million at stake, the Marshals Service closing in, Michael must track down Murphy.
2h 5m Thriller Crime
Danny Ocean reunites with his old flame and the rest of his merry band of thieves in carrying out three huge heists in Rome, Paris and Amsterdam – but a Europol agent is hot on their heels.
1h 57m Action Comedy Crime
Uptight and straight-laced, FBI Special Agent Sarah Ashburn is a methodical investigator with a reputation for excellence--and hyper-arrogance. Shannon Mullins, one of Boston P.D.'s "finest," is foul-mouthed and has a very short fuse, and uses her gut instinct and street smarts to catch the most elusive criminals. Neither has ever had a partner, or a friend for that matter. When these two wildly incompatible law officers join forces to bring down a ruthless drug lord, they become the last thing anyone expected: Buddies.
9.
Ocean's Thirteen (2007)
2h 2m Crime Thriller
Danny Ocean's team of criminals are back and composing a plan more personal than ever. When ruthless casino owner Willy Bank doublecrosses Reuben Tishkoff, causing a heart attack, Danny Ocean vows that he and his team will do anything to bring down Willy Bank along with everything he's got. Even if it means asking for help from an enemy.
10.
Charlie's Angels (2000)
1h 38m Action Adventure Comedy Crime Thriller
Three women, detectives with a mysterious boss, retrieve stolen voice-ID software, using martial arts, tech skills, and sex appeal.
1h 47m Action Comedy Crime
Detectives Jimmy and Paul, despite nine years as partners, can still sometimes seem like polar opposites—especially when Paul's unpredictable antics get them suspended without pay. Already strapped for cash and trying to pay for his daughter's wedding, Jimmy decides to sell a rare baseball card that's worth tens of thousands. Unfortunately, when the collector's shop is robbed and the card vanishes with the crook, Paul and Jimmy end up going rogue, tracking down the card and the drug ring behind its theft, all on their own time and without any backup—except for each other.
explore
Check out more list from our community