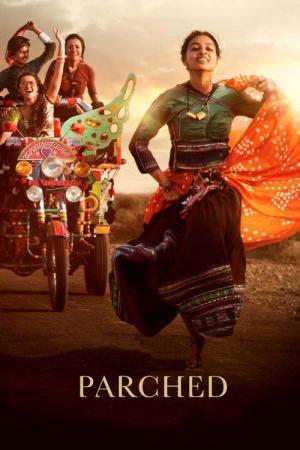 14 Best Movies Like Parched ...
If you liked this movie , you will probably love these too! In this list we highlight some of the best films that share a very similar mood to 'Parched', and are worth checking out.
1h 42m Drama
The grind of daily life as a Brick Lane Bangladessi as seen through the eyes of Nazneen (Chatterjee), who at 17 enters an arranged marriage with Chanu (Kaushik). Years later, living in east London with her family, she meets a young man Karim (Simpson).
3.
Lazy Hazy Crazy (2015)
1h 39m Drama Romance
Childhood friends Tracy, Chloe and Alice share an apartment over the summer. They live close together, meet guys and sell their company as well as sex. With a romantic imagery and sometimes provocative theme the female debutant director Luk Yee-sum give the audience a playful story about sexuality, desire and friendship.
4.
God Exists, Her Name Is Petrunya (2019)
1h 40m Drama
In Stip, a small town in Macedonia, every January the local priest throws a wooden cross into the river and hundreds of men dive after it. Good fortune and prosperity are guaranteed to the man who retrieves it. This time, Petrunya dives into the water on a whim and manages to grab the cross before the others. Her competitors are furious - how dare a woman take part in their ritual? All hell breaks loose, but Petrunya holds her ground. She won her cross and will not give it up.
1h 43m Drama
A young woman leaves the city to return to her hometown in the countryside. Seeking to escape the hustle and bustle of the city, she becomes self-sufficient in a bid to reconnect with nature.
1h 42m Action Drama Thriller
The story of five teenage girls who form an unlikely bond after beating up a teacher who has sexually harassed them. They build a solid friendship but their wild ways begin to get out of control.
2h 1m Drama
A group of German construction workers set out for a foreign construction site in the Bulgarian province. The strange country awakens adventure feelings among the men. At the same time, they are confronted with their prejudices and mistrust. For two of the men, a nearby village becomes the stage for a competition for the recognition and favor of the village.
8.
The Greatest House in the World (2015)
1h 16m Drama
Rocio, a Maya Mam girl, lives in the mountains with her mother, who is pregnant and her granny. Due to an early delivery from her mother, Rocio is stuck with caring for a herd of sheep, the first time she has done it on her own. Playing in the mountains she loses one of the sheep. Looking for it, she will lose the rest of the herd. In the midst of this tragedy, Rocio will have to face her innocence, conquer her fear of fog and learn that freedom entails responsibility. Nature will teach her that you do not have to defeat your fears, you just have to experience them. The Greatest House in the World is a story of children -which we all are- when facing fears, the unknown, the uncertain... the fog.
30m Drama
Based on legendary Egyptian novelist Naguib Mafhouzs novel. The series revolves around a theater group in the 70s who discover that the characters in their new script are actually themselves and that the script reveals all their secrets.
1h 35m Romance Drama Music TV Movie
A romantic drama based on the story of Carley Allison, a promising 18 year old figure skater and singer who made medical history in her fight against a rare 1 in 3.5 billion type of sarcoma.
11.
Too Late to Die Young (2018)
1h 44m Drama
Jade is a young mother in the prime of her life when an acid attack leaves her severely burned. While her face has been reconstructed, her beauty is lost beneath the scars. Descending a self-destructive path with relationships crumbling, Jade must take drastic action to reclaim her life.
1h 48m Drama
Algiers, 1997. The country is in the hands of terrorist groups, seeking to establish an Islamic and archaic state. Women are particularly affected and oppressed by primitive diktas, who seek to take control of their bodies and control their passage through the public space. While a frenzied hunt for women unveiled is launched, Nedjma, a young student passionate about fashion, is determined to federate the girls of her campus to organize a fashion show braving all the forbidden.
14.
Never Rarely Sometimes Always (2020)
1h 41m Drama
A pair of teenage girls in rural Pennsylvania travel to New York City to seek out medical help after an unintended pregnancy.
explore
Check out more list from our community