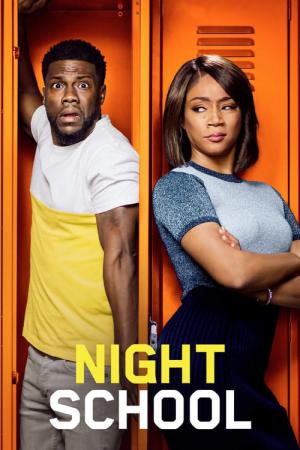 11 Best Movies Like Night School ...
If you liked this film , you will probably love these too! In this list we highlight some of the best films that share a very similar premise to 'Night School', and are worth checking out.
1.
The Wedding Ringer (2015)
Doug Harris is a loveable but socially awkward groom-to-be with a problem: he has no best man. With less than two weeks to go until he marries the girl of his dreams, Doug is referred to Jimmy Callahan, owner and CEO of Best Man, Inc., a company that provides flattering best men for socially challenged guys in need. What ensues is a hilarious wedding charade as they try to pull off the big con, and an unexpected budding bromance between Doug and his fake best man Jimmy.
1h 41m
Director, Screenplay: Jeremy Garelick
Screenplay: Jay Lavender
Comedy
2.
Think Like a Man (2012)
The balance of power in four couples' relationships is upset when the women start using the advice in Steve Harvey's book, Act Like A Lady, Think Like A Man, to get more of what they want from their men. When the men realize that the women have gotten a hold of their relationship "playbook," they decide that the best defense is a good offense and come up with a plan to use this information to their advantage.
2h 2m
Director: Tim Story
Writer: Keith Merryman
Writer: David A. Newman
Comedy Romance
When one school teacher gets the other fired, he is challenged to an after-school fight.
1h 31m
Screenplay, Story: Van Robichaux
Screenplay, Story: Evan Susser
Director: Richie Keen
Story: Max Greenfield
Comedy
Billy Madison is the 27 year-old son of Bryan Madison, a very rich man who has made his living in the hotel industry. Billy stands to inherit his father's empire but only if he can make it through all 12 grades, 2 weeks per grade, to prove that he has what it takes to run the family business.
1h 29m
Director: Tamra Davis
Screenplay: Adam Sandler
Screenplay: Tim Herlihy
Comedy
6.
Romy and Michele's High School Reunion (1997)
Two not-too-bright party girls reinvent themselves for their high school reunion. Armed with a borrowed Jaguar, new clothes and the story of their success as the inventors of Post-It notes, Romy and Michele descend on their alma mater, but their façade crumbles quickly.
1h 32m
Director: David Mirkin
Screenplay: Robin Schiff
Comedy
7.
Suck Me Shakespeer 3 (2017)
High school misfits Stoney and Dave discover a long-frozen primeval man buried in their back yard. But the thawed-out Link—as the boys have named him—quickly becomes a wild card in the teens' already zany southern California lives. After a shave and some new clothes, Link's presence at school makes the daily drudgery a lot more interesting.
1h 28m
Director: Les Mayfield
Screenplay: Shawn Schepps
Comedy Family
10.
Authors Anonymous (2014)
11.
A Madea Family Funeral (2019)
explore
Check out more list from our community