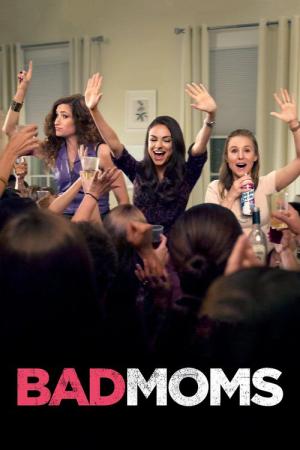 31 Best Movies Like Bad Moms ...
If you liked this movie , you will for sure love these too! In this collection we highlight some of the best films that share a very similar mood to '', and are worth checking out.
1.
A Bad Moms Christmas (2017)
1h 44m Comedy
Amy, Kiki and Carla – three under-appreciated and over-burdened women – rebel against the challenges and expectations of the Super Bowl for mothers: Christmas. And if creating a more perfect holiday for their families wasn't hard enough, they have to do all of that while hosting and entertaining their own mothers.
1h 58m Comedy
Two disconnected sisters are summoned to clean out their childhood bedrooms before their parents sell their family home.
1h 40m Comedy
When three friends finally come to after a raucous night of bachelor-party revelry, they find a baby in the closet and a tiger in the bathroom. But they can't seem to locate their best friend, Doug – who's supposed to be tying the knot. Launching a frantic search for Doug, the trio perseveres through a nasty hangover to try to make it to the church on time.
1h 42m Comedy
After their high school basketball coach passes away, five good friends and former teammates reunite for a Fourth of July holiday weekend.
1h 32m Comedy
A lazy, incompetent middle school teacher who hates her job and her students is forced to return to her job to make enough money for a boob job after her rich fiancé dumps her.
6.
Couples Retreat (2009)
1h 53m Comedy Romance
Four couples, all friends, descend on a tropical island resort. Though one husband and wife are there to work on their marriage, the others just want to enjoy some fun in the sun. They soon find, however, that paradise comes at a price: Participation in couples therapy sessions is mandatory. What started out as a cut-rate vacation turns into an examination of the common problems many face.
7.
American Reunion (2012)
1h 53m Comedy
The characters we met a little more than a decade ago return to East Great Falls for their high-school reunion. In one long-overdue weekend, they will discover what has changed, who hasn't, and that time and distance can't break the bonds of friendship.
8.
Mike and Dave Need Wedding Dates (2016)
1h 38m Comedy
Mike and Dave are young, adventurous, fun-loving brothers who tend to get out of control at family gatherings. When their sister Jeanie reveals her Hawaiian wedding plans, the rest of the Stangles insist that the brothers bring respectable dates. After placing an ad on Craigslist, the siblings decide to pick Tatiana and Alice, two charming and seemingly normal women. Once they arrive on the island, however, Mike and Dave realize that their companions are ready to get wild and party.
9.
The Other Woman (2014)
1h 49m Comedy Romance
After discovering her boyfriend is married, Carly soon meets the wife he's been cheating on. And when yet another affair is discovered, all three women team up to plot mutual revenge on the three-timing SOB.
10.
Neighbors 2: Sorority Rising (2016)
1h 32m Comedy
A sorority moves in next door to the home of Mac and Kelly Radner who have a young child. The Radner's enlist their former nemeses from the fraternity to help battle the raucous sisters.
11.
Office Christmas Party (2016)
1h 45m Comedy
When Carol Vanstone, CEO of the technology company Zenotek, expresses her intention to close the Chicago branch, run by her brother Clay, he and his co-workers organize a Christmas party in an effort to impress a potential client and save their jobs. But the party gets out of control…
1h 42m Comedy
Jason Kelly is one week away from marrying his boss's uber-controlling daughter, putting him on the fast track for a partnership at the law firm. However, when the straight-laced Jason is tricked into driving his foul-mouthed grandfather, Dick, to Daytona for spring break, his pending nuptials are suddenly in jeopardy. Between riotous frat parties, bar fights, and an epic night of karaoke, Dick is on a quest to live his life to the fullest and bring Jason along for the ride.
1h 37m Comedy
A couple with a newborn baby face unexpected difficulties after they are forced to live next to a fraternity house.
1h 47m Comedy Fantasy
John Bennett, a man whose childhood wish of bringing his teddy bear to life came true, now must decide between keeping the relationship with the bear or his girlfriend, Lori.
1h 51m Comedy
A dad forms a bitter rivalry with his daughter's young rich boyfriend.
1h 41m Comedy
Lenny has relocated his family back to the small town where he and his friends grew up. This time around, the grown ups are the ones learning lessons from their kids on a day notoriously full of surprises—the last day of school.
17.
Daddy's Home (2015)
1h 36m Comedy
The story of a mild-mannered radio executive who strives to become the best stepdad ever to his wife's two children, but complications ensue when their freewheeling, freeloading real father arrives, forcing stepdad to compete for the affection of the kids.
1h 35m Comedy
A reporter's dream of becoming a news anchor is compromised after a one-night stand leaves her stranded in downtown L.A. without a phone, car, ID or money - and only 8 hours to make it to the most important job interview of her life.
1h 54m Family Comedy Drama Romance
The story centers on a group of gossipy, high-society women who spend their days at the beauty salon and haunting fashion shows. The sweet, happily-wedded Mary Haines finds her marriage in trouble when shop girl Crystal Allen gets her hooks into Mary's man.
20.
Road Trip: Beer Pong (2009)
1h 36m Comedy
It's Road Trip - Beer Pong! Three college roommates are on the ride of their lives when they drop everything to join a bus full of sexy, scantily clad models to compete in the ultimate sport competition: the National Beer Pong Tournament.
1h 43m Comedy
A group of friends head to the land of oaky Chardonnays and big, bold Cabernet Sauvignons for one member of the squad's 50th birthday party.
1h 33m Comedy
Brilliant student Jeff Chang has the most important interview of his life tomorrow. But today is still his birthday, what starts off as a casual celebration with friends evolves into a night of debauchery that risks to derail his life plan.
23.
Fun Mom Dinner (2017)
1h 21m Comedy
Four women, whose kids attend the same preschool class, get together for a "fun mom dinner". When the night takes an unexpected turn, these unlikely new friends realize they have more in common than just marriage and motherhood.
24.
Romy and Michele's High School Reunion (1997)
1h 32m Comedy
Two not-too-bright party girls reinvent themselves for their high school reunion. Armed with a borrowed Jaguar, new clothes and the story of their success as the inventors of Post-It notes, Romy and Michele descend on their alma mater, but their façade crumbles quickly.
1h 28m Comedy
Over the course of a summer, two teenage girls develop the perfect kindred spirit friendship, with one big problem: one of them is dating the other's ex.
1h 27m Comedy Romance
Three friends are asked to be bridesmaids at a wedding of a woman they used to ridicule back in high school.
1h 50m Comedy
During a trip to Germany to scatter their grandfather's ashes, German-American brothers Todd and Jan discover Beerfest, the secret Olympics of downing stout, and want to enter the contest to defend their family's beer-guzzling honor. Their Old Country cousins sneer at the Yanks' chances, prompting the siblings to return to America to prepare for a showdown the following year.
1h 28m Comedy
Three friends attempt to recapture their glory days by opening up a fraternity near their alma mater.
29.
The Wedding Ringer (2015)
1h 41m Comedy
Doug Harris is a loveable but socially awkward groom-to-be with a problem: he has no best man. With less than two weeks to go until he marries the girl of his dreams, Doug is referred to Jimmy Callahan, owner and CEO of Best Man, Inc., a company that provides flattering best men for socially challenged guys in need. What ensues is a hilarious wedding charade as they try to pull off the big con, and an unexpected budding bromance between Doug and his fake best man Jimmy.
1h 34m Comedy
Employees at a Bennigan's-like restaurant (called, creatively enough, Shenanigan's), kill time before their real lives get started. But while they wait, they'll have to deal with picky customers who want their steak cooked to order and enthusiastic managers who want to build the perfect wait staff. Luckily, these employees have effective revenge tactics.
explore
Check out more list from our community