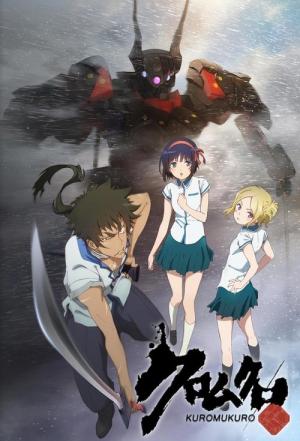 11 Best Anime Like Kuromukuro ...
If you liked this movie , you will definitely love these too! In this list we highlight some of the best films that share a very similar mood to 'Kuromukuro', and are worth checking out.
24m Animation Action & Adventure Sci-Fi & Fantasy
In the distant future, mankind has lived quietly and restlessly underground for hundreds of years, subject to earthquakes and cave-ins. Living in one such village are 2 young men: one named Simon who is shy and naïve, and the other named Kamina who believes in the existence of a "surface" world above their heads.
25m Animation Action & Adventure Sci-Fi & Fantasy
In 1972, the Apollo 17 mission discovered a hypergate to Mars on the surface of the moon. Soon a war breaks out between Earth and Mars, and Martian soldiers begin to descend from the sky, riding steel giants, intent on exterminating humanity.
24m Animation Sci-Fi & Fantasy Action & Adventure
The story revolves around Shu Ouma, a high school boy who inadvertently obtains an ability called "The Power of the Kings" that enables him to draw out items called "Voids" from other people. He is then thrown into the conflict between a resistance group called Funeral Parlor which aims to restore Japan's independence from a quasi-governmental organization known as the GHQ. In the process, Shu has to deal with the burden his ability puts on his shoulders and the horrific mystery of his past.
5.
The Asterisk War (2015)
24m Animation Action & Adventure Sci-Fi & Fantasy
Invertia was a meteor storm that caused an unprecedented disaster during the 20th century. Because of this disaster, numerous cities around the world were destroyed. However, within the meteor, an unknown element called mana was discovered. It allowed human technology to make rapid strides giving rise to a new species of super-powered humans, the Star Pulse Generation (Genestella). The Festas (Star Warrior Festivals) host battles between Genestella at a city of six academies called "Rikka," also commonly known as "Asterisk."Scholarship student Ayato Amagiri transferred into Seidoukan Academy in order to fulfill his own wish, swearing he too will fight in this city.
24m Action & Adventure Animation Sci-Fi & Fantasy
We don't have an overview translated in English. Help us expand our database by adding one.
8.
Samurai Champloo (2004)
24m Action & Adventure Animation Comedy Drama
Mugen is a ferocious, animalistic warrior with a fighting style inspired by break-dancing. Jin is a ronin samurai who wanders the countryside alone. They may not be friends, but their paths continually cross. And when ditzy waitress Fuu gets them out of hot water with the local magistrate, they agree to join her search for the "samurai who smells of sunflowers."
9.
Astra Lost in Space (2019)
24m Animation Action & Adventure Sci-Fi & Fantasy
In the year 2063, eight high school students and a kid are flown out to Planet Camp, tasked with surviving on their own for a few days. But shortly after arriving, an ominous glowing orb warps them to an unknown quadrant of space, nearly 5,012 light years away. Now, the only way back home is a slow, dangerous trek across the universe—a journey that'll test them in ways Planet Camp never could.
2h 4m Adventure Action Science Fiction
With the world now aware of his dual life as the armored superhero Iron Man, billionaire inventor Tony Stark faces pressure from the government, the press and the public to share his technology with the military. Unwilling to let go of his invention, Stark, with Pepper Potts and James 'Rhodey' Rhodes at his side, must forge new alliances – and confront powerful enemies.
24m Animation Sci-Fi & Fantasy Drama
In the early 2050s, unknown life forms called "Oracle cells" begin their uncontrolled consumption of all life on Earth. Their ravenous appetite and remarkable adaptability earn them first dread, then awe, and finally the name "aragami". In the face of an enemy completely immune to conventional weapons, urban civilization collapses, and each day humanity is driven further and further toward extinction. One single ray of hope remains for humanity. Following the development of "God Arcs"—living weapons which incorporate Oracle cells—their wielders are organized into an elite force.
explore
Check out more list from our community