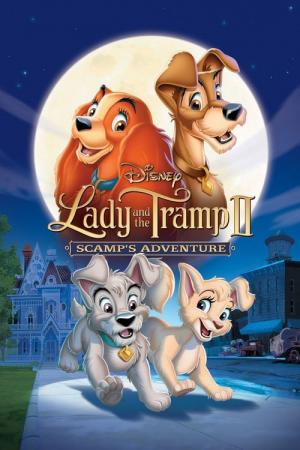 12 Best Movies Like Lady And The Tramp ...
If you liked this film , you will for sure love these too! In this collection we highlight some of the best films that share a very similar premise to 'Lady and the Tramp 2: Scamp's Adventure', and are worth checking out.
1.
Oliver & Company (1988)
1h 17m Animation Comedy Family
This animated take on Oliver Twist re-imagines Oliver as an adorable orphaned kitten who struggles to survive in New York City and falls in with a band of canine criminals led by an evil human. First, Oliver meets Dodger, a carefree mutt with street savoir faire. But when Oliver meets wealthy Jenny on one of the gang's thieving missions, his life changes forever.
2.
Garfield Gets Real (2007)
1h 15m Family Animation Comedy
Animated tale in which Garfield leaves the cartoon world for the real one but as the novelty wears off he begins looking for a way back before his cartoon strip is permanently cancelled.
3.
Pooh's Heffalump Halloween Movie (2005)
1h 8m Family Animation Comedy Fantasy
Who or what exactly is a Heffalump? The lovable residents of the Hundred Acre Wood -- Winnie the Pooh, Rabbit, Tigger, Eeyore, Kanga and the rest of the pack -- embark on a journey of discovery in search of the elusive Heffalump. But as is always the case, this unusual road trip opens their eyes to so much more than just the creature they're seeking.
1h 16m Adventure Animation Comedy Family
After falling head over hooves in love with Giselle, Elliot's road to the altar takes a slight detour when Mr. Weenie is kidnapped by a group of pampered pets determined to return him to his owners.
5.
The Jungle Book 2 (2003)
1h 12m Family Animation Adventure
Mowgli has been living in the man-village with his little stepbrother Ranjan and his best friend Shanti. But the man-cub still has that jungle rhythm in his heart, and he misses his old buddies Baloo and Bagheera. When Mowgli wanders back to the wild for some swingin' fun, he soon finds the man-eating tiger Shere Khan is lurking in the shadows and planning his revenge.
1h 38m Animation Family Adventure Comedy
Bolt is the star of the biggest show in Hollywood. The only problem is, he thinks it's real. After he's accidentally shipped to New York City and separated from Penny, his beloved co-star and owner, Bolt must harness all his "super powers" to find a way home.
7.
Balto: Wolf Quest (2002)
1h 15m Family Animation Adventure
Balto and his daughter Aleu embark on a journey of adventure and self discovery.
8.
An American Tail: Fievel Goes West (1991)
1h 15m Adventure Animation Family Western
Some time after the Mousekewitz's have settled in America, they find that they are still having problems with the threat of cats. That makes them eager to try another home out in the west, where they are promised that mice and cats live in peace. Unfortunately, the one making this claim is an oily con artist named Cat R. Waul who is intent on his own sinister plan.
9.
Piglet's Big Movie (2003)
1h 15m Animation Family
When the gang from the Hundred Acre Wood begin a honey harvest, young Piglet is excluded and told that he is too small to help. Feeling inferior, Piglet disappears and his pals Eeyore, Rabbit, Tigger, Roo and Winnie the Pooh must use Piglet's scrapbook as a map to find him. In the process they discover that this very small animal has been a big hero in a lot of ways.
10.
The Land Before Time IV: Journey Through the Mists (1996)
11.
The Land Before Time V: The Mysterious Island (1997)
1h 14m Family Animation Adventure
This fourth sequel in the series finds "leaf gobblers" eating all the vegetation in Great Valley, driving Littlefoot, the young brontosaurus, and the other dinosaur inhabitants out. Arguments break out among the adults during migration, and Littlefoot and his friends decide to take matters in their own hands by crossing the "big water" to an unknown island. There they meet an old friend from The Land Before Time II--Chomper, the T-rex, who has to protect the gang from his own, carnivorous parents. Plenty of drama in this one, and as the series has been wont to do from the beginning, it shows adults as sometimes being less than perfect.
12.
The AristoCats (1970)
1h 18m Animation Comedy Family Adventure
When Madame Adelaide Bonfamille leaves her fortune to Duchess and her children—Bonfamille's beloved family of cats—the butler plots to steal the money and kidnaps the legatees, leaving them out on a country road. All seems lost until the wily Thomas O'Malley Cat and his jazz-playing alley cats come to the aristocats' rescue.
explore
Check out more list from our community