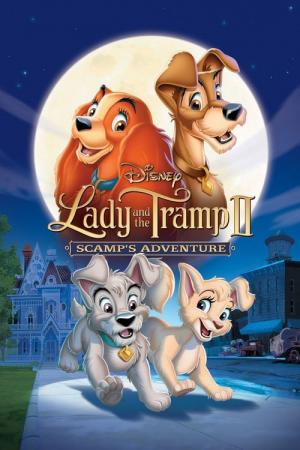 13 Best Movies Like Lady And The Tramp ...
If you liked this movie , you will definitely love these too! In this selection we highlight some of the best films that share a very similar premise to 'Lady and the Tramp 2: Scamp's Adventure', and are worth checking out.
1.
Piglet's Big Movie (2003)
1h 15m Animation Family
When the gang from the Hundred Acre Wood begin a honey harvest, young Piglet is excluded and told that he is too small to help. Feeling inferior, Piglet disappears and his pals Eeyore, Rabbit, Tigger, Roo and Winnie the Pooh must use Piglet's scrapbook as a map to find him. In the process they discover that this very small animal has been a big hero in a lot of ways.
2.
Pooh's Grand Adventure: The Search for Christopher Robin (1997)
3.
The Care Bears Movie (1985)
1h 17m Adventure Fantasy Animation Comedy Family
The Care Bears have their work cut out for them, because Nicolas, a lonely magician's assistant, is about to fall under the evil influence of a bad spirit who lives in an ancient magic book -- it seems Nicolas will do just about anything for friends. Aside from Nicolas, Kim and Jason are in trouble because they are starting not to trust people after suffering many disappointments.
4.
The Fox and the Hound 2 (2006)
1h 9m Adventure Animation Comedy Family
Best friends Tod, a fox kit, and Copper, a hound puppy, visit a country fair when they see a band of dogs called "The Singin' Strays". The band has five members: Dixie, Cash, Granny Rose, and twin brothers Waylon and Floyd. It is important that they perform well because a talent scout is visiting.
1h 18m Animation Comedy Family Adventure
When Madame Adelaide Bonfamille leaves her fortune to Duchess and her children—Bonfamille's beloved family of cats—the butler plots to steal the money and kidnaps the legatees, leaving them out on a country road. All seems lost until the wily Thomas O'Malley Cat and his jazz-playing alley cats come to the aristocats' rescue.
6.
An American Tail: Fievel Goes West (1991)
1h 15m Adventure Animation Family Western
Some time after the Mousekewitz's have settled in America, they find that they are still having problems with the threat of cats. That makes them eager to try another home out in the west, where they are promised that mice and cats live in peace. Unfortunately, the one making this claim is an oily con artist named Cat R. Waul who is intent on his own sinister plan.
8.
Balto III: Wings of Change (2004)
9.
Rugrats in Paris: The Movie (2000)
1h 18m Family Animation Adventure Comedy
The Rugrats are back! There's Tommy the brave one, Chuckie the timid one, Phil and Lil the odd couple, Dil, and spoiled brat Angelica. This time they're wreaking havoc in Paris, France, where Tommy's dad Stu is summoned after yet another one of his inventions took a dump.
10.
Romeo & Juliet: Sealed with a Kiss (2005)
11.
Return to Never Land (2002)
1h 12m Adventure Fantasy Animation Family
In 1940, the world is besieged by World War II. Wendy, all grown up, has two children; including Jane, who does not believe Wendy's stories about Peter Pan.
1h 16m Adventure Animation Comedy Family
After falling head over hooves in love with Giselle, Elliot's road to the altar takes a slight detour when Mr. Weenie is kidnapped by a group of pampered pets determined to return him to his owners.
13.
The Land Before Time IV: Journey Through the Mists (1996)
explore
Check out more list from our community