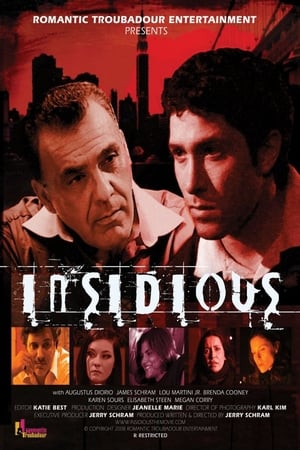 30 Best Movies Like Insidious ...
If you liked this film , you will for sure love these too! In this collection we highlight some of the best films that share a very similar mood to '', and are worth checking out.
1.
Insidious: Chapter 2 (2013)
1h 46m Horror Thriller
The haunted Lambert family seeks to uncover the mysterious childhood secret that has left them dangerously connected to the spirit world.
1h 52m Horror Thriller
Paranormal investigators Ed and Lorraine Warren work to help a family terrorized by a dark presence in their farmhouse. Forced to confront a powerful entity, the Warrens find themselves caught in the most terrifying case of their lives.
3.
The Conjuring 2 (2016)
2h 14m Horror Mystery Thriller
Lorraine and Ed Warren travel to north London to help a single mother raising four children alone in a house plagued by malicious spirits.
1h 50m Horror Thriller Mystery
Found footage helps a true-crime novelist realize how and why a family was murdered in his new home, though his discoveries put his entire family in the path of a supernatural entity.
5.
Insidious: Chapter 3 (2015)
1h 37m Horror Drama Thriller
A twisted new tale of terror begins for a teenage girl and her family, and revealing more mysteries of the otherworldly realm, 'The Further'.
1h 32m Horror Thriller
A young girl buys an antique box at a yard sale, unaware that inside the collectible lives a malicious ancient spirit. The girl's father teams with his ex-wife to find a way to end the curse upon their child.
1h 39m Horror
John Form has found the perfect gift for his expectant wife, Mia - a beautiful, rare vintage doll in a pure white wedding dress. But Mia's delight with Annabelle doesn't last long. On one horrific night, their home is invaded by members of a satanic cult, who violently attack the couple. Spilled blood and terror are not all they leave behind. The cultists have conjured an entity so malevolent that nothing they did will compare to the sinister conduit to the damned that is now... Annabelle.
8.
Annabelle Comes Home (2019)
1h 46m Horror Thriller Mystery
Determined to keep Annabelle from wreaking more havoc, demonologists Ed and Lorraine Warren bring the possessed doll to the locked artifacts room in their home, placing her "safely" behind sacred glass and enlisting a priest's holy blessing. But an unholy night of horror awaits as Annabelle awakens the evil spirits in the room, who all set their sights on a new target—the Warrens' ten-year-old daughter, Judy, and her friends.
9.
The Conjuring: The Devil Made Me Do It (2021)
1h 51m Horror Mystery Thriller
Paranormal investigators Ed and Lorraine Warren encounter what would become one of the most sensational cases from their files. The fight for the soul of a young boy takes them beyond anything they'd ever seen before, to mark the first time in U.S. history that a murder suspect would claim demonic possession as a defense.
1h 33m Horror Thriller
Legendary filmmaker Sam Raimi and director Gil Kenan reimagine and contemporize the classic tale about a family whose suburban home is invaded by angry spirits. When the terrifying apparitions escalate their attacks and take the youngest daughter, the family must come together to rescue her.
11.
Insidious: Chapter 4 (2018)
1h 58m Horror Mystery Thriller
Parapsychologist Elise Rainier and her team travel to Five Keys, NM, to investigate a man's claim of a haunting. Terror soon strikes when Rainier realizes that the house he lives in was her family's old home.
12.
The Haunting in Connecticut (2009)
1h 42m Thriller Horror
When the Campbell family moves to upstate Connecticut, they soon learn that their charming Victorian home has a disturbing history: not only was the house a transformed funeral parlor where inconceivable acts occurred, but the owner's clairvoyant son Jonah served as a demonic messenger, providing a gateway for spiritual entities to crossover.
1h 29m Horror
A group of friends must confront their most terrifying fears when they awaken the dark powers of an ancient spirit board.
1h 37m Horror
A young mother and her twin sons move into a rural house that's marked for death.
15.
The Amityville Horror (2005)
1h 30m Horror
This hair-raising remake of the 1979 horror hit depicts the ordeal of the Lutz clan, whose new home has a gory past and a legacy of demons. Before long, the family patriarch is plagued by nightmares and his daughter is seeing phantoms.
1h 40m Horror
Guillermo del Toro presents Mama, a supernatural thriller that tells the haunting tale of two little girls who disappeared into the woods the day that their parents were killed. When they are rescued years later and begin a new life, they find that someone or something still wants to come tuck them in at night.
2h 3m Horror Thriller Mystery
After losing their baby, a married couple adopt 9-year old Esther, who may not be as innocent as she seems.
1h 55m Horror Mystery
It sounded like just another urban legend: A videotape filled with nightmarish images, leading to a phone call foretelling the viewer's death in exactly seven days. As a newspaper reporter, Rachel Keller was naturally skeptical of the story, until four teenagers all met with mysterious deaths exactly one week after watching just such a tape. Allowing her investigative curiosity to get the better of her, Rachel tracks down the video... and watches it. Now she has just seven days to unravel the mystery of the Ring.
1h 41m Horror Drama Mystery Thriller
Grace is a religious woman who lives in an old house kept dark because her two children, Anne and Nicholas, have a rare sensitivity to light. When the family begins to suspect the house is haunted, Grace fights to protect her children at any cost in the face of strange events and disturbing visions.
14m Horror
Mieke is being harassed by an inexplicable phenomenon. She is having nightmares and her children are acting strange. For no apparent reason her mother appears, after a long period without any contact. She tries to warn Mieke for impending doom. Has it something to do with the doll that one of her sons got for his birthday? Mieke makes a discovery, a very dark one. Something that will turn her life upside down.
1h 45m Horror Drama Thriller
A woman brings her family back to her childhood home, which used to be an orphanage, intent on reopening it. Before long, her son starts to communicate with a new invisible friend.
1h 37m Horror Mystery Thriller
A teenager is stuck in a time loop that is not quite the same each time. She must uncover the truth but her actions have consequences for herself and others.
24.
Paranormal Activity (2007)
1h 27m Horror Thriller Mystery
A young woman fights the spirit that is slowly taking possession of her.
1h 49m Horror Mystery Thriller
In her many years as a social worker, Emily Jenkins believes she has seen it all, until she meets 10-year-old Lilith and the girl's cruel parents. Emily's worst fears are confirmed when the parents try to harm the child, and so Emily assumes custody of Lilith while she looks for a foster family. However, Emily soon finds that dark forces surround the seemingly innocent girl, and the more she tries to protect Lilith, the more horrors she encounters.
27.
The Messengers (2007)
1h 30m Mystery Thriller Horror
When the Solomons trade in the craziness of big-city life for the quiet of a North Dakota farm, little do they expect the nightmare that follows. Soon after arriving, teenage Jess (Kristen Stewart) and her younger brother see terrifying apparitions and endure attacks from a supernatural source. Jess must warn her disbelieving family before it is too late to save them.
28.
The Last Exorcism (2010)
1h 27m Horror Thriller
After years of performing "exorcisms" and taking believers' money, Reverend Marcus travels to rural Louisiana with a film crew so he can dispel what he believes is the myth of demonic possession. The dynamic reverend is certain that this will be another routine "exorcism" on a disturbed religious fanatic but instead comes upon the blood-soaked farm of the Sweetzer family and a true evil he would have never thought imaginable.
29.
Don't Be Afraid of the Dark (2010)
explore
Check out more list from our community