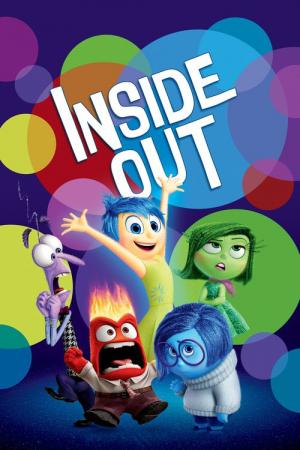 14 Best Movies Like Inside Out ...
If you liked this film , you will definitely love these too! In this list we highlight some of the best films that share a very similar mood to 'Inside Out', and are worth checking out.
1.
Toy Story That Time Forgot (2014)
During a post-Christmas play date, the gang find themselves in uncharted territory when the coolest set of action figures ever turn out to be dangerously delusional. It's all up to Trixie, the triceratops, if the gang hopes to return to Bonnie's room in this Toy Story That Time Forgot.
22m
Director, Writer: Steve Purcell
Animation Family TV Movie Adventure Comedy Fantasy
Bolt is the star of the biggest show in Hollywood. The only problem is, he thinks it's real. After he's accidentally shipped to New York City and separated from Penny, his beloved co-star and owner, Bolt must harness all his "super powers" to find a way home.
1h 38m
Director, Screenplay: Chris Williams
Director: Byron Howard
Screenplay: Dan Fogelman
Animation Family Adventure Comedy
3.
Cloudy with a Chance of Meatballs (2009)
Inventor Flint Lockwood creates a machine that makes clouds rain food, enabling the down-and-out citizens of Chewandswallow to feed themselves. But when the falling food reaches gargantuan proportions, Flint must scramble to avert disaster. Can he regain control of the machine and put an end to the wild weather before the town is destroyed?
1h 30m
Director, Screenplay: Phil Lord
Director, Screenplay: Christopher Miller
Author: Judi Barrett
Author: Ron Barrett
Screenplay: Rob Greenberg
Animation Comedy Family
A story about how a new baby's arrival impacts a family, told from the point of view of a delightfully unreliable narrator, a wildly imaginative 7 year old named Tim.
1h 37m
Director: Tom McGrath
Novel: Marla Frazee
Writer: Michael McCullers
Animation Comedy Family
Led by Woody, Andy's toys live happily in his room until Andy's birthday brings Buzz Lightyear onto the scene. Afraid of losing his place in Andy's heart, Woody plots against Buzz. But when circumstances separate Buzz and Woody from their owner, the duo eventually learns to put aside their differences.
1h 21m
Director: John Lasseter
Screenplay: Joss Whedon
Screenplay: Alec Sokolow
Screenplay: Joel Cohen
Screenplay: Andrew Stanton
Story: Bud Luckey
Animation Adventure Family Comedy
WALL·E is the last robot left on an Earth that has been overrun with garbage and all humans have fled to outer space. For 700 years he has continued to try and clean up the mess, but has developed some rather interesting human-like qualities. When a ship arrives with a sleek new type of robot, WALL·E thinks he's finally found a friend and stows away on the ship when it leaves.
1h 38m
Director, Screenplay: Andrew Stanton
Screenplay: Jim Reardon
Animation Family Science Fiction
A 12-year-old boy searches for the one thing that will enable him to win the affection of the girl of his dreams. To find it he must discover the story of the Lorax, the grumpy yet charming creature who fights to protect his world.
1h 26m
Director: Kyle Balda
Director: Chris Renaud
Story: Dr. Seuss
Writer: Ken Daurio
Writer: Cinco Paul
Animation Family
Pete, a young orphan, runs away to a Maine fishing town with his best friend a lovable, sometimes invisible dragon named Elliott! When they are taken in by a kind lighthouse keeper, Nora, and her father, Elliott's prank playing lands them in big trouble. Then, when crooked salesmen try to capture Elliott for their own gain, Pete must attempt a daring rescue.
1h 42m
Director: Don Chaffey
Screenplay: Malcolm Marmorstein
Fantasy Animation Comedy Family
The son of a sailor, 5-year old Sosuke, lives a quiet life on an oceanside cliff with his mother Lisa. One fateful day, he finds a beautiful goldfish trapped in a bottle on the beach and upon rescuing her, names her Ponyo. But she is no ordinary goldfish.
1h 40m
Director, Writer: Hayao Miyazaki
Animation Family
In Ancient Polynesia, when a terrible curse incurred by Maui reaches an impetuous Chieftain's daughter's island, she answers the Ocean's call to seek out the demigod to set things right.
1h 47m
Director, Story: John Musker
Director, Story: Ron Clements
Screenplay: Jared Bush
Story: Chris Williams
Story: Don Hall
Story: Jordan Kandell
Story: Pamela Ribon
Story: Aaron Kandell
Adventure Comedy Family Animation
Lovable and friendly, the trolls love to play around. But one day, a mysterious giant shows up to end the party. Poppy, the optimistic leader of the Trolls, and her polar opposite, Branch, must embark on an adventure that takes them far beyond the only world they've ever known.
1h 32m
Director: Walt Dohrn
Director: Mike Mitchell
Screenplay: Glenn Berger
Screenplay: Erica Rivinoja
Screenplay: Wallace Wolodarsky
Screenplay: Jonathan Aibel
Story: Killian Gray
Family Animation Fantasy Adventure Comedy Music
12.
The Tale of the Princess Kaguya (2013)
Found inside a shining stalk of bamboo by an old bamboo cutter and his wife, a tiny girl grows rapidly into an exquisite young lady. The mysterious young princess enthralls all who encounter her - but ultimately she must confront her fate, the punishment for her crime.
2h 17m
Director, Screenplay, Story: Isao Takahata
Screenplay: Riko Sakaguchi
Animation Drama Fantasy
Determined to prove herself, Officer Judy Hopps, the first bunny on Zootopia's police force, jumps at the chance to crack her first case - even if it means partnering with scam-artist fox Nick Wilde to solve the mystery.
1h 49m
Director, Story: Rich Moore
Director, Story: Byron Howard
Screenplay, Story: Jared Bush
Screenplay, Story: Phil Johnston
Story: Josie Trinidad
Story: Jim Reardon
Story: Jennifer Lee
Animation Adventure Family Comedy
In a suburban fantasy world, two teenage elf brothers embark on an extraordinary quest to discover if there is still a little magic left out there.
1h 43m
Director, Screenplay: Dan Scanlon
Screenplay: Jason Headley
Screenplay: Keith Bunin
Animation Family Adventure Comedy Fantasy
explore
Check out more list from our community