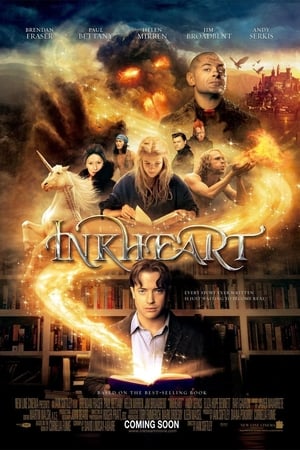 13 Best Movies Like Inkheart ...
If you liked this movie , you will probably love these too! In this collection we highlight some of the best films that share a very similar premise to 'Inkheart', and are worth checking out.
1.
Harry Potter and the Sorcerer's Stone (2001)
2h 32m Adventure Fantasy
Harry Potter has lived under the stairs at his aunt and uncle's house his whole life. But on his 11th birthday, he learns he's a powerful wizard -- with a place waiting for him at the Hogwarts School of Witchcraft and Wizardry. As he learns to harness his newfound powers with the help of the school's kindly headmaster, Harry uncovers the truth about his parents' deaths -- and about the villain who's to blame.
2.
The Last Airbender (2010)
1h 43m Action Adventure Fantasy
The story follows the adventures of Aang, a young successor to a long line of Avatars, who must put his childhood ways aside and stop the Fire Nation from enslaving the Water, Earth and Air nations.
3.
The Golden Compass (2007)
1h 53m Adventure Fantasy
After overhearing a shocking secret, precocious orphan Lyra Belacqua trades her carefree existence roaming the halls of Jordan College for an otherworldly adventure in the far North, unaware that it's part of her destiny.
4.
Alice in Wonderland (2010)
1h 48m Family Fantasy Adventure
Alice, an unpretentious and individual 19-year-old, is betrothed to a dunce of an English nobleman. At her engagement party, she escapes the crowd to consider whether to go through with the marriage and falls down a hole in the garden after spotting an unusual rabbit. Arriving in a strange and surreal place called 'Underland,' she finds herself in a world that resembles the nightmares she had as a child, filled with talking animals, villainous queens and knights, and frumious bandersnatches. Alice realizes that she is there for a reason – to conquer the horrific Jabberwocky and restore the rightful queen to her throne.
5.
Jack the Giant Slayer (2013)
1h 54m Fantasy Action Adventure Family
The story of an ancient war that is reignited when a young farmhand unwittingly opens a gateway between our world and a fearsome race of giants. Unleashed on the Earth for the first time in centuries, the giants strive to reclaim the land they once lost, forcing the young man, Jack into the battle of his life to stop them. Fighting for a kingdom, its people, and the love of a brave princess, he comes face to face with the unstoppable warriors he thought only existed in legend–and gets the chance to become a legend himself.
6.
The Indian in the Cupboard (1995)
1h 36m Adventure Family Fantasy
A nine-year-old boy gets a plastic Indian and a cupboard for his birthday and finds himself involved in adventure when the Indian comes to life and befriends him.
7.
The Spiderwick Chronicles (2008)
1h 35m Adventure Family Fantasy Drama
Upon moving into the run-down Spiderwick Estate with their mother, twin brothers Jared and Simon Grace, along with their sister Mallory, find themselves pulled into an alternate world full of faeries and other creatures.
8.
The Secret of Moonacre (2008)
1h 43m Adventure Fantasy Drama Science Fiction Romance Family
When 13 year old Maria Merryweather's father dies, leaving her orphaned and homeless, she is forced to leave her luxurious London life to go and live with Sir Benjamin, an eccentric uncle she didn't know she had, at the mysterious Moonacre Manor.
9.
Where the Wild Things Are (2009)
1h 41m Family Fantasy Science Fiction
Max imagines running away from his mom and sailing to a far-off land where large talking beasts -- Ira, Carol, Douglas, the Bull, Judith and Alexander -- crown him as their king, play rumpus, build forts and discover secret hideaways.
10.
The Seeker: The Dark Is Rising (2007)
1h 34m Adventure Drama Fantasy Family Thriller
A boy's life is turned upside down when he learns that he is the last of a group of immortal warriors who have dedicated their lives to fighting the forces of the dark.
11.
The Chronicles of Narnia: The Lion, the Witch and the Wardrobe (2005)
2h 23m Adventure Family Fantasy
Siblings Lucy, Edmund, Susan and Peter step through a magical wardrobe and find the land of Narnia. There, they discover a charming, once peaceful kingdom that has been plunged into eternal winter by the evil White Witch, Jadis. Aided by the wise and magnificent lion, Aslan, the children lead Narnia into a spectacular, climactic battle to be free of the Witch's glacial powers forever.
12.
Miss Peregrine's Home for Peculiar Children (2016)
2h 7m Drama Fantasy Adventure Family
A teenager finds himself transported to an island where he must help protect a group of orphans with special powers from creatures intent on destroying them.
2h 7m Adventure Fantasy Romance Family
In a countryside town bordering on a magical land, a young man makes a promise to his beloved that he'll retrieve a fallen star by venturing into the magical realm. His journey takes him into a world beyond his wildest dreams and reveals his true identity.
explore
Check out more list from our community