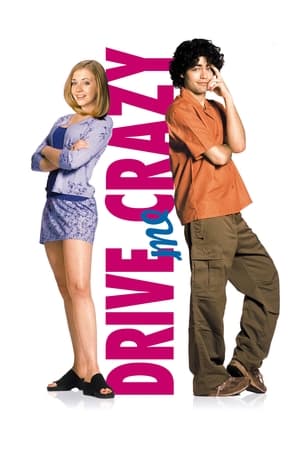 14 Best Movies Like Drive Me Crazy ...
If you liked this movie , you will probably love these too! In this collection we highlight some of the best films that share a very similar mood to 'Drive Me Crazy', and are worth checking out.
1h 37m Comedy Romance
Andie is an outcast, hanging out either with her older boss, who owns the record store where she works, or her quirky high school classmate Duckie, who has a crush on her. When one of the rich and popular kids at school, Blane, asks Andie out, it seems too good to be true. As Andie starts falling for Blane, she begins to realize that dating someone from a different social sphere is not easy.
1h 40m Romance Comedy
Bianca's universe turns upside down when she learns that her high school refers to her as a 'DUFF' (Designated Ugly Fat Friend). Hoping to erase that label, she enlists the help of a charming jock and her favorite teacher. Together they'll face the school's mean girl and remind everyone that we are all someone's DUFF… and that's totally fine.
1h 39m Drama Comedy Romance
Halley is convinced true love doesn't exist based on the crazy relationships around her. Her mother is divorcing her father who is dating a younger woman Halley can't stand. Her crazed sister is planning a wedding but has second thoughts and her best friend has fallen madly in love for the first time leaving Halley to feel even more alone.
4.
10 Things I Hate About You (1999)
1h 37m Comedy Romance Drama
On the first day at his new school, Cameron instantly falls for Bianca, the gorgeous girl of his dreams. The only problem is that Bianca is forbidden to date until her ill-tempered, completely un-dateable older sister Kat goes out, too. In an attempt to solve his problem, Cameron singles out the only guy who could possibly be a match for Kat: a mysterious bad boy with a nasty reputation of his own.
1h 35m Comedy Romance
High school hotshot Zach Siler is the envy of his peers. But his popularity declines sharply when his cheerleader girlfriend, Taylor, leaves him for sleazy reality-television star Brock Hudson. Desperate to revive his fading reputation, Siler agrees to a seemingly impossible challenge. He has six weeks to gain the trust of nerdy outcast Laney Boggs -- and help her to become the school's next prom queen.
6.
Can't Buy Me Love (1987)
7.
It's a Boy Girl Thing (2006)
1h 45m Comedy Drama
Haley is a naturally gifted athlete but, with her social behavior, the teen seems intent on squandering her abilities. After a final brush with the law, a judge sentences her to an elite gymnastics academy run by a legendary, hard-nosed coach. Once there, Haley's rebellious attitude wins her both friends and enemies.
8.
John Tucker Must Die (2006)
1h 27m Comedy Romance
After discovering they are all dating the same same guy, three popular students from different cliques band together for revenge, so they enlist the help of a new gal in town and conspire to break the jerk's heart, while destroying his reputation.
1h 45m Comedy Drama Family Romance
Viola Hastings is in a real jam. Complications threaten her scheme to pose as her twin brother, Sebastian, and take his place at a new boarding school. She falls in love with her handsome roommate, Duke, who loves beautiful Olivia, who has fallen for Sebastian! As if that were not enough, Viola's twin returns from London ahead of schedule but has no idea that his sister has already replaced him on campus.
10.
Boys and Girls (2000)
1h 34m Comedy Drama Romance
Ryan and Jennifer are opposites who definitely do not attract. At least that's what they always believed. When they met as twelve-year-olds, they disliked one another. When they met again as teenagers, they loathed each other. But when they meet in college, the uptight Ryan and the free-spirited Jennifer find that their differences bind them together and a rare friendship develops.
11.
Confessions of a Teenage Drama Queen (2004)
1h 29m Comedy
When the teenager Mary Elizabeth Steppe, a.k.a. Lola, moves with her mother and two younger twin sisters from New York to the suburb of Dellwood, New Jersey, she has the feeling that her cultural and entertaining world ended. While in school, the displaced Lola becomes close friend of the unpopular Ella, who is also a great fan of the her favorite rock band Sidarthur. However, the most popular girl in the school, Carla Santini, disputes the lead role in an adaptation of Pygmalion with Lola and also the leadership of their mates. When the last concert of Sidarthur is sold-out, Lola plans with Ella to travel to New York and buy the tickets from scalpers. However, the girls get into trouble while helping the lead singer and Lola's idol Stu Wolf, changing their lives forever.
12.
High School Musical 3: Senior Year (2008)
1h 57m Comedy Drama Family Music Romance
It's almost graduation day for high school seniors Troy, Gabriella, Sharpay, Chad, Ryan and Taylor ― and the thought of heading off in separate directions after leaving East High has these Wildcats thinking they need to do something they'll remember forever. Together with the rest of the Wildcats, they stage a spring musical reflecting their hopes and fears about the future and their unforgettable experiences growing up together. Will their final show break them apart or bring them together for the greatest moment in Wildcat history?
13.
I Love You, Beth Cooper (2009)
1h 42m Comedy Romance
A valedictorian's declaration of love for a high-school cheerleader launches a night of revelry, reflection and romance for a group of graduating seniors.
1h 37m Drama Comedy Romance
In a world connected by YouTube, iTunes, and Facebook, Lola and her friends navigate the peer pressures of high school romance and friendship while dodging their sometimes overbearing and confused parents. When Lola's mom, Anne, "accidentally" reads her teenage daughter's racy journal, she realizes just how wide their communication gap has grown.
explore
Check out more list from our community