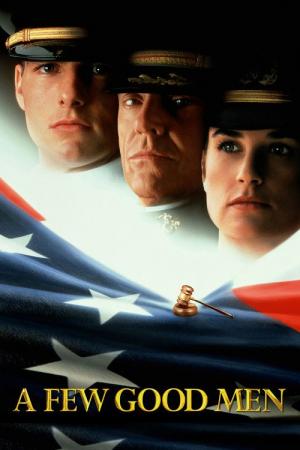 27 Best Movies Like A Few Good Men ...
If you liked this movie , you will for sure love these too! In this list we highlight some of the best films that share a very similar premise to '', and are worth checking out.
1.
Presumed Innocent (1990)
2h 7m Thriller Crime Mystery
Rusty Sabich is a deputy prosecutor engaged in an obsessive affair with a coworker who is murdered. Soon after, he's accused of the crime. And his fight to clear his name becomes a whirlpool of lies and hidden passions.
2h 7m Drama Thriller
A juror on the inside and a woman on the outside manipulate a court trial involving a major gun manufacturer.
3.
The Lincoln Lawyer (2011)
1h 59m Crime Drama Thriller
A lawyer conducts business from the back of his Lincoln town car while representing a high-profile client in Beverly Hills.
4.
Michael Clayton (2007)
1h 59m Drama Thriller
A law firm brings in its 'fixer' to remedy the situation after a lawyer has a breakdown while representing a chemical company that he knows is guilty in a multi-billion dollar class action suit.
2h 9m Drama
Frank Galvin is a down-on-his-luck lawyer and reduced to drinking and ambulance chasing, when a former associate reminds him of his obligations in a medical malpractice suit by serving it to Galvin on a silver platter—all parties are willing to settle out of court. Blundering his way through the preliminaries, Galvin suddenly realizes that the case should actually go to court—to punish the guilty, to get a decent settlement for his clients... and to restore his standing as a lawyer.
1h 38m Action Drama Mystery Thriller Crime
A DEA agent investigates the disappearance of a legendary Army ranger drill sergeant and several of his cadets during a training exercise gone severely awry.
7.
Absence of Malice (1981)
1h 56m Drama Romance Thriller
Megan Carter is a reporter duped into running an untrue story on Michael Gallagher, a suspected racketeer. He has an alibi for the time his crime was allegedly committed—but it involves an innocent party. When he tells Carter the truth and the newspaper runs it, tragedy follows, forcing Carter to face up to the responsibilities of her job when she is confronted by Gallagher.
1h 53m Thriller
A husband is on trial for the attempted murder of his wife, in what is seemingly an open/shut case for the ambitious district attorney trying to put him away. However, there are surprises for both around every corner, and, as a suspenseful game of cat-and-mouse is played out, each must manipulate and outwit the other.
2h 9m Crime Drama Mystery Thriller
An arrogant, high-powered attorney takes on the case of a poor altar boy found running away from the scene of the grisly murder of the bishop who has taken him in. The case gets a lot more complex when the accused reveals that there may or may not have been a third person in the room. The intensity builds when a surprise twist alters everyone's perception of the crime.
1h 55m Drama Mystery Thriller Crime
A female attorney learns that her husband is really a marine officer awol for fifteen years and accused of murdering fifteen civilians in El Salvador. Believing her husband when he tells her that he's being framed as part of a U.S. Military cover-up, the attorney defends him in a military court.
11.
A Time to Kill (1996)
2h 29m Crime Drama Thriller
A young lawyer defends a black man accused of murdering two white men who raped his 10-year-old daughter, sparking a rebirth of the KKK.
12.
...and justice for all. (1979)
1h 59m Crime Drama Thriller
An ethical Baltimore defense lawyer disgusted with rampant legal corruption is forced to defend a judge he despises in a rape trial under the threat of being disbarred.
13.
The Pelican Brief (1993)
2h 21m Mystery Drama Thriller Crime
Two Supreme Court Justices have been assassinated. One lone law student has stumbled upon the truth. An investigative journalist wants her story. Everybody else wants her dead.
2h 2m Crime Drama Thriller
An American attorney on business in China, ends up wrongfully on trial for murder and his only key to innocence is a female defense lawyer from the country.
1h 58m Thriller
With his gangster boss on trial for murder, a mob thug known as "the Teacher" tells Annie Laird she must talk her fellow jurors into a not-guilty verdict, implying that he'll kill her son Oliver if she fails. She manages to do this, but, when it becomes clear that the mobsters might want to silence her for good, she sends Oliver abroad and tries to gather evidence of the plot against her, setting up a final showdown.
16.
Changing Lanes (2002)
1h 39m Crime Thriller
A rush-hour fender-bender on New York City's crowded FDR Drive, under most circumstances, wouldn't set off a chain reaction that could decimate two people's lives. But on this day, at this time, a minor collision will turn two complete strangers into vicious adversaries. Their means of destroying each other might be different, but their goals, ultimately, will be the same: Each will systematically try to dismantle the other's life in a reckless effort to reclaim something he has lost.
2h 1m Crime Drama Thriller
When a Supreme Court judge commits suicide and his secretary is found murdered, all fingers point to Carl Anderson (Liam Neeson), a homeless veteran who's deaf and mute. But when public defender Kathleen Riley (Cher) is assigned to his case, she begins to believe that Anderson may actually be innocent. Juror Eddie Sanger (Dennis Quaid), a Washington lobbyist, agrees, and together the pair begins their own investigation of events.
18.
Rules of Engagement (2000)
2h 8m Action Adventure Drama History War
Part war movie, part courtroom thriller, this gripping drama finds a war hero put on trial for a rescue mission gone terribly wrong with only his doubtful friend and fellow marine to represent him.
19.
A Civil Action (1998)
1h 55m Drama
Jan Schlickmann is a cynical lawyer who goes out to 'get rid of' a case, only to find out it is potentially worth millions. The case becomes his obsession, to the extent that he is willing to give up everything—including his career and his clients' goals—in order to continue the case against all odds.
2h 3m Thriller Drama Crime
A computer specialist is sued for sexual harassment by a former lover turned boss who initiated the act forcefully, which threatens both his career and his personal life.
1h 45m Drama Crime
A Liberal activist lawyer alienated his daughter Maggie years ago when she discovered his many affairs. Now a conservative corporate lawyer, Maggie agrees to go up against her father in court. To gain promotion, she must defend an auto manufacturer against charges that their explosion-prone station wagons are unsafe. As her mother begs for peace, Maggie takes on her dad in a trial that turns increasingly personal and nasty.
1h 59m Drama Thriller Crime Mystery
A street-wise kid, Mark Sway, sees the suicide of Jerome Clifford, a prominent Louisiana lawyer, whose current client is Barry 'The Blade' Muldano, a Mafia hit-man. Before Jerome shoots himself, he tells Mark where the body of a Senator is buried. Clifford shoots himself and Mark is found at the scene, and both the FBI and the Mafia quickly realize that Mark probably knows more than he says.
1h 48m Thriller
San Francisco heiress Page Forrester is brutally murdered in her remote beach house. Her husband Jack is devastated by the crime but soon finds himself accused of her murder. He hires lawyer Teddy Barnes to defend him, despite the fact she hasn't handled a criminal case for many years. There's a certain chemistry between them and Teddy soon finds herself defending the man she loves.
1h 56m Drama
A high-class call girl accused of murder fights for the right to stand trial rather than be declared mentally incompetent.
25.
Night Falls on Manhattan (1996)
1h 53m Crime Drama Thriller
A newly elected District attorney finds himself in the middle of a police corruption investigation that may involve his father and his partner.
1h 43m Drama Thriller
Upon taking a new job, young lawyer Rick Hayes is assigned to the clemency case of Cindy Liggett, a woman convicted of first degree murder and sentenced to death. As Hayes investigates the background for her case, the two begin to form a deep friendship, while all the while the date for her execution draws nearer.
explore
Check out more list from our community