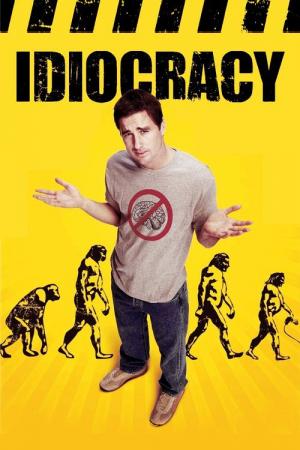 30 Best Movies Like Idiocracy ...
If you liked this one , you will definitely love these too! In this selection we highlight some of the best films that share a very similar premise to '', and are worth checking out.
1.
The Hitchhiker's Guide to the Galaxy (2005)
1h 49m Adventure Comedy Family Science Fiction
Mere seconds before the Earth is to be demolished by an alien construction crew, Arthur Dent is swept off the planet by his friend Ford Prefect, a researcher penning a new edition of "The Hitchhiker's Guide to the Galaxy."
1h 55m Crime Action Science Fiction
Simon Phoenix, a violent criminal cryogenically frozen in 1996, escapes during a parole hearing in 2032 in the utopia of San Angeles. Police are incapable of dealing with his violent ways and turn to his captor, who had also been cryogenically frozen after being wrongfully accused of killing 30 innocent people while apprehending Phoenix.
4.
Guardians of the Galaxy (2014)
2h 1m Action Science Fiction Adventure
Light years from Earth, 26 years after being abducted, Peter Quill finds himself the prime target of a manhunt after discovering an orb wanted by Ronan the Accuser.
2h 1m Action Science Fiction Adventure Thriller
Welcome to Rekall, the company that can turn your dreams into real memories. For a factory worker named Douglas Quaid, even though he's got a beautiful wife who he loves, the mind-trip sounds like the perfect vacation from his frustrating life - real memories of life as a super-spy might be just what he needs. But when the procedure goes horribly wrong, Quaid becomes a hunted man. Finding himself on the run from the police - controlled by Chancellor Cohaagen, the leader of the free world - Quaid teams up with a rebel fighter to find the head of the underground resistance and stop Cohaagen. The line between fantasy and reality gets blurred and the fate of his world hangs in the balance as Quaid discovers his true identity, his true love, and his true fate.
6.
The Philadelphia Experiment (1984)
1h 42m Science Fiction Adventure Thriller
Based on an "actual event" that took place in 1943. About a US Navy Destroyer Escort that disappeared from the Philadelphia Naval Shipyard, and sent two men 40 years into the future to 1984.
7.
Bill & Ted's Excellent Adventure (1989)
8.
Escape from L.A. (1996)
1h 37m Action Adventure Science Fiction Thriller
This time, a cataclysmic temblor hits Los Angeles, turning it into an island. The president views the quake as a sign from above, expels Los Angeles from the country and makes it a penal colony for those found guilty of moral crimes. When his daughter, part of a resistance movement, steals the control unit for a doomsday weapon, Snake again gets tapped to save the day.
9.
Back to the Future Part II (1989)
1h 48m Adventure Comedy Family Science Fiction
Marty and Doc are at it again in this wacky sequel to the 1985 blockbuster as the time-traveling duo head to 2015 to nip some McFly family woes in the bud. But things go awry thanks to bully Biff Tannen and a pesky sports almanac. In a last-ditch attempt to set things straight, Marty finds himself bound for 1955 and face to face with his teenage parents -- again.
10.
Ivan Vasilievich: Back to the Future (1973)
11.
Back to the Future (1985)
1h 56m Adventure Comedy Science Fiction Family
Eighties teenager Marty McFly is accidentally sent back in time to 1955, inadvertently disrupting his parents' first meeting and attracting his mother's romantic interest. Marty must repair the damage to history by rekindling his parents' romance and - with the help of his eccentric inventor friend Doc Brown - return to 1985.
1h 46m Comedy Fantasy Science Fiction
'We come in peace' is not what those green men from Mars mean when they invade our planet, armed with irresistible weapons and a cruel sense of humor. This star studded cast must play victim to the alien's fun and games in this comedy homage to science fiction films of the '50s and '60s.
14.
Land of the Lost (2009)
1h 42m Adventure Comedy Science Fiction Family
On his latest expedition, Dr. Rick Marshall is sucked into a space-time vortex alongside his research assistant and a redneck survivalist. In this alternate universe, the trio make friends with a primate named Chaka, their only ally in a world full of dinosaurs and other fantastic creatures.
1h 36m Comedy Science Fiction
When the nefarious Dark Helmet hatches a plan to snatch Princess Vespa and steal her planet's air, space-bum-for-hire Lone Starr and his clueless sidekick fly to the rescue. Along the way, they meet Yogurt, who puts Lone Starr wise to the power of "The Schwartz." Can he master it in time to save the day?
1h 30m Comedy Drama Science Fiction
Visioneer George Washington Winsterhammerman lives a comfortable but monotonous life in this slightly futuristic black comedy. When people start exploding from stress and George is showing early symptoms, he's forced to examine his life. Taking a look at his nice job, his sexless marriage and his resistance to life coaching, George reconsiders the philosophy of happiness through mindless activity.
2h 57m Adventure Science Fiction Action War
In 2013 there are no highways, no I-ways, no dreams of a better tomorrow, only scattered survivors across what was once the Unites States. Into this apocalyptic wasteland comes an enigmatic drifter with a mule, a knack for Shakespeare and something yet undiscovered: the power to inspire hope.
1h 56m Adventure Comedy Fantasy
An aspiring painter meets various characters and learns valuable lessons while traveling across America.
19.
Planet of the Apes (1968)
1h 52m Science Fiction Adventure Drama Action
An U.S. Spaceship lands on a desolate planet, stranding astronaut Taylor in a world dominated by apes, 2000 years into the future, who use a primitive race of humans for experimentation and sport. Soon Taylor finds himself among the hunted, his life in the hands of a benevolent chimpanzee scientist.
22m Comedy Sci-Fi & Fantasy Animation
The adventures of a late-20th-century New York City pizza delivery boy, Philip J. Fry, who, after being unwittingly cryogenically frozen for one thousand years, finds employment at Planet Express, an interplanetary delivery company in the retro-futuristic 31st century.
1h 44m Adventure Comedy Science Fiction
For the past 60 years, a space-traveling smart-ass named Paul has been locked up in a top-secret military base, advising world leaders about his kind. But when he worries he's outlived his usefulness and the dissection table is drawing uncomfortably close, Paul escapes on the first RV that passes by his compound in Area 51. Fortunately, it contains the two earthlings who are most likely to rescue and harbor an alien on the run.
1h 28m Comedy Horror
Columbus has made a habit of running from what scares him. Tallahassee doesn't have fears. If he did, he'd kick their ever-living ass. In a world overrun by zombies, these two are perfectly evolved survivors. But now, they're about to stare down the most terrifying prospect of all: each other.
1h 51m Action Science Fiction Thriller Crime
In the future, medical technology has advanced to the point where people can buy artificial organs to extend their lives. But if they default on payments, an organization known as the Union sends agents to repossess the organs. Remy is one of the best agents in the business, but when he becomes the recipient of an artificial heart, he finds himself in the same dire straits as his many victims.
25.
The Running Man (1987)
1h 41m Science Fiction Action Thriller
By 2017, the global economy has collapsed and U.S. society has become a totalitarian police state, censoring all cultural activity. The government pacifies the populace by broadcasting a number of game shows in which convicted criminals fight for their lives, including the gladiator-style The Running Man, hosted by the ruthless Damon Killian, where "runners" attempt to evade "stalkers" and certain death for a chance to be pardoned and set free.
2h 16m Action Thriller Science Fiction Adventure
In 2019, Lincoln Six-Echo is a resident of a seemingly "Utopian" but contained facility. Like all of the inhabitants of this carefully-controlled environment, Lincoln hopes to be chosen to go to The Island — reportedly the last uncontaminated location on the planet. But Lincoln soon discovers that everything about his existence is a lie.
1h 49m Action Thriller Science Fiction
In the not-too-distant future the aging gene has been switched off. To avoid overpopulation, time has become the currency and the way people pay for luxuries and necessities. The rich can live forever, while the rest try to negotiate for their immortality. A poor young man who comes into a fortune of time, though too late to help his mother from dying. He ends up on the run from a corrupt police force known as 'time keepers'.
29.
The Time Machine (2002)
1h 36m Science Fiction Adventure Action
Hoping to alter the events of the past, a 19th century inventor instead travels 800,000 years into the future, where he finds mankind divided into two warring races.
explore
Check out more list from our community