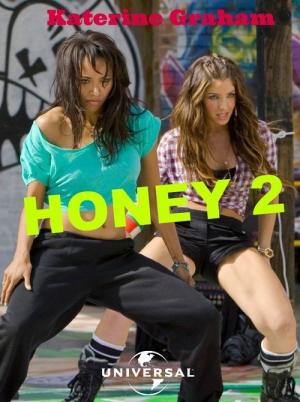 12 Best Movies Like Honey ...
If you liked this movie , you will for sure love these too! In this selection we highlight some of the best films that share a very similar premise to 'Honey 2', and are worth checking out.
1h 24m Crime Drama Music
A young female breakdancer, Angel, moves to Los Angeles after an attack by an ex-boyfriend nearly ends her dance career forever. B-Girl follows Angel through recovery and acceptance of a new life as she busts a move into the male-centric world of underground hip hop.
1h 52m Comedy Music Romance
College student Beca knows she does not want to be part of a clique, but that's exactly where she finds herself after arriving at her new school. Thrust in among mean gals, nice gals and just plain weird gals, Beca finds that the only thing they have in common is how well they sing together. She takes the women of the group out of their comfort zone of traditional arrangements and into a world of amazing harmonic combinations in a fight to the top of college music competitions.
1h 34m Romance Music Family
Honey Daniels dreams of making a name for herself as a hip-hop choreographer. When she's not busy hitting downtown clubs with her friends, she teaches dance classes at a nearby community center in Harlem, N.Y., as a way to keep kids off the streets. Honey thinks she's hit the jackpot when she meets a hotshot director casts her in one of his music videos. But, when he starts demanding sexual favors from her, Honey makes a decision that will change her life.
4.
Battle of the Year (2013)
1h 50m Music Drama
A down-on-his-luck coach is hired to prepare a team of the best American dancers for an international tournament that attracts all the best crews from around the world, but the Americans haven't won in fifteen years.
1h 48m Comedy Music Drama
A former professional dancer volunteers to teach dance in the New York public school system and, while his background first clashes with his students' tastes, together they create a completely new style of dance. Based on the story of ballroom dancer, Pierre Dulane.
1h 35m Drama Music
At Mr. Rad's Warehouse, the best hip-hop crews in Los Angeles compete for money and respect. But when a suburban crew crashes the party, stealing their dancers - and their moves - two warring friends have to pull together to represent the street. Starring hip-hop sensations Marques Houston, Omari Grandberry, Lil' Kim and comedian Steve Harvey.
1h 30m Comedy Drama Romance
Embarking on a journey to fulfill her dreams as a dancer, a young girl discovers a new style of dance that will prove to be the source of both conflict and self-discovery.
1h 52m Romance Drama Music
All-stars from the previous Step Up installments come together in glittering Las Vegas, battling for a victory that could define their dreams and their careers.
1h 44m Music Drama Romance Crime
Everyone deserves a chance to follow their dreams, but some people only get one shot. Tyler Gage is a rebel from the wrong side of Baltimore's tracks and the only thing that stands between him and an unfulfilled life are his dreams of one day making it out of there. Nora is a privileged ballet dancer attending Baltimore's ultra-elite Maryland School of the Arts
1h 40m Drama Music Romance
Expecting the usual tedium that accompanies a summer in the Catskills with her family, 17-year-old Frances 'Baby' Houseman is surprised to find herself stepping into the shoes of a professional hoofer—and unexpectedly falling in love.
12.
Beat the World (2011)
1h 31m Music Drama
Three dance crews – one Latin American, one European and one Canadian – prepare to battle at the International Beat the World competition in Detroit. Along the way, they struggle with gambling debt, bad break-ups and their own egos. In the final showdown to become world champions they find that their lifelong hopes, dreams and even lives, are at stake.
explore
Check out more list from our community