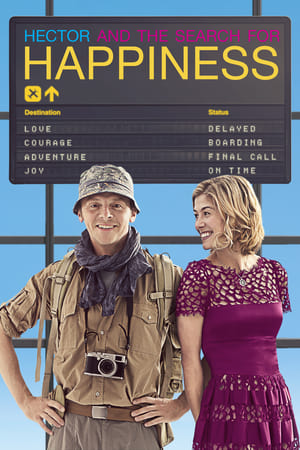 13 Best Movies Like Hector And The Search For Happiness ...
If you liked this one , you will definitely love these too! In this collection we highlight some of the best films that share a very similar mood to 'Hector and the Search for Happiness', and are worth checking out.
2h 28m Adventure Drama
After graduating from Emory University in 1992, top student and athlete Christopher McCandless abandons his possessions, gives his entire $24,000 savings account to charity, and hitchhikes to Alaska to live in the wilderness.
2.
Wish I Was Here (2014)
1h 47m Drama Comedy
Aidan Bloom, a struggling actor, father and husband, is 35 years old and still trying to find a purpose for his life. He and his wife are barely getting by financially and Aidan passes his time by fantasizing about being the great futuristic Space-Knight he'd always dreamed he'd be as a little kid. When his ailing father can no longer afford to pay for private school for his two kids and the only available public school is on its last legs, Aidan reluctantly agrees to attempt to home-school them. Through teaching them about life his way, Aidan gradually discovers some of the parts of himself he couldn't find.
3.
This Must Be the Place (2011)
1h 58m Drama
A bored, retired rock star sets out to find his father's executioner, an ex-Nazi war criminal who is a refugee in the U.S.
1h 31m Comedy Drama
Five college buddies from the University of Texas circa 1971 embark on a final road trip odyssey across the Mexican border before facing up to uncertain futures, in Vietnam and otherwise.
5.
The Bucket List (2007)
1h 37m Drama Comedy
Corporate billionaire Edward Cole and working class mechanic Carter Chambers are worlds apart. At a crossroads in their lives, they share a hospital room and discover they have two things in common: a desire to spend the time they have left doing everything they ever wanted to do and an unrealized need to come to terms with who they are. Together they embark on the road trip of a lifetime, becoming friends along the way and learning to live life to the fullest, with insight and humor.
6.
The Secret Life of Walter Mitty (2013)
1h 54m Adventure Comedy Drama Fantasy
A timid magazine photo manager who lives life vicariously through daydreams embarks on a true-life adventure when a negative goes missing.
2h 26m Comedy Drama
Rani, a 24-year-old homely girl, decides to go on her honeymoon alone when her fiancé calls off the wedding. Traveling around Europe, she finds joy, makes friends, and gains new-found independence.
8.
The 100 Year-Old Man Who Climbed Out the Window and Disappeared (2013)
1h 54m Adventure Comedy Drama
After living a long and colorful life, Allan Karlsson finds himself stuck in a nursing home. On his 100th birthday, he leaps out a window and begins an unexpected journey.
9.
A Walk in the Woods (2015)
1h 44m Adventure Comedy Drama
After spending two decades in England, Bill Bryson returns to the U.S., where he decides the best way to connect with his homeland is to hike the Appalachian Trail with one of his oldest friends.
11.
The Road Within (2014)
1h 40m Comedy Drama
A young man with Tourette's Syndrome embarks on a road trip with his recently-deceased mother's ashes.
13.
Box of Moon Light (1996)
1h 52m Comedy Drama
Al Fountain, a middle-aged electrical engineer, is on the verge of a mid-life crisis, when he decides to take his time coming home from a business trip, rents a car, and heads out looking for a lake he remembers from his childhood. But his wandering takes him into the life of Kid, a free-spirited young man who helps Al escape from the routine of everyday life and find freedom to enjoy himself.
explore
Check out more list from our community