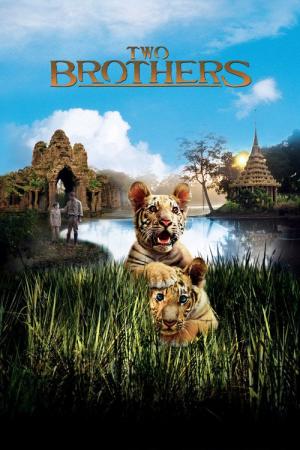 11 Best Movies About Two Brothers ...
If you liked this one , you will definitely love these too! In this list we highlight some of the best films that share a very similar mood to 'Two Brothers', and are worth checking out.
1.
The Adventures of Milo and Otis (1986)
1h 30m Adventure Drama Family
When Milo the cat and Otis the dog are separated, they set off on an adventurous and often perilous quest across mountains, plains, and snow-covered lands to reunite with one another.
2.
The Second Jungle Book: Mowgli & Baloo (1997)
1h 28m Adventure Family
In this exciting live-action adventure, young Mowgli, an orphan raised by wolves, is spotted by a scout for a giant circus. Accompanied by a cruel hunter and a snake charmer, the scout sets out to trap Mowgli. But with the help of Baloo the bear and Bagheera the panther, little Mowgli leads the adults into his biggest and wildest adventure yet! A fun-filled movie every member of the family will enjoy.
3.
How It Was with Dooms (2005)
4.
The Journey of Natty Gann (1985)
1h 41m Adventure Family Drama
America is in the depths of the Great Depression. Families drift apart when faraway jobs beckon. A courageous young girl confronts overwhelming odds when she embarks on a cross-country search for her father. During her odyssey, she forms a close bond with two diverse traveling companions: a magnificent, protective wolf, and a hardened drifter.
5.
The Jungle Book (2016)
1h 46m Family Adventure Drama Fantasy
A man-cub named Mowgli fostered by wolves. After a threat from the tiger Shere Khan, Mowgli is forced to flee the jungle, by which he embarks on a journey of self discovery with the help of the panther, Bagheera and the free-spirited bear, Baloo.
30m Animation Comedy
The New Yogi Bear Show is a 30-minute weekday animated series which aired on syndication in 1988 as part of The Funtastic World of Hanna-Barbera's 4th season. But it was the also the fifth incarnation of Hanna-Barbera's Yogi Bear. It contained 45 new episodes combined with reruns of the original 1960s Yogi series.Pared down from some of the other, recent incarnations of the adventures of Yogi and friends, this series featured only Yogi, Boo-Boo, Cindy and Ranger Smith, with episodes set in Jellystone Park.The show also introduced four new characters: Ranger Roubideux, Ninja Raccoon, Ninja Raccoon's mom, and Blubber Bear from Wacky Races.
1h 56m Adventure Drama
In 1969, a young Beijing student, Chen Zhen, is sent to live among the nomadic herdsmen of Inner Mongolia. Caught between the advance of civilization from the south and the nomads' traditional enemies - the marauding wolves - to the north; humans and animals, residents and invaders alike, struggle to find their true place in the world
8.
The Incredible Journey (1963)
1h 20m Adventure Family
The story of three pets, a cat and two dogs, who lose their owners when they are all on vacation. Can they find their way home?
1h 47m Action Adventure Drama Family
Amy is only 13 years old when her mother is killed. She goes to Canada to live with her father, an eccentric inventor whom she barely knows. Amy is miserable in her new life... until she discovers a nest of goose eggs that were abandoned when a local forest is torn down. The eggs hatch and Amy becomes "Mama Goose". When Winter comes, Amy, and her dad must find a way to lead the birds South...
1h 35m Family Adventure Drama
Jesse becomes reunited with Willy three years after the whale's jump to freedom as the teenager tries to rescue the killer whale and other orcas from an oil spill.
1h 35m Adventure
At a national park in Kenya, English game warden George Adamson and his wife, Joy, care for three orphaned lion cubs. After the two larger lions are shipped off to a zoo in the Netherlands, the smallest of the three, Elsa, stays with the couple. When Elsa is blamed for causing an elephant stampede in the nearby village, head warden John Kendall demands the young lion either be trained to survive in the wilds of the Serengeti or be sent to a zoo.
explore
Check out more list from our community