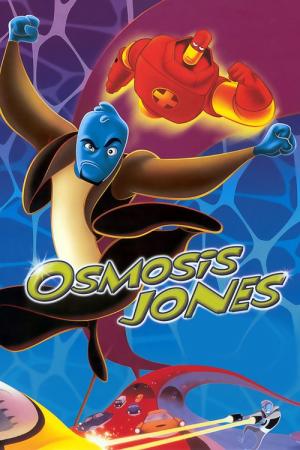 13 Best Movies Like Osmosis Jones ...
If you liked this one , you will probably love these too! In this collection we highlight some of the best films that share a very similar premise to 'Osmosis Jones', and are worth checking out.
1.
Stuart Little 2 (2002)
1h 18m Family Adventure Animation Comedy
Stuart, an adorable white mouse, still lives happily with his adoptive family, the Littles, on the east side of Manhattan's Central Park. More crazy mouse adventures are in store as Stuart, his human brother, George, and their mischievous cat, Snowbell, set out to rescue a friend.
2.
Iron Man & Hulk: Heroes United (2013)
2h 10m Action Adventure Science Fiction
When Tony Stark's world is torn apart by a formidable terrorist called the Mandarin, he starts an odyssey of rebuilding and retribution.
3.
Atlantis: Milo's Return (2003)
1h 10m Fantasy Animation Science Fiction Family Action
Milo and Kida reunite with their friends to investigate strange occurances around the world that seem to have links to the secrets of Atlantis.
4.
Lilo & Stitch (2002)
1h 25m Animation Family
As Stitch, a runaway genetic experiment from a faraway planet, wreaks havoc on the Hawaiian Islands, he becomes the mischievous adopted alien "puppy" of an independent little girl named Lilo and learns about loyalty, friendship, and 'ohana, the Hawaiian tradition of family.
5.
Digimon: The Movie (2000)
1h 22m Fantasy Animation Science Fiction Family
The first story focused on Tai and Kari Kamiya four years before their adventure in the Digital World. It shows their first encounter with Digimon and what happened to them (as well as the other children). Tai and Kari wake one morning to find a Digi-Egg that came out of their computer the night before and the egg soon hatches, revealing a Botamon. The Digimon then evolves into Koromon and then Agumon (not the same one that became friends with Tai in the series, and yet, somehow, both Koromon and Kari remember each other), who then goes out and unintentionally destroys a good part of the neighborhood with Kari riding on his back. A second Digi-Egg appears in the sky to reveal an evil digimon, Parrotmon. Agumon then Digivolves to Greymon but isn't strong enough to beat Parrotmon and is knocked out. Tai grabs Kari's whistle and wakes up Greymon, who defeats Parrotmon and disappears with him.
6.
Buzz Lightyear of Star Command: The Adventure Begins (2000)
1h 10m Animation Family Comedy Science Fiction Adventure
Buzz Lightyear must battle Emperor Zurg with the help of three hopefuls who insist on being his partners.
7.
Aqua Teen Hunger Force Colon Movie Film for Theaters (2007)
1h 26m Animation Comedy
An action epic that explores the origins of the Aqua Teen Hunger Force (better known as Master Shake, Frylock, and Meatwad,) who somehow become pitted in a battle over an immortal piece of exercise equipment.
8.
Toy Story That Time Forgot (2014)
22m Animation Family TV Movie Adventure Comedy Fantasy
During a post-Christmas play date, the gang find themselves in uncharted territory when the coolest set of action figures ever turn out to be dangerously delusional. It's all up to Trixie, the triceratops, if the gang hopes to return to Bonnie's room in this Toy Story That Time Forgot.
9.
Justice League: The Flashpoint Paradox (2013)
1h 15m Fantasy Science Fiction Animation Action Adventure Mystery
The Flash finds himself in a war-torn alternate timeline and teams up with alternate versions of his fellow heroes to restore the timeline.
10.
Madagascar 3: Europe's Most Wanted (2012)
1h 33m Animation Family Comedy Adventure
Animal pals Alex, Marty, Melman, and Gloria are still trying to make it back to New York's Central Park Zoo. They are forced to take a detour to Europe to find the penguins and chimps who broke the bank at a Monte Carlo casino. When French animal-control officer Capitaine Chantel DuBois picks up their scent, Alex and company are forced to hide out in a traveling circus.
11.
Batman & Mr. Freeze: SubZero (1998)
12.
Planes: Fire & Rescue (2014)
1h 23m Animation Comedy Adventure Family
When world-famous air racer Dusty learns that his engine is damaged and he may never race again, he must shift gears and is launched into the world of aerial firefighting. Dusty joins forces with veteran fire and rescue helicopter Blade Ranger and his team, a bunch of all-terrain vehicles known as The Smokejumpers. Together, the fearless team battles a massive wildfire, and Dusty learns what it takes to become a true hero.
13.
Madagascar: Escape 2 Africa (2008)
1h 29m Family Adventure Animation Comedy
Alex, Marty, and other zoo animals find a way to escape from Madagascar when the penguins reassemble a wrecked airplane. The precariously repaired craft stays airborne just long enough to make it to the African continent. There the New Yorkers encounter members of their own species for the first time. Africa proves to be a wild place, but Alex and company wonder if it is better than their Central Park home.
explore
Check out more list from our community