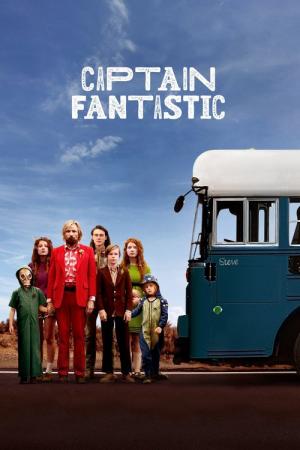 30 Best Movies Like Captain Fantastic ...
If you liked this film , you will definitely love these too! In this collection we highlight some of the best films that share a very similar mood to '', and are worth checking out.
1.
Little Miss Sunshine (2006)
1h 42m Comedy Drama
A family loaded with quirky, colorful characters piles into an old van and road trips to California for little Olive to compete in a beauty pageant.
2.
The Myth of Fingerprints (1997)
1h 33m Drama Comedy Romance
When a New England dysfunctional family gathers for Thanksgiving, past demons reveal themselves as one son returns for the first time in three years.
1h 35m Comedy Drama Romance
Professor Lawrence Wetherhold (Dennis Quaid) might be imperiously brilliant, monumentally self-possessed and an intellectual giant -- but when it comes to solving the conundrums of love and family, he's as downright flummoxed as the next guy.
4.
Sunshine Cleaning (2008)
1h 42m Comedy Drama
A single mother and her slacker sister find an unexpected way to turn their lives around in the off-beat dramatic comedy. In order to raise the tuition to send her young son to private school the mom starts an unusual business – a biohazard removal/crime scene clean-up service.
1h 54m Drama
A sister and brother face the realities of familial responsibility as they begin to care for their ailing father.
30m Comedy
Major Dad is an American sitcom created by Richard C. Okie and John G. Stephens, developed by Earl Pomerantz, that originally ran from 1989 to 1993 on CBS, starring Gerald McRaney as Major John D. MacGillis and Shanna Reed as his wife Polly. The cast also includes Beverly Archer, Matt Mulhern, Jon Cypher, Marisa Ryan, Nicole Dubuc and Chelsea Hertford.
2h 5m Drama Comedy
66-year-old Warren Schmidt is a retired insurance salesman and has no particular plans other than to drive around in the motor home his wife insisted they buy. He's not altogether bitter, but not happy either, as everything his wife does annoys him, and he disapproves of the man his daughter is about to marry. When his wife suddenly dies, he sets out to postpone the imminent marriage of his daughter to a man he doesn't like, while coping with discoveries about his late wife and himself in the process.
8.
Wish I Was Here (2014)
1h 47m Drama Comedy
Aidan Bloom, a struggling actor, father and husband, is 35 years old and still trying to find a purpose for his life. He and his wife are barely getting by financially and Aidan passes his time by fantasizing about being the great futuristic Space-Knight he'd always dreamed he'd be as a little kid. When his ailing father can no longer afford to pay for private school for his two kids and the only available public school is on its last legs, Aidan reluctantly agrees to attempt to home-school them. Through teaching them about life his way, Aidan gradually discovers some of the parts of himself he couldn't find.
9.
Driving Lessons (2006)
1h 38m Comedy Drama
A shy teenage boy trying to escape the influence of his domineering mother, has his world changed when he begins to work for a retired actress.
10.
Imaginary Heroes (2004)
1h 51m Comedy Drama
Matt Travis is good-looking, popular, and his school's best competitive swimmer, so everyone is shocked when he inexplicably commits suicide. As the following year unfolds, each member of his family struggles to recover from the tragedy with mixed results.
1h 30m Comedy Drama
In New York City, a husband and wife butt heads with the granddaughters of the elderly woman who lives in the apartment the couple owns.
12.
Just Before I Go (2014)
1h 35m Comedy Drama Romance
Ted Morgan has been treading water for most of his life. After his wife leaves him, Ted realizes he has nothing left to live for. Summoning the courage for one last act, Ted decides to go home and face the people he feels are responsible for creating the shell of a person he has become. But life is tricky. The more determined Ted is to confront his demons, to get closure, and to withdraw from his family, the more Ted is yanked into the chaos of their lives. So, when Ted Morgan decides to kill himself, he finds a reason to live.
13.
12 and Holding (2005)
14.
Running with Scissors (2006)
1h 56m Drama Comedy
Young Augusten Burroughs absorbs experiences that could make for a shocking memoir: the son of an alcoholic father and an unstable mother, he's handed off to his mother's therapist, Dr. Finch, and spends his adolescent years as a member of Finch's bizarre extended family.
16.
The Door in the Floor (2004)
17.
Dan in Real Life (2007)
1h 38m Comedy Romance Drama
Advice columnist, Dan Burns is an expert on relationships, but somehow struggles to succeed as a brother, a son and a single parent to three precocious daughters. Things get even more complicated when Dan finds out that the woman he falls in love with is actually his brother's new girlfriend.
1h 54m Comedy
When Steve Dallas, a womanizing local weatherman, hears that his off-the-grid best friend Ben Baker has lost his estranged father, the two return to Ben's childhood home. Once there, they discover Ben has inherited the family fortune, and the ill-equipped duo must battle Ben's formidable sister and deal with his father's gorgeous 25-year old widow.
19.
Silver Linings Playbook (2012)
2h 2m Drama Comedy Romance
After spending eight months in a mental institution, a former teacher moves back in with his parents and tries to reconcile with his ex-wife.
20.
Terms of Endearment (1983)
2h 12m Comedy Drama
Aurora, a finicky woman, is in search of true love while her daughter faces marital issues. Together, they help each other deal with problems and find reasons to live a joyful life.
21.
Crimes of the Heart (1986)
1h 45m Drama Family
Three sisters with quite different personalities and lives reunite when the youngest of them, Babe, has just shot her husband. The oldest sister, Lenny, takes care of their grandfather and is turning into an old maid, while Meg, who tries to make it in Hollywood as a singer/actress, has had a wild life filled with many men. Their reunion causes much joy, but also many tensions.
22.
Manny & Lo (1996)
1h 28m Drama Comedy
A pregnant teen and her younger sister run away from foster homes and kidnap a woman whom they believe can help with the pregnancy.
2h 17m Comedy Drama
An egocentric bum transforms the lives of a shy New Jersey garbageman and his sister.
24.
A Family Thing (1996)
1h 49m Comedy Drama
Earl Pilcher Jr., runs an equipment rental outfit in Arkansas, lives with his wife and kids and parents, and rarely takes off his gimme cap. His mother dies, leaving a letter explaining he's not her natural son, but the son of a Black woman who died in childbirth; plus, he has a half brother Ray, in Chicago, she wants him to visit. Earl makes the trip, initially receiving a cold welcome from Ray and Ray's son, Virgil. His birth mother's sister, Aunt T., an aged and blind matriarch, takes Earl in tow and insists that the family open up to him.
25.
One True Thing (1998)
2h 7m Drama Romance
A career woman reassesses her parents' lives after she is forced to care for her cancer-stricken mother.
26.
Antonia's Line (1995)
27.
The Kings of Summer (2013)
1h 33m Comedy Drama
Joe Toy, on the verge of adolescence, finds himself increasingly frustrated by his single father, Frank's attempts to manage his life. Declaring his freedom once and for all, he escapes to a clearing in the woods with his best friend, Patrick, and a strange kid named Biaggio. He announces that they are going to build a house there, free from responsibility and parents. Once their makeshift abode is finished, the three young men find themselves masters of their own destiny, alone in the woods.
28.
Slums of Beverly Hills (1998)
1h 31m Comedy Drama
In 1976, a lower-middle-class teenager struggles to cope living with her neurotic family of nomads on the outskirts of Beverly Hills.
1h 36m Comedy Drama
Justin Cobb, a teenager in suburban Oregon, copes with his thumb-sucking problem, romance, and his diagnosis with ADHD and subsequent experience using Ritalin.
explore
Check out more list from our community