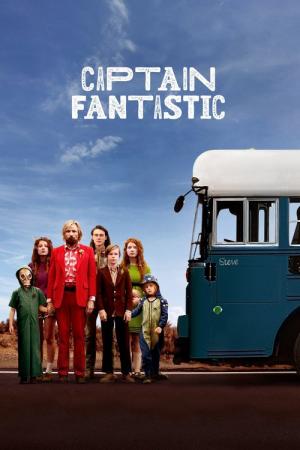 11 Best Movies Like Captain Fantastic ...
If you liked this movie , you will probably love these too! In this collection we highlight some of the best films that share a very similar premise to 'Captain Fantastic', and are worth checking out.
1.
Dan in Real Life (2007)
1h 38m Comedy Romance Drama
Advice columnist, Dan Burns is an expert on relationships, but somehow struggles to succeed as a brother, a son and a single parent to three precocious daughters. Things get even more complicated when Dan finds out that the woman he falls in love with is actually his brother's new girlfriend.
1h 35m Comedy Drama Romance
Professor Lawrence Wetherhold (Dennis Quaid) might be imperiously brilliant, monumentally self-possessed and an intellectual giant -- but when it comes to solving the conundrums of love and family, he's as downright flummoxed as the next guy.
3.
Just Before I Go (2014)
1h 35m Comedy Drama Romance
Ted Morgan has been treading water for most of his life. After his wife leaves him, Ted realizes he has nothing left to live for. Summoning the courage for one last act, Ted decides to go home and face the people he feels are responsible for creating the shell of a person he has become. But life is tricky. The more determined Ted is to confront his demons, to get closure, and to withdraw from his family, the more Ted is yanked into the chaos of their lives. So, when Ted Morgan decides to kill himself, he finds a reason to live.
4.
Terms of Endearment (1983)
2h 12m Comedy Drama
Aurora, a finicky woman, is in search of true love while her daughter faces marital issues. Together, they help each other deal with problems and find reasons to live a joyful life.
5.
The Door in the Floor (2004)
1h 49m Comedy Drama
Earl Pilcher Jr., runs an equipment rental outfit in Arkansas, lives with his wife and kids and parents, and rarely takes off his gimme cap. His mother dies, leaving a letter explaining he's not her natural son, but the son of a Black woman who died in childbirth; plus, he has a half brother Ray, in Chicago, she wants him to visit. Earl makes the trip, initially receiving a cold welcome from Ray and Ray's son, Virgil. His birth mother's sister, Aunt T., an aged and blind matriarch, takes Earl in tow and insists that the family open up to him.
1h 28m Drama Comedy
A pregnant teen and her younger sister run away from foster homes and kidnap a woman whom they believe can help with the pregnancy.
8.
Silver Linings Playbook (2012)
2h 2m Drama Comedy Romance
After spending eight months in a mental institution, a former teacher moves back in with his parents and tries to reconcile with his ex-wife.
10.
The Kings of Summer (2013)
1h 33m Comedy Drama
Joe Toy, on the verge of adolescence, finds himself increasingly frustrated by his single father, Frank's attempts to manage his life. Declaring his freedom once and for all, he escapes to a clearing in the woods with his best friend, Patrick, and a strange kid named Biaggio. He announces that they are going to build a house there, free from responsibility and parents. Once their makeshift abode is finished, the three young men find themselves masters of their own destiny, alone in the woods.
11.
The Myth of Fingerprints (1997)
1h 33m Drama Comedy Romance
When a New England dysfunctional family gathers for Thanksgiving, past demons reveal themselves as one son returns for the first time in three years.
explore
Check out more list from our community