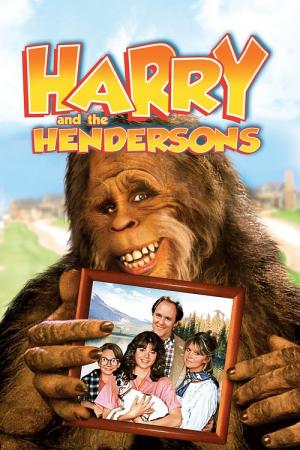 27 Best Movies Like Harry And The Hendersons ...
If you liked this one , you will definitely love these too! In this selection we highlight some of the best films that share a very similar mood to '', and are worth checking out.
1.
The Indian in the Cupboard (1995)
1h 36m Adventure Family Fantasy
A nine-year-old boy gets a plastic Indian and a cupboard for his birthday and finds himself involved in adventure when the Indian comes to life and befriends him.
2.
Little Monsters (1989)
1h 42m Adventure Fantasy Comedy Family
A young boy is scared of the monster under his bed. He asks his 6th grade brother to swap rooms for the night as a bet that the monster really exists. Soon the brother becomes friends with the monster and discovers a whole new world of fun and games under his bed where pulling pranks on kids and other monsters is the main attraction.
1h 38m Comedy Family
The tale of a workaholic dad-turned-dog who finds that being man's best friend shows him the most important job - being a great dad.
1h 41m Family
When ex-con artist Harry claims that a secret treasure is hidden inside Candleshoe, an English estate, he creates an elaborate plan to find and steal the prize. By convincing a girl named Casey to impersonate the estate owner's long-lost granddaughter, Harry hopes to uncover the treasure's location. But when Casey has a change of heart, she must follow the clues and find the treasure, in order to save Candleshoe and stop Harry before it is too late.
5.
Nanny McPhee Returns (2010)
1h 49m Comedy Fantasy Family
Nanny McPhee appears at the door of a harried young mother who is trying to run the family farm while her husband is away at war. But once she's arrived, Nanny discovers that the children are fighting a war of their own against two spoiled city cousins who have just moved in. Relying on everything from a flying motorcycle and a statue that comes to life to a tree-climbing piglet and a baby elephant, Nanny uses her magic to teach her mischievous charges five new lessons.
1h 26m Adventure Comedy Family Fantasy
Murray is a male fairy godmother, and he is trying to help 8-year-old Anabel to fulfil her "simple wish" - that her father Oliver, who is a cab driver, would win the leading role in a Broadway musical. Unfortunately, Murray's magic wand is broken and the fairies convention is threatened by evil witches Claudia and Boots.
7.
Alexander and the Terrible, Horrible, No Good, Very Bad Day (2014)
1h 21m Family Comedy
Alexander's day begins with gum stuck in his hair, followed by more calamities. Though he finds little sympathy from his family and begins to wonder if bad things only happen to him, his mom, dad, brother, and sister all find themselves living through their own terrible, horrible, no good, very bad day.
1h 27m Comedy Family
The Newton family live in their comfortable home, but there seems to something missing. This "hole" is filled by a small puppy, who walks into their home and their lives. Beethoven, as he is named, grows into a giant of a dog... a St Bernard. Doctor Varnick, the local vet has a secret and horrible sideline, which requires lots of dogs for experiments. Beethoven is on the bad doctor's list.
1h 24m Family Animation Fantasy Comedy
The adventures of a heroic and debonair stalwart mouse named Stuart Little with human qualities, who faces some comic misadventures while searching for his lost bird friend and living with a human family as their child.
10.
Larger Than Life (1996)
1h 33m Comedy
Motivational Speaker Jack Corcoran is determined to get his career off the ground, but the biggest gigs he can get are the ones nobody wants. Then one day, he receives a telegram that his circus clown father has passed away, and has left a "huge" inheritance. When he gets there, he finds that his inheritance has come in the form of an elephant that was his father's pride and joy in circus acts. His main intention is to sell the pachyderm off. Jack must choose between loud and rude zookeeper Mo or attractive animal show owner Terry. As the two treks through the country Jack and the elephant develop a bond, and it changes his approach on life for the better.
11.
Angels in the Outfield (1994)
1h 42m Comedy Drama Family Fantasy
Roger is a foster child whose irresponsible father promises to get his act together when Roger's favourite baseball team, the California Angels, wins the pennant. The problem is that the Angels are in last place, so Roger prays for help to turn the team around. Sure enough, his prayers are answered in the form of angel Al.
12.
Dr. Dolittle 2 (2001)
1h 27m Comedy Family Romance Fantasy
A group of beavers ask Dr. Dolittle to save their habitat from loggers. The only hope is to get the forest preserved because it's the home of a protected bear, but there's a problem: the bear's the only bear in the forest, so she can't reproduce. Undaunted, Dolittle persuades a circus bear to help out, but he has to teach him not just the ways of the wild, but the wiles of lady bears too.
13.
Mr. Popper's Penguins (2011)
1h 34m Comedy Family
Jim Carrey stars as Tom Popper, a successful businessman who's clueless when it comes to the really important things in life...until he inherits six "adorable" penguins, each with its own unique personality. Soon Tom's rambunctious roommates turn his swank New York apartment into a snowy winter wonderland — and the rest of his world upside-down.
14.
Dr. Dolittle 3 (2006)
1h 33m Comedy Family Fantasy
Lisa Dolittle sends her daughter to 'Durango', a Dude Ranch, to find herself. While there, she uses her talent to talk to the animals in order to save Durango from being taken over by a neighboring Ranch.
15.
The Shaggy D.A. (1976)
1h 31m Comedy Family Fantasy
Wilby Daniels, a successful lawyer running for District Attorney, suddenly finds himself being transformed into an English sheepdog. Somehow he has to keep his change a secret and find just what is causing it, all the while eluding the local dog catcher.
17.
A Christmoose Carol (2005)
1h 30m Family
A bullied young boy befriends a flying, talking moose that crashed through his ceiling after a test-flight with Santa went terribly awry in this holiday film for the whole family. But later, just as Mr. Moose and Beril strike up a friendship, the young boy's nefarious landlord Mr. Pannecke decides a mounted moose head would make a fine new addition to his trophy wall. But Santa has other plans for Mr. Moose, and when he turns up looking for his lost pal, Beril is faced with the prospect of losing his one and only friend.
1h 30m Action Adventure Comedy Family
Bingo, the runaway circus dog, is off the leash and saving Chuckie's life! Bingo and the boy become the best of friends in this canine comedy featuring doggy disguises and skateboarding, pinball and prison. Chuckie and his parents (Cindy Williams and David Rasche) are moving house, a thousand miles away, but Bingo won't be allowed to join them. Chuckie and Bingo's determination to be reunited is t
19.
The Cat in the Hat (2003)
1h 22m Family Fantasy
Conrad and Sally Walden are home alone with their pet fish. It is raining outside, and there is nothing to do. Until The Cat in the Hat walks in the front door. He introduces them to their imagination, and at first it's all fun and games, until things get out of hand, and The Cat must go, go, go, before their parents get back.
20.
The Ugly Dachshund (1966)
1h 33m Comedy Drama Family
The Garrisons are the "proud parents" of three adorable dachshund pups - and one overgrown Great Dane named Brutus, who nevertheless thinks of himself as a dainty dachsie. His identity crisis results in an uproarious series of household crises that reduce the Garrisons' house to shambles - and viewers to howls of laughter!
1h 28m Comedy Family
Charlie and Dan have been best friends and business partners for thirty years; their Manhattan public relations firm is on the verge of a huge business deal with a Japanese company. With two weeks to sew up the contract, Dan gets a surprise: a woman he married on a drunken impulse nearly nine years before (annulled the next day) shows up to tell him he's the father of her twins, now seven, and she'll be in jail for 14 days for a political protest. Dan volunteers to keep the tykes, although he's up tight and clueless. With Charlie's help is there any way they can be dad and uncle, meet the kids' expectations, and still land the account?
1h 48m Comedy Family Fantasy
Roberto Benigni adapts the classic children's tale by Carlo Collodi for the big-budget family-oriented comedy Pinocchio.
1h 48m Family Fantasy Adventure
The first half of this film, set hundreds of years ago, shows how the old man who eventually became Santa Claus was given immortality and chosen to deliver toys to all the children of the world. The second half moves into the modern era, in which Patch, the head elf, strikes out on his own and falls in with an evil toy manufacturer who wants to corner the market and eliminate Santa Claus.
1h 44m Fantasy Comedy Family
Powerful businessman Russ Duritz is self-absorbed and immersed in his work. But by the magic of the moon, he meets Rusty, a chubby, charming 8-year-old version of himself who can't believe he could turn out so badly -- with no life and no dog. With Rusty's help, Russ is able to reconcile the person he used to dream of being with the man he's actually become.
1h 50m Fantasy Comedy Family
Recently orphaned, a young boy is taken in by his godmother who is shocked to realize that she can see the boy's imaginary friend: a flamboyant, French magician named Bogus.
26.
The Perfect Holiday (2007)
1h 36m Comedy Drama Romance Family
Laughter, love and just a hint of magic make for THE PERFECT HOLIDAY, a fun-filled comedy romance starring Morris Chestnut, Gabrielle Union, Charlie Murphy, Katt Williams, Faizon Love, Terrence Howard and Queen Latifah. All Nancy Taylor (Union) wants for Christmas is to meet a nice man. So when her little girl shares Mommy's wish with smitten shopping mall Santa, Benjamin Armstrong (Chestnut), he does his best to make her dream come true in this delightful holiday treat the entire family will enjoy!
explore
Check out more list from our community