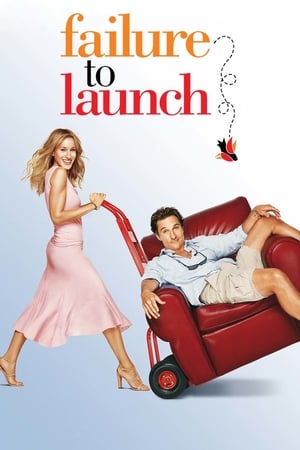 30 Best Movies Like Failure To Launch ...
If you liked this film , you will for sure love these too! In this collection we highlight some of the best films that share a very similar mood to '', and are worth checking out.
1h 48m Comedy Romance Drama
When she learns she's in danger of losing her visa status and being deported, overbearing book editor Margaret Tate forces her put-upon assistant, Andrew Paxton, to marry her.
1h 51m Comedy Romance
Altruistic Jane finds herself facing her worst nightmare as her younger sister announces her engagement to the man Jane secretly adores.
1h 41m Comedy Romance
Tom and Hannah have been platonic friends for 10 years. He's a serial dater, while she wants marriage but hasn't found Mr. Right. Just as Tom is starting to think that he is relationship material after all, Hannah gets engaged. When she asks Tom to be her 'maid' of honor, he reluctantly agrees just so he can attempt to stop the wedding and woo her.
1h 57m Comedy
After a bad blind date, a man and woman find themselves stuck together at a resort for families, where their attractions grows as their respective kids benefit from the burgeoning relationship.
1h 58m Comedy Drama Romance
Dating coach Alex 'Hitch' Hitchens mentors a bumbling client, Albert, who hopes to win the heart of the glamorous Allegra Cole. While Albert makes progress, Hitch faces his own romantic setbacks when proven techniques fail to work on Sara Melas, a tabloid reporter digging for dirt on Allegra Cole's love life. When Sara discovers Hitch's connection to Albert – now Allegra's boyfriend – it threatens to destroy both relationships.
6.
How to Lose a Guy in 10 Days (2003)
1h 56m Comedy Romance
It's the battle of wills, as Andie (Kate Hudson) needs to prove she can dump a guy in 10 days, whereas Ben (Matthew McConaughey) needs to prove he can win a girl in 10 days. Now, the clock is ticking - and the wildly entertaining comedy smash is off and running in this irresistible tale of sex, lies and outrageous romantic fireworks!
7.
The Wedding Date (2005)
1h 28m Comedy Romance
With the wedding of her younger sister fast approaching, Kat Ellis faces the undesirable prospect of traveling alone to London for the ceremony. While this is bad enough, Jeffrey, the man who left her as they moved closer to marriage, happens to be the groom's best man. Determined to show everyone -- most of all Jeffrey -- that her romantic life is as full and thrilling as ever, Kat hires a charming male escort as her date.
8.
Because I Said So (2007)
1h 42m Comedy Romance
In an effort to prevent family history from repeating itself, meddlesome mom Daphne Wilder attempts to set up her youngest daughter, Milly, with Mr. Right. Meanwhile, her other daughters try to keep their mom's good intentions under control.
1h 41m Romance Comedy
Office temp Charlotte Cantilini thinks she's found Mr. Right when she starts dating gorgeous surgeon Dr. Kevin Fields. But there's a problem standing in the way of everlasting bliss: Kevin's overbearing and controlling mother, Viola. Fearing she'll lose her son's affections forever, Viola decides to break up the happy couple by becoming the world's worst mother-in-law.
1h 56m Comedy Romance
Ike Graham, New York columnist, writes his text always at the last minute. This time, a drunken man in his favourite bar tells Ike about Maggie Carpenter, a woman who always flees from her grooms in the last possible moment. Ike, who does not have the best opinion about females anyway, writes an offensive column without researching the subject thoroughly.
1h 29m Comedy Romance
Two best friends become rivals when their respective weddings are accidentally booked for the same day.
12.
What Happens in Vegas (2008)
1h 39m Comedy Romance
During a wild vacation in Las Vegas, career woman Joy McNally and playboy Jack Fuller come to the sober realization that they have married each other after a night of drunken abandon. They are then compelled, for legal reasons, to live life as a couple for a limited period of time. At stake is a large amount of money.
13.
Sex and the City (2008)
2h 25m Comedy Drama Romance
A New York writer on sex and love is finally getting married to her Mr. Big. But her three best girlfriends must console her after one of them inadvertently leads Mr. Big to jilt her.
14.
The Ugly Truth (2009)
1h 36m Comedy Romance
A romantically challenged morning show producer is reluctantly embroiled in a series of outrageous tests by her chauvinistic correspondent to prove his theories on relationships and help her find love. His clever ploys, however, lead to an unexpected result.
2h 16m Comedy Romance
Two women, one from the United States and one from the United Kingdom, swap homes at Christmastime after bad breakups with their boyfriends. Each woman finds romance with a local man but realizes that the imminent return home may end the relationship.
16.
Two Weeks Notice (2002)
1h 41m Comedy Romance
Dedicated environmental lawyer Lucy Kelson goes to work for billionaire George Wade as part of a deal to preserve a community center. Indecisive and weak-willed George grows dependent on Lucy's guidance on everything from legal matters to clothing. Exasperated, Lucy gives notice and picks Harvard graduate June Carter as her replacement. As Lucy's time at the firm nears an end, she grows jealous of June and has second thoughts about leaving George.
17.
The Wedding Planner (2001)
1h 43m Comedy Romance
San Francisco's premiere wedding planner, Mary Fiore is rescued from an accident by the man of her dreams, paediatrician Steve Edison, only to find he is the fiancé of her latest client. As Mary continues making the wedding arrangements, she and Steve are put into a string of uncomfortable situations that force them to face their mutual attraction.
18.
I Hate Valentine's Day (2009)
1h 38m Comedy Romance
A love story set in Manhattan, where a florist who abides by a strict five-date-limit with any man finds herself wanting more with the new restaurateur in town.
1h 35m Comedy Romance
Tom Leezak and Sarah McNerney fall in love and plan to get married, despite opposition from Sarah's uptight, rich family. When they do get married, and get a chance to prove Sarah's family wrong, they go on a European honeymoon and run into disaster after disaster. They have to decide whether the honeymoon from hell and a few pre-marital mistakes are worth throwing away their love and marriage.
20.
Sweet Home Alabama (2002)
1h 48m Comedy Romance
New York fashion designer, Melanie Carmichael suddenly finds herself engaged to the city's most eligible bachelor. But her past holds many secrets—including Jake, the redneck husband she married in high school, who refuses to divorce her. Bound and determined to end their contentious relationship once and for all, Melanie sneaks back home to Alabama to confront her past.
21.
Must Love Dogs (2005)
1h 38m Romance Comedy
Sarah Nolan is a newly divorced woman cautiously rediscovering romance with the enthusiastic but often misguided help of her well-meaning family. As she braves a series of hilarious disastrous mismatches and first dates, Sarah begins to trust her own instincts again and learns that, no matter what, it's never a good idea to give up on love.
22.
Laws of Attraction (2004)
1h 30m Comedy Romance
Amidst a sea of litigation, two New York City divorce lawyers find love.
23.
Just Go with It (2011)
1h 57m Comedy Romance
A plastic surgeon, romancing a much younger schoolteacher, enlists his loyal assistant to pretend to be his soon to be ex-wife, in order to cover up a careless lie. When more lies backfire, the assistant's kids become involved, and everyone heads off for a weekend in Hawaii that will change all their lives.
24.
He's Just Not That Into You (2009)
25.
The Back-up Plan (2010)
1h 46m Comedy Romance
When Zoe tires of looking for Mr. Right, she decides to have a baby on her own. But on the day she's artificially inseminated, she meets Stan, who seems to be just who she's been searching for all her life. Now, Zoe has to figure out how to make her two life's dreams fit with each other.
1h 37m Comedy Romance
Obsessed with the BBC production of "Pride and Prejudice", a woman travels to a Jane Austen theme park in search for her perfect gentleman.
1h 32m Comedy Romance
Joe and Lucy are roommates and best friends. Lucy, whose love life is embarrassingly dull, convinces Joe, who is infatuated with a neighbor he's never met, that if they don't have stable romances within a month, they must jump off the Brooklyn Bridge.
28.
New Year's Eve (2011)
1h 58m Comedy Romance
The lives of several couples and singles in New York intertwine over the course of New Year's Eve.
29.
Ghosts of Girlfriends Past (2009)
1h 55m Fantasy Comedy Romance
When notorious womanizer Connor Mead attends his brother Paul's wedding, he is forced to re-evaluate his behavior as he comes face-to-face with the ghosts of girlfriends past, present, and future, along with his deceased uncle. The experience changes his attitude and allows him to reconnect with his first and only love, Jenny.
explore
Check out more list from our community