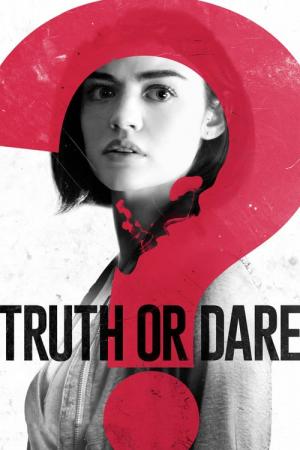 12 Best Movies Like Truth Or Dare ...
If you liked 'Truth or Dare', you will love these movies! In this list we highlight some of the best films that share a very similar premise to 'Truth or Dare', and are worth checking out.
1.
The Hills Have Eyes (1977)
On the way to California, a family has the misfortune to have their car break down in an area closed to the public, and inhabited by violent savages ready to attack.
1h 30m
Director, Screenplay: Wes Craven
Horror Thriller
When three college students move into an old house off campus, they unwittingly unleash a supernatural entity known as The Bye Bye Man, who comes to prey upon them once they discover his name. The friends must try to save each other, all the while keeping The Bye Bye Man's existence a secret to save others from the same deadly fate.
1h 36m
Director: Stacy Title
Screenplay: Jonathan Penner
Horror Thriller
A young nurse downloads an app that tells her she only has three days to live. With time ticking away and a mysterious figure haunting her, she must find a way to save her life before time runs out.
1h 30m
Director, Writer: Justin Dec
Horror Thriller
4.
Happy Death Day (2017)
Caught in a bizarre and terrifying time warp, college student Tree finds herself repeatedly reliving the day of her murder, ultimately realizing that she must identify the killer and the reason for her death before her chances of survival run out.
1h 37m
Director: Christopher Landon
Writer: Scott Lobdell
Horror Mystery Comedy
Veronica, the new girl in town, is lured into the woods by a group of senior boys looking to make her a victim. But the boys don't know that Veronica's been trained to handle herself in surprisingly lethal ways.
1h 30m
Director: Tyler Shields
Story: Johnny T. Silver
Story: Alejandro Seri
Story: Steve Scarlata
Writer: Adam Prince
Action Drama Thriller
6.
Urban Legends: Bloody Mary (2005)
On a prom-night dare, a trio of high school friends chant an incantation, unleashing an evil spirit from the past with deadly consequences.
1h 33m
Director: Mary Lambert
Screenplay: Michael Dougherty
Screenplay: Dan Harris
Horror Thriller
7.
Just Before Dawn (1981)
In the Oregon mountains, a pair of hunters encounter a machete-wielding killer in an abandoned church. Meanwhile, five campers arrive to examine some property one of them has inherited but are warned by the forest ranger not to venture forth. Soon after they set up camp, they begin hearing strange noises, encounter a mysterious singing girl and start disappearing one by one.
1h 30m
Director, Screenplay: Jeff Lieberman
Screenplay: Mark Arywitz
Story: Jonas Middleton
Horror Thriller
8.
Would You Rather (2012)
Desperate to help her ailing brother, a young woman agrees to compete in a deadly game of "Would You Rather", hosted by a sadistic aristocrat.
1h 33m
Director: David Guy Levy
Screenplay: Steffen Schlachtenhaufen
Thriller Horror
An unfaithful wife encounters the zombie of her dead lover while the demonic cenobites are pursuing him after he escaped their sadomasochistic underworld.
1h 34m
Director, Novel, Writer: Clive Barker
Horror
A young woman encounters a malevolent supernatural force while searching for her missing sister in Tokyo, a mean high school prank goes horribly wrong, and strange things begin happening in a Chicago apartment building.
1h 42m
Characters, Director: Takashi Shimizu
Screenplay: Stephen Susco
Horror Thriller
11.
Grace: The Possession (2014)
A man escapes from prison and meets a boy who has run away from school.
7m
Director, Writer: Gints Zilbalodis
Animation
explore
Check out more list from our community