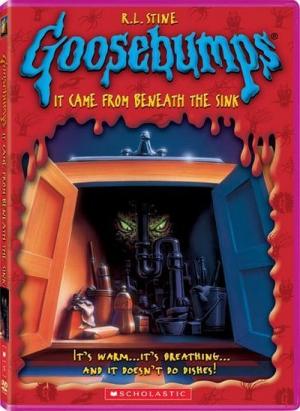 14 Best Movies Like Goosebumps ...
If you liked this film , you will for sure love these too! In this list we highlight some of the best films that share a very similar premise to 'Goosebumps', and are worth checking out.
1h 46m Fantasy Horror Comedy
When Billy Peltzer is given a strange but adorable pet named Gizmo for Christmas, he inadvertently breaks the three important rules of caring for a Mogwai, and unleashes a horde of mischievous gremlins on a small town.
1h 43m Adventure Horror Comedy
After moving to a small town, Zach Cooper finds a silver lining when he meets next door neighbor Hannah, the daughter of bestselling Goosebumps series author R.L. Stine. When Zach unintentionally unleashes real monsters from their manuscripts and they begin to terrorize the town, it's suddenly up to Stine, Zach and Hannah to get all of them back in the books where they belong.
3.
Percy Jackson & the Olympians: The Lightning Thief (2010)
1h 58m Adventure Fantasy Family
Accident prone teenager, Percy discovers he's actually a demi-God, the son of Poseidon, and he is needed when Zeus' lightning is stolen. Percy must master his new found skills in order to prevent a war between the Gods that could devastate the entire world.
1h 44m Adventure Fantasy Family
When siblings Judy and Peter discover an enchanted board game that opens the door to a magical world, they unwittingly invite Alan -- an adult who's been trapped inside the game for 26 years -- into their living room. Alan's only hope for freedom is to finish the game, which proves risky as all three find themselves running from giant rhinoceroses, evil monkeys and other terrifying creatures.
5.
Witches Don't Exist (2014)
1h 25m Adventure Fantasy
On her 13th birthday Katie, a talented young girl, receives a magical amulet. This amulet was on a quest to find the fifth and last witch to complete the order of the star witches. Because in it's incomplete form, the order is unable to protect earth against the evil witch Concuela. While Katie is exploring her new magical powers together with her best friend Roy, Grimbeck, the dandy gatekeeper of the star witches arena, as well as the evil Concuela are desperately trying to find Katie.
6.
Night at the Museum: Secret of the Tomb (2014)
1h 38m Adventure Comedy Fantasy Family
When the magic powers of The Tablet of Ahkmenrah begin to die out, Larry Daley spans the globe, uniting favorite and new characters while embarking on an epic quest to save the magic before it is gone forever.
7.
The Little Ghost (2013)
1h 32m Family Fantasy
The Little Ghost lives in the castle over looking a small town and awakens for precisely one hour after the clock strikes midnight. Follow him on this adventure to see his first sunrise ever!
8.
Night at the Museum: Battle of the Smithsonian (2009)
1h 45m Adventure Fantasy Action Comedy Family
Hapless museum night watchman Larry Daley must help his living, breathing exhibit friends out of a pickle now that they've been transferred to the archives at the Smithsonian Institution. Larry's (mis)adventures this time include close encounters with Amelia Earhart, Abe Lincoln and Ivan the Terrible.
9.
Honey, I Shrunk the Kids (1989)
1h 33m Adventure Comedy Family Science Fiction
The scientist father of a teenage girl and boy accidentally shrinks his and two other neighborhood teens to the size of insects. Now the teens must fight diminutive dangers as the father searches for them.
10.
Girl Vs. Monster (2012)
1h 29m Comedy Family Science Fiction TV Movie
Skylar finds out that her parents are monster hunters after she accidentally releases some monsters from a secret containment chamber; so she and her techno friends must recapture all the monsters and also save her mom and dad from these monsters who are out for revenge.
11.
Lilly the Witch The Dragon and the Magic Book (2009)
1h 29m Fantasy Family Comedy
Lilly was a normal girl with a healthy sense of adventure. That is, until she finds a magical book, complete with a funny little dragon, "Hector". With the help of her new friend and the book, Lilly has the ability to time-travel and truly satisfy her adventure- lust!.
12.
Gulliver's Travels (2010)
1h 25m Family Comedy Adventure Fantasy
Travel writer Lemuel Gulliver takes an assignment in Bermuda, but ends up on the island of Liliput, where he towers over its tiny citizens.
13.
Aliens in the Attic (2009)
1h 26m Adventure Comedy Family Fantasy Science Fiction
A group of kids must protect their vacation home from invading aliens.
1h 30m TV Movie Comedy Family Fantasy
Four very different high school teenagers battle trolls, ghouls and a dark leader of them named Maldark in a video game that goes haywire and releases the battle into the real world.
explore
Check out more list from our community