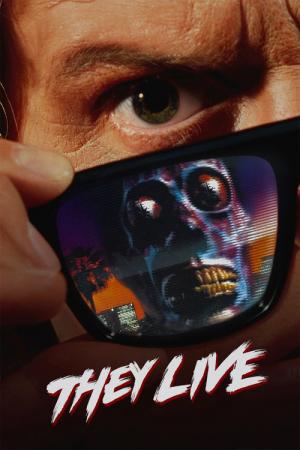 14 Best Movies Similar To They Live ...
If you liked this movie , you will for sure love these too! In this selection we highlight some of the best films that share a very similar mood to 'They Live', and are worth checking out.
1h 53m Action Adventure Science Fiction
Construction worker Douglas Quaid discovers a memory chip in his brain during a virtual-reality trip. He also finds that his past has been invented to conceal a plot of planetary domination. Soon, he's off to Mars to find out who he is and who planted the chip.
2.
The First Purge (2018)
1h 37m Action Science Fiction Thriller Horror Crime
To push the crime rate below one percent for the rest of the year, the New Founding Fathers of America test a sociological theory that vents aggression for one night in one isolated community. But when the violence of oppressors meets the rage of the others, the contagion will explode from the trial-city borders and spread across the nation.
1h 48m Thriller Science Fiction Action
When their ship crash-lands on a remote planet, the marooned passengers soon learn that escaped convict Riddick isn't the only thing they have to fear. Deadly creatures lurk in the shadows, waiting to attack in the dark, and the planet is rapidly plunging into the utter blackness of a total eclipse. With the body count rising, the doomed survivors are forced to turn to Riddick with his eerie eyes to guide them through the darkness to safety. With time running out, there's only one rule: Stay in the light.
1h 35m Action Thriller Science Fiction
Mind-control technology has taken society by a storm, a multiplayer on-line game called "Slayers" allows players to control human prisoners in mass-scale. Simon controls Kable, the online champion of the game. Kable's ultimate challenge becomes regaining his identity and independence by defeating the game's mastermind.
1h 54m Thriller Science Fiction Horror
As youths, Andy McGee and his future wife, Vicky, participated in secret experiments, allowing themselves to be subjected to mysterious medical tests. Years later, the couple's daughter, Charlie, begins to exhibit the ability of setting fires solely with her mind. This volatile talent makes the youngster extremely dangerous and soon she becomes a target for the enigmatic agency known as "The Shop."
1h 43m Science Fiction Horror
After a man with extraordinary—and frighteningly destructive—telepathic abilities is nabbed by agents from a mysterious rogue corporation, he discovers he is far from the only possessor of such strange powers, and that some of the other "scanners" have their minds set on world domination, while others are trying to stop them.
2h 16m Action Science Fiction
Set in the 22nd century, The Matrix tells the story of a computer hacker who joins a group of underground insurgents fighting the vast and powerful computers who now rule the earth.
8.
War of the Worlds 2: The Next Wave (2008)
1h 30m Action Science Fiction Adventure
Two years after the Martian invasion, George Herbert's worst fears are realized: The Aliens have returned. As a second wave of Martian walkers lay waste to what's left of Earth, an alliance of military forces prepares a daring attack on the Red Planet itself. Once again, the future of mankind hangs in the balance.
1h 25m Horror Science Fiction Thriller
It's the end of yet another night at Hastings Supermarket, a grocery store in Buck Lake, Arizona. But just before closing, a group of masked and armed to the teeth militants invades the store and take everyone hostage
1h 36m Horror Science Fiction Thriller
When average, law-abiding citizens suddenly turn to a life of hedonistic behavior and violent crime, Detective Tom Beck (Michael Nouri) is tasked with helping young FBI agent Lloyd Gallagher (Kyle MacLachlan) determine the cause in this tense, sci-fi thriller.
11.
Battlefield Earth (2000)
1h 58m Action Adventure Science Fiction War
In the year 3000, man is no match for the Psychlos, a greedy, manipulative race of aliens on a quest for ultimate profit. Led by the powerful Terl, the Psychlos are stripping Earth clean of its natural resources, using the broken remnants of humanity as slaves. What is left of the human race has descended into a near primitive state. After being captured, it is up to Tyler to save mankind.
1h 33m Science Fiction Action Horror
Having just returned from a mission to Mars, Commander Ross isn't exactly himself. He's slowly becoming a terrifying alien entity with one goal -- to procreate with human women! When countless women suffer gruesome deaths after bearing half-alien offspring, scientist Laura Baker and hired assassin Press Lennox use Eve, a more tempered alien clone, to find Ross and his brood. Before long Eve escapes to mate with Ross.
1h 49m Horror Mystery Science Fiction
Members of an American scientific research outpost in Antarctica find themselves battling a parasitic alien organism capable of perfectly imitating its victims. They soon discover that this task will be harder than they thought, as they don't know which members of the team have already been assimilated and their paranoia threatens to tear them apart.
14.
Demolition Man (1993)
1h 55m Crime Action Science Fiction
Simon Phoenix, a violent criminal cryogenically frozen in 1996, escapes during a parole hearing in 2032 in the utopia of San Angeles. Police are incapable of dealing with his violent ways and turn to his captor, who had also been cryogenically frozen after being wrongfully accused of killing 30 innocent people while apprehending Phoenix.
explore
Check out more list from our community