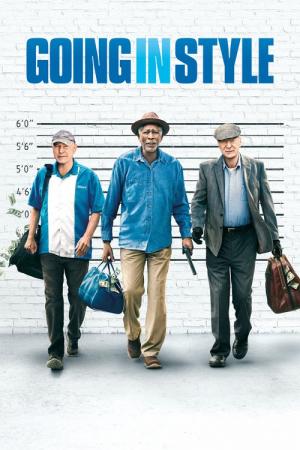 11 Best Movies Like Going In Style ...
If you liked this movie , you will probably love these too! In this list we highlight some of the best films that share a very similar mood to 'Going in Style', and are worth checking out.
1.
Amos & Andrew (1993)
1h 36m Action Comedy
When Andrew Sterling, a successful black urbanite writer, buys a vacation home on a resort in New England the police mistake him for a burglar. After surrounding his home with armed men, Chief Tolliver realizes his mistake and to avoid the bad publicity offers a thief in his jail, Amos Odell a deal.
1h 44m Action Comedy Crime
Three female employees of the Federal Reserve plot to steal money that is about to be destroyed.
3.
How to Beat the High Co$t of Living (1980)
4.
Fun with Dick and Jane (2005)
1h 30m Comedy
After Dick Harper loses his job at Globodyne in an Enron-esque collapse, he and his wife, Jane, turn to crime in order to handle the massive debt they now face. Two intelligent people, Dick and Jane actually get pretty good at robbing people and even enjoy it -- but they have second thoughts when they're reminded that crime can hurt innocent people. When the couple hears that Globodyne boss Jack McCallister actually swindled the company, they plot revenge.
1h 35m Thriller Comedy Action
After serving 28 years in prison for accidentally killing the son of a crime boss, newly paroled gangster Val reunites with his former partners in crime, Doc and Hirsch, for a night on the town. As the three men revisit old haunts, reflect on their glory days and try to make up for lost time, one wrestles with a terrible quandary: Doc has orders to kill Val, and time is running out for him to figure out a way out of his dilemma.
6.
Nuns on the Run (1990)
1h 29m Comedy
Brian and Charlie work for a gangster. When the boss learns they want to "leave" he sets them up to be killed, after they help rob the local Triads of their drug dealing profits. B&C decide to steal the money for themselves, but when their escape doesn't go to plan, they have to seek refuge in a Nuns' teacher training school.
7.
Harry and Walter Go to New York (1976)
1h 55m Crime Comedy
Two hoplessly out of their class con-men attempt to pull off the largest bank heist of the l9th century—by gaining the enmity of the most famous bank robber in the world and the affection of a crusading newspaperwoman.
8.
The Maiden Heist (2009)
1h 31m Comedy Crime
A comedy centered on three museum security guards who devise a plan to steal back the artworks to which they have become attached after they are transferred to another museum.
9.
Money for Nothing (1993)
1h 40m Drama Comedy Crime
When unemployed dockworker Joey Coyle finds $1.2 million that fell off of an armored car, he decides to do the logical thing: take the money and run. After all, he says, finders keepers. He turns to his ex-girlfriend Monica, who works in an investment firm, for advice, before turning to the mob for help laundering the money. While Joey makes plans to leave the country, however, a detective is following his ever-warmer trail in order to recover the cash.
1h 35m Comedy Crime
Three mischievous employees of a bank in a small deserted town all make plans to rob it at the same time, however none of them knows about the others.
11.
Just Getting Started (2017)
1h 31m Action Comedy
Duke Diver is living the high life as the freewheeling manager of a luxurious resort in Palm Springs, Calif. He soon faces competition from Leo, a former military man who likes the same woman that Duke is interested in. When Diver's past suddenly catches up with him, he must put aside his differences and reluctantly team up with Leo to stop whoever is trying to kill him.
explore
Check out more list from our community