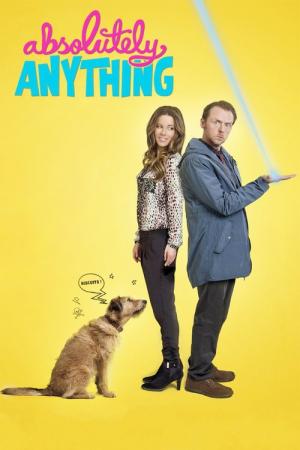 31 Best Movies Like Absolutely Anything ...
If you liked this film , you will definitely love these too! In this collection we highlight some of the best films that share a very similar mood to '', and are worth checking out.
1h 41m Fantasy Comedy
Bruce Nolan toils as a 'human interest' television reporter in Buffalo, N.Y., but despite his high ratings and the love of his beautiful girlfriend, Bruce remains unfulfilled. At the end of the worst day in his life, he angrily ridicules God—and the Almighty responds, endowing Bruce with all of His divine powers.
2.
What Planet Are You From? (2000)
1h 45m Comedy Drama Romance Science Fiction
A highly-evolved planet, whose denizens feel no emotion and reproduce by cloning, plans to take over Earth from the inside by sending an operative, fashioned with a humming, mechanical penis, to impregnate an earthling and stay until the birth. The alien, Harold Anderson, goes to Phoenix as a banker and sets to work finding a mate. His approaches to women are inept, and the humming phallus doesn't help, but on the advice of a banking colleague, he cruises an AA meeting, meets Susan, and somehow convinces her to marry. The clock starts to tick: will she conceive, have a baby, and lose Harold (and the child) to his planet before he discovers emotion and starts to care?
3.
Mystery Science Theater 3000: The Movie (1996)
1h 13m Comedy Science Fiction
The mad and evil scientist, Dr. Clayton Forrester, has created an evil little scheme that is bound to give him world global domination but first things first. He plans to torment Mike Nelson and the robots by sending them a real stinker of a film to watch called, "This Island Earth." He is convinced that this movie will drive them insane. Will this be the ultimate cheese that breaks the boys' spirits?
4.
The Mating Habits of the Earthbound Human (1999)
5.
My Stepmother Is an Alien (1988)
1h 48m Comedy Science Fiction
Trying to rescue her home planet from destruction, a gorgeous extraterrestrial named Celeste arrives on Earth and begins her scientific research. She woos quirky scientist Dr. Steve Mills, a widower with a young daughter. Before long, Celeste finds herself in love with Steve and her new life on Earth, where she experiences true intimacy for the first time. But when she loses sight of her mission, she begins to question where she belongs.
6.
Amazon Women on the Moon (1987)
1h 25m Comedy Science Fiction
Acclaimed director John Landis (Animal House, The Blues Brothers) presents this madcap send-up of late night TV, low-budget sci-fi films and canned-laughter-filled sitcoms packed with off-the-wall sketches that will have you in stitches. Centered around a television station which features a 1950s-style sci-fi movie interspersed with a series of wild commercials, wacky shorts and weird specials, this lampoon of contemporary life and pop culture skewers some of the silliest spectacles ever created in the name of entertainment. A truly outrageous look at the best of the worst that television has to offer.
1h 42m Comedy Action Science Fiction Mystery
Four everyday suburban guys come together as an excuse to escape their humdrum lives one night a week. But when they accidentally discover that their town has become overrun with aliens posing as ordinary suburbanites, they have no choice but to save their neighborhood - and the world - from total extermination.
30m Animation Action & Adventure
Alienators: Evolution Continues is a traditionally animated series based on the moderately successful live-action feature film, Evolution.
10.
Frequently Asked Questions About Time Travel (2009)
11.
Hector and the Search for Happiness (2014)
1h 54m Adventure Drama Comedy
Hector is a quirky psychiatrist who has become increasingly tired of his humdrum life. As he tells his girlfriend, Clara, he feels like a fraud: he hasn't really tasted life, and yet he's offering advice to patients who are just not getting any happier. So Hector decides to break out of his deluded and routine driven life. Armed with buckets of courage and child-like curiosity, he embarks on a global quest in hopes of uncovering the elusive secret formula for true happiness. And so begins a larger than life adventure with riotously funny results.
12.
Morons from Outer Space (1985)
1h 30m Comedy Science Fiction
The story begins on a small spaceship docking with a refueling station. On board are a group of four aliens, Bernard, Sandra, Desmond, and Julian. During a particularly tedious period of their stay at the station, the other three begin playing with the ship's controls while Bernard is outside playing spaceball. They accidentally disconnect his part of the ship, leaving him stranded while they crash into a large blue planet close by (Earth).
13.
Save the Green Planet! (2003)
1h 58m Comedy Drama Science Fiction Thriller
A young man believes that his country's leaders are actually toxic reptilian aliens sent down to launch a takeover of his beloved Earth. So he decides to abduct them and force the truth out on camera in his basement that doubles as a film studio and torture chamber.
1h 30m Comedy Drama Science Fiction
Visioneer George Washington Winsterhammerman lives a comfortable but monotonous life in this slightly futuristic black comedy. When people start exploding from stress and George is showing early symptoms, he's forced to examine his life. Taking a look at his nice job, his sexless marriage and his resistance to life coaching, George reconsiders the philosophy of happiness through mindless activity.
1h 35m Comedy Science Fiction
Galaxina is a lifelike, voluptuous android who is assigned to oversee the operations of an intergalactic Space Police cruiser captained by incompetent Cornelius Butt. When a mission requires the ship's crew to be placed in suspended animation for decades, Galaxina finds herself alone for many years, developing emotions and falling in love with the ship's pilot, Thor.
1h 46m Comedy Fantasy Science Fiction
'We come in peace' is not what those green men from Mars mean when they invade our planet, armed with irresistible weapons and a cruel sense of humor. This star studded cast must play victim to the alien's fun and games in this comedy homage to science fiction films of the '50s and '60s.
17.
Special Correspondents (2016)
1h 47m Comedy Fantasy
John Bennett, a man whose childhood wish of bringing his teddy bear to life came true, now must decide between keeping the relationship with the bear or his girlfriend, Lori.
23.
The Nutty Professor (1963)
1h 47m Comedy Family Romance Science Fiction
Jerry Lewis directed, co-wrote and starred in this riotously funny movie that set a new standard for screen comedy and inspired the hit remake. Lewis plays a timid, nearsighted chemistry teacher who discovers a magical potion that can transform him into a suave and handsome Romeo. The Jekyll and Hyde game works well enough until the concoction starts to wear off at the most embarrassing times.
1h 23m Comedy Science Fiction
A low-budget, sci-fi satire that focuses on a group of scientists whose mission is to destroy unstable planets. 20 years into their mission, they have battle their alien mascot, that resembles a beach ball, as well as a "sensitive" and intelligent bombing device that starts to question the meaning of its existence.
25.
The Hitchhiker's Guide to the Galaxy (2005)
1h 49m Adventure Comedy Family Science Fiction
Mere seconds before the Earth is to be demolished by an alien construction crew, Arthur Dent is swept off the planet by his friend Ford Prefect, a researcher penning a new edition of "The Hitchhiker's Guide to the Galaxy."
26.
Ignorance Is Bliss (2017)
27.
Hot Tub Time Machine (2010)
1h 41m Science Fiction Comedy Adventure
A malfunctioning time machine at a ski resort takes a man back to 1986 with his two friends and nephew, where they must relive a fateful night and not change anything to make sure the nephew is born.
28.
Born in East L.A. (1987)
1h 25m Comedy
Rudy, an American of Hispanic descent, whose south-of-the-border looks show him no mercy during an immigration raid in a migrant worker factory. As his luck goes, he is caught with neither money nor his ID and is deported to Mexico - without speaking a word of Spanish!
1h 51m Comedy
A dad forms a bitter rivalry with his daughter's young rich boyfriend.
30m Reality
Junior MasterChef is a British TV cookery competition, broadcast by the BBC, in which nine- to twelve-year-olds compete to be crowned Junior MasterChef. It is a spin-off from the main series MasterChef.Junior MasterChef first ran from 1994 to 1999, presented by Loyd Grossman. After a long hiatus, it was revived in 2010 in a revamped format, presented by writer and actress Nadia Sawalha, previously a Celebrity MasterChef contestant and restaurant owner, and professional chef John Torode, who also presents MasterChef. The revival series was commissioned by CBBC Controller Anne Gilchrist and produced by Shine Television, and was broadcast on BBC One. A further series was commissioned in 2012 for broadcast on CBBC.
explore
Check out more list from our community