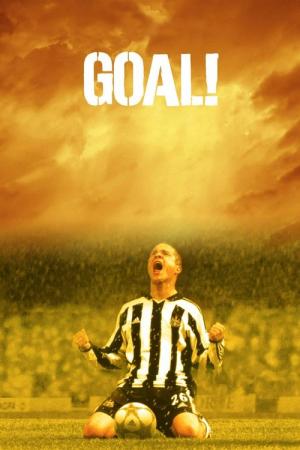 27 Best Movies Like Goal ...
If you liked this movie , you will for sure love these too! In this list we highlight some of the best films that share a very similar mood to '', and are worth checking out.
1.
Goal II: Living the Dream (2007)
2.
We Are Marshall (2006)
2h 4m Drama
When a plane crash claims the lives of members of the Marshall University football team and some of its fans, the team's new coach and his surviving players try to keep the football program alive.
3.
Peaceful Warrior (2006)
2h Drama
A chance encounter with a stranger changes the life of a college gymnast.
1h 10m Action & Adventure Comedy Drama
Choi Kang is a high school dropout with no goals and no future. Until one day he finds himself recruited into the elite Korea Secret Agency...
1h 58m Drama History
In 1966, Texas Western coach Don Haskins led the first all-black starting line-up for a college basketball team to the NCAA national championship.
7.
The Game of Their Lives (2005)
1h 41m Drama
Based on a true story, this film tells the tale of the 1950 US soccer team who, against all odds, beat England 1 - 0 in the city of Belo Horizonte, Brazil. Although no US team has yet won a World Cup title, this story is about the family traditions and passions which shaped the lives of the players who made up this team of underdogs.
1h 37m Drama
A teenager faces an uphill battle when she fights to give women the opportunity to play competitive soccer.
9.
A Shot at Glory (2000)
1h 44m Drama
Scottish second division football team Kilnockie is taken over by American Pete Cameron. The new owner puts pressure on manager Gordon McLeod to improve the fortunes of the team, and hires first division player Jackie McQuillan.
1h 42m Drama Action
When he loses a highly publicized virtual boxing match to ex-champ Rocky Balboa, reigning heavyweight titleholder, Mason Dixon retaliates by challenging Rocky to a nationally televised, 10-round exhibition bout. To the surprise of his son and friends, Rocky agrees to come out of retirement and face an opponent who's faster, stronger and thirty years his junior.
11.
Montevideo: Taste of a Dream (2010)
12.
Friday Night Lights (2004)
1h 58m Drama
A small, turbulent town in Texas obsesses over their high school football team to an unhealthy degree. When the star tailback, Boobie Miles, is seriously injured during the first game of the season, all hope is lost, and the town's dormant social problems begin to flare up. It is left to the inspiring abilities of new coach Gary Gaines to instill in the other team members -- and, by proxy, the town itself -- a sense of self-respect and honor.
13.
McFarland, USA (2015)
2h 8m Drama
A track coach in a small California town transforms a team of athletes into championship contenders.
14.
The Miracle of Bern (2003)
2h 7m Drama Family
Jim Morris never made it out of the minor leagues before a shoulder injury ended his pitching career twelve years ago. Now a married-with-children high-school chemistry teacher and baseball coach in Texas, Jim's team makes a deal with him: if they win the district championship, Jim will try out with a major-league organization. The bet proves incentive enough for the team, and they go from worst to first, making it to state for the first time in the history of the school. Jim, forced to live up to his end of the deal, is nearly laughed off the try-out field--until he gets onto the mound, where he confounds the scouts (and himself) by clocking successive 98 mph fastballs, good enough for a minor-league contract with the Tampa Bay Devil Rays. Jim's still got a lot of pitches to throw before he makes it to The Show, but with his big-league dreams revived, there's no telling where he could go.
16.
The Damned United (2009)
1h 37m Drama
Taking over Leeds United, Brian Clough's abrasive approach and his clear dislike of the players' dirty style of play make it certain there is going to be friction. Glimpses of his earlier career help explain both his hostility to previous manager Don Revie and how much he is missing right-hand man Peter Taylor.
1h 46m Drama Romance
It's the true-life story of legendary track star Steve Prefontaine, the exciting and sometimes controversial "James Dean of Track," whose spirit captured the heart of the nation! Cocky, charismatic, and tough, "Pre" was a running rebel who defied rules, pushed limits ... and smashed records ...
18.
Any Given Sunday (1999)
2h 42m Drama
A star quarterback gets knocked out of the game and an unknown third stringer is called in to replace him. The unknown gives a stunning performance and forces the ageing coach to reevaluate his game plans and life. A new co-owner/president adds to the pressure of winning. The new owner must prove herself in a male dominated world.
1h 35m Drama
Young, beautiful, talented Alexis Winston comes from nowhere to become a figure skating superstar. But her rise to stardom isn't easy. She has to push herself, reinvent herself, and most painfully of all, leave her hometown boyfriend behind. When a tragic fall leaves her blind, she needs someone to believe in her, to love her; someone to convince her she has the strength to skate and dream again.
20.
Love & Basketball (2000)
1h 22m Comedy Drama Romance
When her rather explicit copy is rejected, magazine journalist Kate is asked by her editor to come up with an article on loving relationships instead, and to do so by the end of the day. This gets Kate thinking back over her own various experiences, and to wondering if she is in much of a position to write on the subject.
2h 13m Drama
The former World Heavyweight Champion Rocky Balboa serves as a trainer and mentor to Adonis Johnson, the son of his late friend and former rival Apollo Creed.
1h 52m Drama Action Romance
Several players from different backgrounds try to cope with the pressures of playing football at a major university. Each deals with the pressure differently, some turn to drinking, others to drugs, and some to studying.
23.
Cinderella Man (2005)
2h 24m Romance Drama History
The true story of boxer Jim Braddock who, in the 1920's following his retirement, makes a surprise comeback in order to get him and his family out of a socially poor state.
1h 50m Drama Romance
A skilled young hockey prospect hoping to attract the attention of professional scouts is pressured to show that he can fight if challenged during his stay in a Canadian minor hockey town. His on-ice activities are complicated by his relationship with the coach's daughter.
1h 45m Drama Romance
After deciding he needs to do something meaningful with his life, high school wrestler Louden Swain sets out on a mission to drop weight and challenge the area's undefeated champion, which creates problems with his teammates and health. Matters are complicated further when Louden's father takes in an attractive female drifter who's on her way to San Francisco.
26.
Against the Ropes (2004)
1h 46m Romance Drama
A fictional story inspired by North America's most famous female boxing promoter, Jackie Kallen. Her struggle to survive and succeed in a male dominated sport.
explore
Check out more list from our community