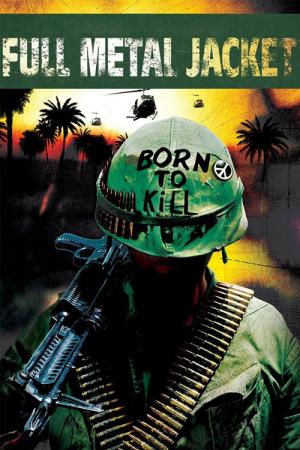 31 Best Movies Like Full Metal Jacket ...
If you liked this movie , you will for sure love these too! In this selection we highlight some of the best films that share a very similar premise to '', and are worth checking out.
1.
Saving Private Ryan (1998)
2h 49m Drama History War
As U.S. troops storm the beaches of Normandy, three brothers lie dead on the battlefield, with a fourth trapped behind enemy lines. Ranger captain John Miller and seven men are tasked with penetrating German-held territory and bringing the boy home.
2.
The Deer Hunter (1978)
3h 4m Drama War
A group of working-class friends decide to enlist in the Army during the Vietnam War and finds it to be hellish chaos -- not the noble venture they imagined. Before they left, Steven married his pregnant girlfriend -- and Michael and Nick were in love with the same woman. But all three are different men upon their return.
3.
Black Hawk Down (2001)
2h 25m Action History War
When U.S. Rangers and an elite Delta Force team attempt to kidnap two underlings of a Somali warlord, their Black Hawk helicopters are shot down, and the Americans suffer heavy casualties, facing intense fighting from the militia on the ground.
2h 27m Drama War
At the height of the Vietnam war, Captain Benjamin Willard is sent on a dangerous mission that, officially, "does not exist, nor will it ever exist." His goal is to locate - and eliminate - a mysterious Green Beret Colonel named Walter Kurtz, who has been leading his personal army on illegal guerrilla missions into enemy territory.
2h Drama War Action
As a young and naive recruit in Vietnam, Chris Taylor faces a moral crisis when confronted with the horrors of war and the duality of man.
6.
Generation Kill (2008)
1h 5m War & Politics Drama Action & Adventure
The first 40 days of the war in Iraq as seen through the eyes of an elite group of U.S. Marines who spearheaded the invasion along with an embedded Rolling Stone reporter. A vivid account of the soldiers and of the forces that guided them in an often-improvised initiative.
7.
The Thin Red Line (1998)
2h 51m Drama History War
The story of a group of men, an Army Rifle company called C-for-Charlie, who change, suffer, and ultimately make essential discoveries about themselves during the fierce World War II battle of Guadalcanal. It follows their journey, from the surprise of an unopposed landing, through the bloody and exhausting battles that follow, to the ultimate departure of those who survived.
1h 30m War
A cameraman embedded with a reconnaissance patrol charts their mission across territory controlled by the Vietnamese. An impressively naturalistic Vietnam film. Impressive performance by unknown actors in this low-budget Vietnam drama. The story is being told in the form of a documentary; a camera team follows an Army unit in pursuit of 'Charlie'. Filmed in Southern California. The movie's producing company itself is called '84 Charlie MoPic'.
2h 3m Drama War
Jarhead is a film about a US Marine Anthony Swofford's experience in the Gulf War. After putting up with an arduous boot camp, Swofford and his unit are sent to the Persian Gulf where they are eager to fight, but are forced to stay back from the action. Swofford struggles with the possibility of his girlfriend cheating on him, and as his mental state deteriorates, his desire to kill increases.
10.
The Big Red One (1980)
1h 53m Drama War
A veteran sergeant of World War I leads a squad in World War II, always in the company of the survivor Pvt. Griff, the writer Pvt. Zab, the Sicilian Pvt. Vinci and Pvt. Johnson, in Vichy French Africa, Sicily, D-Day at Omaha Beach, Belgium and France, and ending in a concentration camp in Czechoslovakia where they face the true horror of war.
2h 3m Drama War
North Africa, World War II. British soldiers on the brink of collapse push beyond endurance to struggle up a brutal incline. It's not a military objective. It's The Hill, a manmade instrument of torture, a tower of sand seared by a white-hot sun. And the troops' tormentors are not the enemy, but their own comrades-at-arms.
12.
Band of Brothers (2001)
1h Drama War & Politics
Drawn from interviews with survivors of Easy Company, as well as their journals and letters, Band of Brothers chronicles the experiences of these men from paratrooper training in Georgia through the end of the war. As an elite rifle company parachuting into Normandy early on D-Day morning, participants in the Battle of the Bulge, and witness to the horrors of war, the men of Easy knew extraordinary bravery and extraordinary fear - and became the stuff of legend. Based on Stephen E. Ambrose's acclaimed book of the same name.
2h 15m War Drama Action
In the last months of World War II, as the Allies make their final push in the European theatre, a battle-hardened U.S. Army sergeant named 'Wardaddy' commands a Sherman tank called 'Fury' and its five-man crew on a deadly mission behind enemy lines. Outnumbered and outgunned, Wardaddy and his men face overwhelming odds in their heroic attempts to strike at the heart of Nazi Germany.
14.
Born on the Fourth of July (1989)
2h 25m Drama War
The biography of Ron Kovic. Paralyzed in the Vietnam war, he becomes an anti-war and pro-human rights political activist after feeling betrayed by the country he fought for.
15.
American Sniper (2014)
2h 13m War Action
U.S. Navy SEAL Chris Kyle takes his sole mission—protect his comrades—to heart and becomes one of the most lethal snipers in American history. His pinpoint accuracy not only saves countless lives but also makes him a prime target of insurgents. Despite grave danger and his struggle to be a good husband and father to his family back in the States, Kyle serves four tours of duty in Iraq. However, when he finally returns home, he finds that he cannot leave the war behind.
16.
Beasts of No Nation (2015)
2h 17m Drama War
A drama based on the experiences of Agu, a child fighting in the civil war of an unnamed, fictional West African country. Follows the journey of Agu as he's forced to join a group of soldiers. While Agu fears his commander and many of the men around him, his fledgling childhood has been brutally shattered by the war raging through his country, and he is at first torn between conflicting revulsion and fascination. Depicts the mechanics of war and does not shy away from explicit, visceral detail, painting a complex, difficult picture of Agu as a child soldier.
17.
We Were Soldiers (2002)
2h 18m Action History War
The story of the first major battle of the American phase of the Vietnam War and the soldiers on both sides that fought it.
18.
The Boys in Company C (1978)
2h 5m War
Disheartened by futile combat, appalled by the corruption of their South Vietnamese ally, and constantly endangered by the incompetence of their own company commander, the young men find a possible way out of the war. They are told that if they purposely lose a soccer game against a South Vietnamese team, they can spend the rest of their tour playing exhibition games behind the lines.
19.
Go Tell the Spartans (1978)
1h 54m War
Go Tell the Spartans is a 1978 American war film based on Daniel Ford's 1967 novel "Incident at Muc Wa." It tells the story about U.S. Army military advisers during the early part of the Vietnam War. Led my Major Asa Barker, these advisers and their South Vietnamese counterparts defend the village of Muc Wa against multiple attacks by Viet-Cong guerrillas.
20.
The Siege of Firebase Gloria (1989)
1h 37m Action War
A Marine patrol stops at Firebase Gloria at the start of the Tet Offensive during the Vietnam war. With the firebase attacked, the patrol remains to help defend it. The Marines barely hold off the VC (Viet Cong), but in the end, hold the base.
1h 45m Action War
Lt. Col. Iceal "Ham" Hambleton is a weapons countermeasures expert and when his aircraft is shot over enemy territory the Air Force very much wants to get him back. Hambleton knows the area he's in is going to be carpet-bombed but a temporary shortage of helicopters causes a delay. Working with an Air Force reconnaissance pilot, Capt. Bartholomew Clark, he maps out an escape route.
1h 58m Drama
Four young recruits about to be sent to Vietnam confront their prejudicial feelings toward one another when it's learned one of them is homosexual.
23.
Casualties of War (1989)
1h 53m Drama History War
During the Vietnam War, a soldier finds himself the outsider of his own squad when they unnecessarily kidnap a female villager. Based on the actual events of an incident on Hill 192 in November, 1966.
24.
Hamburger Hill (1987)
1h 52m War Action Drama
The men of Bravo Company are facing a battle that's all uphill… up Hamburger Hill. Fourteen war-weary soldiers are battling for a mud-covered mound of earth so named because it chews up soldiers like chopped meat. They are fighting for their country, their fellow soldiers and their lives. War is hell, but this is worse. Hamburger Hill tells it the way it was, the way it really was. It's a raw, gritty and totally unrelenting dramatic depiction of one of the fiercest battles of America's bloodiest war. This happened. Hamburger Hill - war at its worst, men at their best.
25.
Flags of Our Fathers (2006)
2h 15m War Drama History
There were five Marines and one Navy Corpsman photographed raising the U.S. flag on Mt. Suribachi by Joe Rosenthal on February 23, 1945. This is the story of three of the six surviving servicemen - John 'Doc' Bradley, Pvt. Rene Gagnon and Pvt. Ira Hayes - who fought in the battle to take Iwo Jima from the Japanese.
26.
The Green Berets (1968)
2h 22m War Drama
Col. Mike Kirby picks two teams of crack Green Berets for two missions in South Vietnam. The first is to strengthen a camp that is trying to be taken by the enemy. The second is to kidnap a North Vietnamese General.
27.
Heartbreak Ridge (1986)
2h 10m Action Comedy Drama War
A hard-nosed, hard-living Marine gunnery sergeant clashes with his superiors and his ex-wife as he takes command of a spoiled recon platoon with a bad attitude.
2h 12m Drama Action History War
It is 1943, and the German army—ravaged and demoralised—is hastily retreating from the Russian front. In the midst of the madness, conflict brews between the aristocratic yet ultimately pusillanimous Captain Stransky and the courageous Corporal Steiner. Stransky is the only man who believes that the Third Reich is still vastly superior to the Russian army. However, within his pompous persona lies a quivering coward who longs for the Iron Cross so that he can return to Berlin a hero. Steiner, on the other hand is cynical, defiantly non-conformist and more concerned with the safety of his own men rather than the horde of military decorations offered to him by his superiors.
29.
Gardens of Stone (1987)
1h 51m Drama History
A sergeant must deal with his desires to save the lives of young soldiers being sent to Vietnam. Continuously denied the chance to teach the soldiers about his experiences, he settles for trying to help the son of an old army buddy.
explore
Check out more list from our community