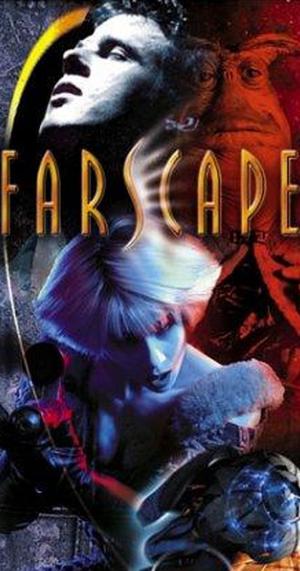 24 Best Shows Like Farscape ...
If you liked this movie , you will for sure love these too! In this collection we highlight some of the best films that share a very similar mood to '', and are worth checking out.
42m Sci-Fi & Fantasy Action & Adventure Mystery
The story of Stargate SG-1 begins about a year after the events of the feature film, when the United States government learns that an ancient alien device called the Stargate can access a network of such devices on a multitude of planets. SG-1 is an elite Air Force special operations team, one of more than two dozen teams from Earth who explore the galaxy and defend against alien threats such as the Goa'uld, Replicators, and the Ori.
2.
Stargate: Atlantis (2004)
45m Sci-Fi & Fantasy Action & Adventure Drama
With the Ancients' city of Atlantis discovered in the Pegasus Galaxy by Stargate Command, Dr. Elizabeth Weir and Major Sheppard lead a scientific expedition to the ancient abandoned city. Once there, the team not only find themselves unable to contact Earth, but their explorations unexpectedly reawaken the Ancients' deadly enemies, The Wraith, who hunger for this new prey. Now with the help of newfound local allies like Teyla Emmagan, the Atlantis Team sets about to uncover their new home's secrets even as their war of survival against the Wraith begins.
43m Science Fiction Drama
The six-person crew of a derelict spaceship awakens from stasis in the farthest reaches of space. Their memories wiped clean, they have no recollection of who they are or how they got on board. The only clue to their identities is a cargo bay full of weaponry and a destination: a remote mining colony that is about to become a war zone. With no idea whose side they are on, they face a deadly decision. Will these amnesiacs turn their backs on history, or will their pasts catch up with them?
45m Action & Adventure Drama Sci-Fi & Fantasy
Captain Dylan Hunt and his crew quest to restore a government that once presided over an extended peace and prosperity.
45m Drama Action & Adventure Sci-Fi & Fantasy
In the year 2517, after the arrival of humans in a new star system, follow the adventures of the renegade crew of Serenity, a "Firefly-class" spaceship. The ensemble cast portrays the nine characters who live on Serenity.
6.
Stargate: The Ark of Truth (2008)
1h 37m Adventure Science Fiction TV Movie
SG-1 searches for an ancient weapon which could help them defeat the Ori, and discover it may be in the Ori's own home galaxy. As the Ori prepare to send ships through to the Milky Way to attack Earth, SG-1 travels to the Ori galaxy aboard the Odyssey. The International Oversight committee have their own plans and SG-1 finds themselves in a distant galaxy fighting two powerful enemies.
7.
Star Trek Into Darkness (2013)
2h 12m Action Adventure Science Fiction
When the crew of the Enterprise is called back home, they find an unstoppable force of terror from within their own organization has detonated the fleet and everything it stands for, leaving our world in a state of crisis. With a personal score to settle, Captain Kirk leads a manhunt to a war-zone world to capture a one man weapon of mass destruction. As our heroes are propelled into an epic chess game of life and death, love will be challenged, friendships will be torn apart, and sacrifices must be made for the only family Kirk has left: his crew.
8.
SGU Stargate Universe (2009)
45m Action & Adventure Drama Sci-Fi & Fantasy
The adventures of a present-day, multinational exploration team traveling on the Ancient spaceship Destiny many billions of light years distant from the Milky Way Galaxy. They evacuated there and are now trying to figure out a way to return to Earth, while simultaneously trying to explore and to survive in their unknown area of the universe.
2h 7m Science Fiction Action Adventure
The fate of the galaxy rests in the hands of bitter rivals. One, James Kirk, is a delinquent, thrill-seeking Iowa farm boy. The other, Spock, a Vulcan, was raised in a logic-based society that rejects all emotion. As fiery instinct clashes with calm reason, their unlikely but powerful partnership is the only thing capable of leading their crew through unimaginable danger, boldly going where no one has gone before. The human adventure has begun again.
10.
Battlestar Galactica (2004)
44m Drama Sci-Fi & Fantasy
When an old enemy, the Cylons, resurface and obliterate the 12 colonies, the crew of the aged Galactica protect a small civilian fleet - the last of humanity - as they journey toward the fabled 13th colony, Earth.
1h 59m Science Fiction Action Adventure Thriller
When the renegade crew of Serenity agrees to hide a fugitive on their ship, they find themselves in an action-packed battle between the relentless military might of a totalitarian regime who will destroy anything – or anyone – to get the girl back and the bloodthirsty creatures who roam the uncharted areas of space. But... the greatest danger of all may be on their ship.
42m Drama Comedy Sci-Fi & Fantasy
Follows the crew of the not-so-functional exploratory ship in the Earth's interstellar fleet, 400 years in the future.
13.
Star Trek: Voyager (1995)
45m Sci-Fi & Fantasy Drama Action & Adventure
Pulled to the far side of the galaxy, where the Federation is 75 years away at maximum warp speed, a Starfleet ship must cooperate with Maquis rebels to find a way home.
43m Drama Mystery Sci-Fi & Fantasy
A thriller set two hundred years in the future following the case of a missing young woman who brings a hardened detective and a rogue ship's captain together in a race across the solar system to expose the greatest conspiracy in human history.
15.
Star Trek: Deep Space Nine (1993)
45m Sci-Fi & Fantasy Action & Adventure Drama
At Deep Space Nine, a space station located next to a wormhole in the vicinity of the liberated planet of Bajor, Commander Sisko and crew welcome alien visitors, root out evildoers and solve all types of unexpected problems that come their way.
2h 1m Action Adventure Science Fiction
An interstellar teleportation device, found in Egypt, leads to a planet with humans resembling ancient Egyptians who worship the god Ra.
2h 49m Adventure Drama Science Fiction
The adventures of a group of explorers who make use of a newly discovered wormhole to surpass the limitations on human space travel and conquer the vast distances involved in an interstellar voyage.
18.
Stargate: Continuum (2008)
1h 38m Adventure Science Fiction TV Movie
Ba'al travels back in time and prevents the Stargate program from being started. SG-1 must somehow restore history.
19.
Star Trek: First Contact (1996)
1h 51m Science Fiction Action Adventure Thriller
The Borg, a relentless race of cyborgs, are on a direct course for Earth. Violating orders to stay away from the battle, Captain Picard and the crew of the newly-commissioned USS Enterprise E pursue the Borg back in time to prevent the invaders from changing Federation history and assimilating the galaxy.
20.
Guardians of the Galaxy (2014)
2h 1m Action Science Fiction Adventure
Light years from Earth, 26 years after being abducted, Peter Quill finds himself the prime target of a manhunt after discovering an orb wanted by Ronan the Accuser.
21.
Star Trek: Enterprise (2001)
44m Sci-Fi & Fantasy Action & Adventure Drama
During the mid-22nd century, a century before Captain Kirk's five-year mission, Jonathan Archer captains the United Earth ship Enterprise during the early years of Starfleet, leading up to the Earth-Romulan War and the formation of the Federation.
50m Drama
A group of convicts and outcasts fight a guerrilla war against the totalitarian Terran Federation from a highly advanced alien spaceship.
43m Action & Adventure Sci-Fi & Fantasy
In his basement in San Francisco, boy-genius Quinn Mallory unlocks the doorway to an infinite number of Earths. During a test run, Quinn invites co-worker Wade Wells and his teacher Professor Maximillian Arturo to see his new invention. But an increase in power and an early departure leave all three, plus a washed-up soul singer named Rembrandt "Crying Man" Brown, lost in a parallel world. Now they must "slide" from world to world, not only adapting to their changing surroundings, but also trying to get back to their world. Will they ever make it home?
explore
Check out more list from our community