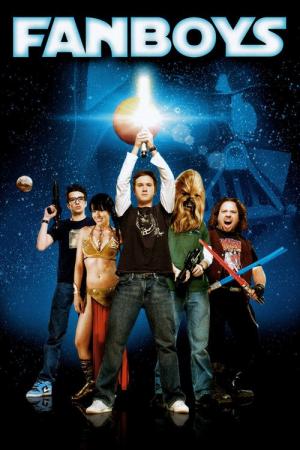 13 Best Movies Like Fanboys ...
If you liked this one , you will probably love these too! In this collection we highlight some of the best films that share a very similar premise to 'Fanboys', and are worth checking out.
1.
A Very Harold & Kumar 3D Christmas (2011)
1h 48m Comedy
Six years have elapsed since Guantanamo Bay, leaving Harold and Kumar estranged from one another with very different families, friends and lives. But when Kumar arrives on Harold's doorstep during the holiday season with a mysterious package in hand, he inadvertently burns down Harold's father-in-law's beloved Christmas tree. To fix the problem, Harold and Kumar embark on a mission through New York City to find the perfect Christmas tree, once again stumbling into trouble at every single turn.
2.
Thunderbolt and Lightfoot (1974)
1h 55m Crime Comedy Action
With the help of an irreverent young sidekick, a bank robber gets his old gang back together to organise a daring new heist.
3.
National Lampoon's European Vacation (1985)
1h 35m Adventure Comedy Romance
The Griswalds win a vacation to Europe on a game show, and so pack their bags for the continent. They do their best to catch the flavor of Europe, but they just don't know how to be be good tourists. Besides, they have trouble taking holidays in countries where they CAN speak the language.
1h 31m Comedy
While on detention, a group of misfits and slackers have to write a letter to the President explaining what is wrong with the education system. There is only one problem, the President loves it! Hence, the group must travel to Washington to meet the Main Man.
5.
Harold & Kumar Go to White Castle (2004)
1h 28m Comedy Adventure
Nerdy accountant Harold and his irrepressible friend, Kumar, get stoned watching television and find themselves utterly bewitched by a commercial for White Castle. Convinced there must be one nearby, the two set out on a late-night odyssey that takes them deep into New Jersey. Somehow, the boys manage to run afoul of rednecks, cops and even a car-stealing Neil Patrick Harris before getting anywhere near their beloved sliders.
6.
The Hangover Part III (2013)
1h 40m Comedy
This time, there's no wedding. No bachelor party. What could go wrong, right? But when the Wolfpack hits the road, all bets are off.
7.
Ace Ventura: When Nature Calls (1995)
1h 30m Crime Comedy Adventure
Summoned from an ashram in Tibet, Ace finds himself on a perilous journey into the jungles of Africa to find Shikaka, the missing sacred animal of the friendly Wachati tribe. He must accomplish this before the wedding of the Wachati's Princess to the prince of the warrior Wachootoos. If Ace fails, the result will be a vicious tribal war.
8.
The Dukes of Hazzard: The Beginning (2007)
1h 35m Action Adventure Comedy TV Movie
When mischievous teenaged cousins Bo and Luke Duke are arrested, both boys are paroled to the care of their Uncle Jesse in Hazzard, sentenced to a summer of hard work. It's not long before the Duke boys learn of Boss Hogg's plans to foreclose on Uncle Jesse's farm. Together, with help from their cousin Daisy, Bo and Luke vow to save the family's property and its storied history of producing the best moonshine in all of Hazzard.
1h 38m Comedy
To save the family business, two ne'er-do-well traveling salesmen hit the road with disastrously funny consequences.
1h 33m Comedy Adventure
From the director of the Hangover trilogy and Joker, Road Trip is a raunchy college comedy classic. After an Ithaca college student films his one-night stand with a beautiful sorority girl, he discovers one of his friends has accidentally mailed the homemade porn tape to his girlfriend. In a frenzy, he must borrow a car and hit the road in a desperate bid to intercept the tape. Featuring a talented cast that includes Breckin Meyer, Rachel Blanchard, Seann William Scott, Amy Smart, Fred Ward, Tom Green, Anthony Rapp, Andy Dick, and Ethan Suplee.
11.
Strange Wilderness (2008)
1h 27m Comedy
With the ratings dropping for a wilderness-themed TV show, two animal fans go to the Andes in search of Bigfoot.
1h 40m Action Comedy Romance
When former getaway driver, Charlie Bronson jeopardises his Witness Protection Plan identity in order to help his girlfriend get to Los Angeles, the feds and Charlie's former gang chase them on the road.
1h 52m Adventure Comedy
In an ensemble film about easy money, greed, manipulation and bad driving, a Las Vegas casino tycoon entertains his wealthiest high rollers -- a group that will bet on anything -- by pitting six ordinary people against each other in a wild dash for $2 million jammed into a locker hundreds of miles away. The tycoon and his wealthy friends monitor each racer's every move to keep track of their favorites. The only rule in this race is that there are no rules.
explore
Check out more list from our community