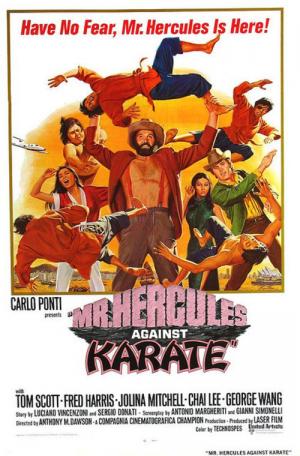 11 Best Seven Lucky Kid ...
If you liked this film , you will for sure love these too! In this list we highlight some of the best films that share a very similar premise to 'Mr. Hercules Against Karate', and are worth checking out.
1.
My Young Auntie (1981)
2h 1m Action Comedy
Cheng (Kara Hui Ying Hung), a beautiful martial arts ace, battles to keep her inheritance from the ruthless Yun Wei (Johnny Wang Lung Wei), but her efforts are sabotaged by Yu Tao (Hsaio Ho), her wayward and irrepressible great-nephew. Following a frenzy of spectacular comic mishaps, the hapless duo are setup and imprisoned and the deeds to Cheng's estate are stolen. She is held hostage after a doomed attempt to reclaim the papers back from Yu Wei's place, and the stage is set for a savage fight to the death.
2.
Deadly Life of a Ninja (1983)
1h 29m Action
A businessman and his sister-in-law are targeted for assassination by a band of evil ninjas and their vicious leader (Yasuaki Kurata). The ninjas are committing bizarre murders all over the city, and the police can't seem to pick up their trail -- so they call in ninja hunter and Kendo master Mr. Chow (Kuan Tai Chen). To take down the silent killers, Mr. Chow will have to fight against incredible odds in this campy ninja classic.
4.
Return to the 36th Chamber (1980)
1h 39m Action
The workers of a dye factory have their pay cut by 20% when the factory owner brings in some Manchu thugs to try and increase production. Desperate to reclaim their full wages, the workers hire an actor to impersonate a priest and kung-fu expert from the temple of Shaolin. The factory owner proves the actor a fraud, and punishes all those involved. The young actor feels he has let the workers down, and promises to atone. He sets out for Shaolin, determined to be accepted as a kung-fu pupil at the elite temple.
5.
Bruce Lee Against Supermen (1975)
7.
Half a Loaf of Kung Fu (1978)
8.
The Prodigal Son (1981)
1h 40m Action Adventure Comedy
A rich man's son (Yuen Biao) believes himself to be the best kung fu fighter in Canton. Unfortunately, his father, anxious for his son's safety, bribes all his opponents to lose. After a humiliating defeat at the hands of an actor in a traveling theatre company, the son resolves to find a better teacher. Furious kung fu battles and slapstick comedy.
9.
Mad Monkey Kung Fu (1979)
1h 56m Action
A disgraced former Kung Fu expert makes a living as a merchant with the help of a hot headed friend. When the men are harassed by gangsters, the merchant decided to teach his friend monkey boxing so they can defend their business.
11.
The Fearless Hyena (1979)
1h 37m Comedy Action
Lung is a talented fighter but prefers to spend his time loafing around and picking fights, despite orders from his grandfather not to fight. Unknown to him, a brutal general has been slaughtering all the people from his grandfather's clan. When the general recognizes Lung's style of kung fu during one of his street fights, he hunts down Lung's grandfather and kills him.
explore
Check out more list from our community