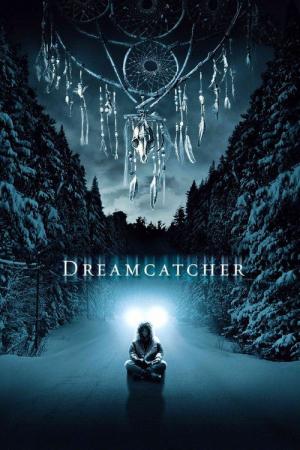 12 Best Movies Like Dream Catcher ...
If you liked this movie , you will definitely love these too! In this collection we highlight some of the best films that share a very similar mood to 'Dreamcatcher', and are worth checking out.
1h 35m Horror Thriller Science Fiction
Inside a darkened house looms a column of TVs littered with VHS tapes, a pagan shrine to forgotten analog gods. The screens crackle and pop endlessly with monochrome vistas of static white noise permeating the brain and fogging concentration. But you must fight the urge to relax: this is no mere movie night. Those obsolete spools contain more than just magnetic tape. They are imprinted with the very soul of evil.
1h 33m Science Fiction Action Horror
Having just returned from a mission to Mars, Commander Ross isn't exactly himself. He's slowly becoming a terrifying alien entity with one goal -- to procreate with human women! When countless women suffer gruesome deaths after bearing half-alien offspring, scientist Laura Baker and hired assassin Press Lennox use Eve, a more tempered alien clone, to find Ross and his brood. Before long Eve escapes to mate with Ross.
1h 55m Drama Science Fiction Horror
Five medical students want to find out if there is life after death. They plan to stop one of their hearts for a few seconds, thus simulating death, and then bring the person back to life.
4.
Village of the Damned (1995)
1h 39m Thriller Horror Science Fiction
An American village is visited by some unknown life form which leaves the women of the village pregnant. Nine months later, the babies are born, and they all look normal, but it doesn't take the "parents" long to realize that the kids are not human or humane.
1h 27m Horror Science Fiction Thriller
When Environmental Protection Agency inspector Steve Malone travels to a remote military base in order to check for toxic materials, he brings his family along for the ride. After arriving at the base, his teenage daughter Marti befriends Jean Platt, daughter of the base's commander, General Platt. When people at the base begin acting strangely, Marti becomes convinced that they are slowly being replaced by plant-like aliens.
1h 24m Horror Science Fiction Thriller
Two million fish washed ashore. One thousand blackbirds dropped from the sky. On July 4, 2009 a deadly menace swept through the quaint seaside town of Claridge, Maryland, but the harrowing story of what happened that Independence Day has never been told—until now. The authorities believed they had buried the truth about the tragedy that claimed over 700 human lives. Now, three years later, a reporter has emerged with footage revealing the cover-up and an unimaginable killer: a mysterious parasitic outbreak. Told from the perspective of those who were there and saw what happened, The Bay unfolds over 24 hours through people's iPhones, Androids, 911 calls, webcams, and whatever else could be used to document the nightmare in Claridge. What follows is a nerve-shredding tale of a small town plunged into absolute terror.
1h 44m Horror Science Fiction
When some very creepy things start happening around school, the kids at Herrington High make a chilling discovery that confirms their worst suspicions: their teachers really are from another planet!
8.
Extraterrestrial (2014)
1h 41m Horror Science Fiction
Five friends set out to a cabin in the woods for a fun weekend getaway that is, until extraterrestrial visitors turn it into a fight for their lives. The group is pulled from their reverie when a flickering object crashes deep in the woods. As they investigate, the friends stumble across an alien spacecraft, and its inhabitants have not arrived in peace.
2h 6m Horror Science Fiction Thriller
After a violent storm, a dense cloud of mist envelops a small Maine town, trapping artist David Drayton and his five-year-old son in a local grocery store with other people. They soon discover that the mist conceals deadly horrors that threaten their lives, and worse, their sanity.
1h 31m Thriller Science Fiction
When a deadly airborne virus threatens to wipe out the northeastern United States, teacher Elliott Moore and his wife Alma flee from contaminated cities into the countryside in a fight to discover the truth. Is it terrorism, the accidental release of some toxic military bio weapon -- or something even more sinister?
explore
Check out more list from our community