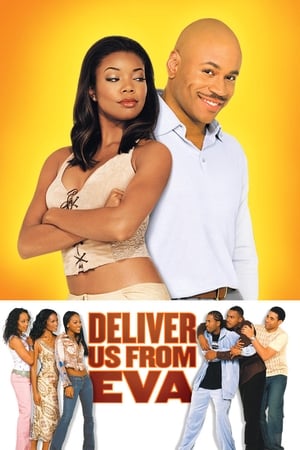 25 Best Movies Like Deliver Us From Eva ...
If you liked this one , you will definitely love these too! In this collection we highlight some of the best films that share a very similar mood to '', and are worth checking out.
1.
Love Don't Cost a Thing (2003)
1h 45m Comedy Drama Family Romance
High school loser (Cannon) pays a cheerleader (Milian) to pose as his girlfriend so he can be considered cool. Remake of 1987's Can't Buy Me Love, starring Patrick Dempsey.
2.
Breakin' All the Rules (2004)
1h 25m Comedy Romance
Inspired by his fiancée (who dumped him), a man publishes a break-up handbook for men, becoming a bestselling author in the process.
1h 51m Comedy Drama Romance
Businessman Wesley Deeds is jolted out of his scripted life when he meets Lindsey, a single mother who works on the cleaning crew in his office building.
4.
Something to Talk About (1995)
1h 46m Comedy Drama
Grace Bichon, who is managing her father's riding-stable, discovers that her husband Eddie is deceiving her with another woman. After confronting him in the middle of the night on the streets of their small home town, she decides to stay at her sister Emma Rae's house for a while to make up her mind. Breaking out of her everyday life, she starts to question the authority of everyone.
1h 27m Comedy Romance
American-born Ray Rehman comes home one night to find his Pakistani father on his doorstep. Ray's Caucasian mother threw him out. It's an awkward time for his father to move in as Ray just proposed to his Caucasian girlfriend - who hasn't given him an answer. While trying to get his parents back together, Ray meets a South Asian girl of mixed descent, just like him, and must decide where his identity truly lies.
6.
The Wedding Date (2005)
1h 28m Comedy Romance
With the wedding of her younger sister fast approaching, Kat Ellis faces the undesirable prospect of traveling alone to London for the ceremony. While this is bad enough, Jeffrey, the man who left her as they moved closer to marriage, happens to be the groom's best man. Determined to show everyone -- most of all Jeffrey -- that her romantic life is as full and thrilling as ever, Kat hires a charming male escort as her date.
22m Reality
Behind the scenes of Leah Remini and her family finding an interest in their local home in Los Angeles.
1h 44m Comedy Drama Romance
Three teenage girls come of age while working at a pizza parlor in Mystic, Connecticut.
1h 44m Comedy Romance
Despite being engaged to a successful Iranian plastic surgeon in Beverly Hills, Shirin finds herself falling for a mysterious young man who lives in a lighthouse in northern California.
1h 49m Drama Comedy Romance
After a one night stand with Alex, Isabel realizes that she is pregnant and they decide to get married. However, along with the marriage comes compromise of one's own cultural traditions.
1h 48m Comedy Romance
Melanie Parker, an architect and mother of Sammy, and Jack Taylor, a newspaper columnist and father of Maggie, are both divorced. They meet one morning when overwhelmed Jack is left unexpectedly with Maggie and forgets that Melanie was to take her to school. As a result, both children miss their school field trip and are stuck with the parents. The two adults project their negative stereotypes of ex-spouses on each other, but end up needing to rely on each other to watch the children as each must save his job. Humor is added by Sammy's propensity for lodging objects in his nose and Maggie's tendency to wander.
12.
How to Be Single (2016)
1h 50m Comedy Romance
New York City is full of lonely hearts seeking the right match, and what Alice, Robin, Lucy, Meg, Tom and David all have in common is the need to learn how to be single in a world filled with ever-evolving definitions of love.
1h 51m Comedy Romance
Altruistic Jane finds herself facing her worst nightmare as her younger sister announces her engagement to the man Jane secretly adores.
14.
The Other Sister (1999)
2h 10m Comedy Drama Romance
A mentally challenged girl proves herself to be every bit as capable as her "perfect" sister when she moves into an apartment and begins going to college.
15.
Much Ado About Nothing (2012)
1h 47m Comedy
A modern retelling of Shakespeare's classic comedy about two pairs of lovers with different takes on romance and a way with words.
1h 37m Comedy Romance
A young woman escapes her wildly eccentric family in search for a life of normalcy.
1h 55m Comedy Drama Romance
Renata Bella feels like a failure at life and career. But when Renata attends a seminar on selling real estate, she finally finds True Love. Sam Sharpe, while a top-notch, successful salesman, is much older than Renata. She is swept away by his excessively flamboyant style and irrepressible nature. The very traits she finds romantic, however, lead to repeated conflict with her family, especially her beloved father Joe, leaving Renata trapped in the middle.
18.
America's Sweethearts (2001)
19.
Luke and Brie Are on a First Date (2008)
1h 16m Drama Romance
Luke and Brie are on a first date, but the hazards of this term, and the incessant need for casualness keep their evening ebbing and flowing between flirtations and misunderstandings.
1h 55m Romance Comedy
It took a lot of cajoling to get Bob, a recently widowed architect, to go on a blind date at a quirky Irish-Italian eatery. Once there, he's smitten instantly not with his date but with the sharp-witted waitress. Everything seems to be going great until an unbelievable truth is revealed, one that could easily break both of their hearts for good.
21.
Because I Said So (2007)
1h 42m Comedy Romance
In an effort to prevent family history from repeating itself, meddlesome mom Daphne Wilder attempts to set up her youngest daughter, Milly, with Mr. Right. Meanwhile, her other daughters try to keep their mom's good intentions under control.
22.
I Think I Love My Wife (2007)
1h 30m Comedy Romance
Richard Cooper is a married man and father of two who is just plain bored with married life. Not getting any sex from his wife, he resorts to ogling random women on the street to the point that he takes lunch late to look at them. When old crush Nikki Tru visits his office to get a reference letter, she becomes obsessed with Cooper and they begin a complicated relationship.
1h 22m Comedy Romance
Robert picked the wrong time to meet his soul mate! After being fired from his own father's company, he feels like his luck has run out - until Morgan enters into his life.
24.
Roseanna's Grave (1997)
1h 38m Comedy Romance Drama
Roseanna is dying of a heart condition, and all she wants is to be buried next to her daughter, in a cemetery that is getting full fast. The cemetery can't expand because Capestro, the man who owns the land next to the cemetery, won't sell. While Marcello is doing good deeds to make sure no one dies, Roseanna thinks of Marcello's future.
explore
Check out more list from our community