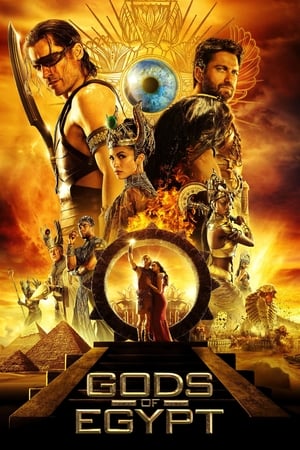 13 Best Movies Like Gods Of Egypt ...
If you liked this one , you will for sure love these too! In this collection we highlight some of the best films that share a very similar mood to 'Gods of Egypt', and are worth checking out.
1.
The Forbidden Kingdom (2008)
1h 44m Action Adventure Fantasy
An American teenager who is obsessed with Hong Kong cinema and kung-fu classics makes an extraordinary discovery in a Chinatown pawnshop: the legendary stick weapon of the Chinese sage and warrior, the Monkey King. With the lost relic in hand, the teenager unexpectedly finds himself travelling back to ancient China to join a crew of warriors from martial arts lore on a dangerous quest to free the imprisoned Monkey King.
1h 39m Action Adventure
Fourteen hundred years ago, a tormented soul walked the earth that was neither man nor god. Hercules was the powerful son of the god king Zeus, for this he received nothing but suffering his entire life. After twelve arduous labors and the loss of his family, this dark, world-weary soul turned his back on the gods finding his only solace in bloody battle. Over the years he warmed to the company of six similar souls, their only bond being their love of fighting and presence of death. These men and woman never question where they go to fight or why or whom, just how much they will be paid. Now the King of Thrace has hired these mercenaries to train his men to become the greatest army of all time. It is time for this bunch of lost souls to finally have their eyes opened to how far they have fallen when they must train an army to become as ruthless and blood thirsty as their reputation has become.
3.
Thor: The Dark World (2013)
1h 52m Action Adventure Fantasy
Thor fights to restore order across the cosmos… but an ancient race led by the vengeful Malekith returns to plunge the universe back into darkness. Faced with an enemy that even Odin and Asgard cannot withstand, Thor must embark on his most perilous and personal journey yet, one that will reunite him with Jane Foster and force him to sacrifice everything to save us all.
4.
Wrath of the Titans (2012)
1h 39m Fantasy Adventure
Perseus tries to live a quieter life as a village fisherman while - dangerously weakened by humanity's lack of devotion - the gods are losing control of the long-imprisoned Titans and their ferocious leader, Kronos.
5.
The Last Airbender (2010)
1h 43m Action Adventure Fantasy
The story follows the adventures of Aang, a young successor to a long line of Avatars, who must put his childhood ways aside and stop the Fire Nation from enslaving the Water, Earth and Air nations.
1h 43m Action Adventure Fantasy
European mercenaries searching for black powder become embroiled in the defense of the Great Wall of China against a horde of monstrous creatures.
7.
Jupiter Ascending (2015)
2h 7m Science Fiction Fantasy Action Adventure
In a universe where human genetic material is the most precious commodity, an impoverished young Earth woman becomes the key to strategic maneuvers and internal strife within a powerful dynasty…
8.
The Scorpion King: Book of Souls (2018)
1h 42m Adventure Action Fantasy
The Scorpion King teams up with a female warrior named Tala, who is the sister of The Nubian King. Together they search for a legendary relic known as The Book of Souls, which will allow them to put an end to an evil warlord.
9.
Jack the Giant Slayer (2013)
1h 54m Fantasy Action Adventure Family
The story of an ancient war that is reignited when a young farmhand unwittingly opens a gateway between our world and a fearsome race of giants. Unleashed on the Earth for the first time in centuries, the giants strive to reclaim the land they once lost, forcing the young man, Jack into the battle of his life to stop them. Fighting for a kingdom, its people, and the love of a brave princess, he comes face to face with the unstoppable warriors he thought only existed in legend–and gets the chance to become a legend himself.
10.
Dracula Untold (2014)
1h 32m Horror Action Drama Fantasy War
Vlad Tepes is a great hero, but when he learns the Sultan is preparing for battle and needs to form an army of 1,000 boys, he vows to find a way to protect his family. Vlad turns to dark forces in order to get the power to destroy his enemies and agrees to go from hero to monster as he's turned into the mythological vampire, Dracula.
11.
The Scorpion King 3: Battle for Redemption (2012)
1h 46m Action Fantasy Adventure Drama
Since his triumphant rise to power in the original blockbuster "The Scorpion King", Mathayus' kingdom has fallen and he's lost his queen to plague. Now an assassin for hire, he must defend a kingdom from an evil tyrant and his ghost warriors for the chance to regain the power and glory he once knew. Starring Ron Perlman ("Hellboy") and Billy Zane ("Titanic"), and featuring 6-time WWE champion Dave Bautista and UFC star Kimbo Slice, "The Scorpion King 3: Battle for Redemption" takes "The Mummy" phenomenon to an all-new level of epic action and non-stop adventure.
12.
The Legend of Hercules (2014)
1h 39m Action Adventure
In Ancient Greece 1200 B.C., a queen succumbs to the lust of Zeus to bear a son promised to overthrow the tyrannical rule of the king and restore peace to a land in hardship. But this prince, Hercules, knows nothing of his real identity or his destiny. He desires only one thing: the love of Hebe, Princess of Crete, who has been promised to his own brother. When Hercules learns of his greater purpose, he must choose: to flee with his true love or to fulfill his destiny and become the true hero of his time. The story behind one of the greatest myths is revealed in this action-packed epic - a tale of love, sacrifice and the strength of the human spirit.
1h 50m Fantasy Action Drama
Theseus is a mortal man chosen by Zeus to lead the fight against the ruthless King Hyperion, who is on a rampage across Greece to obtain a weapon that can destroy humanity.
explore
Check out more list from our community