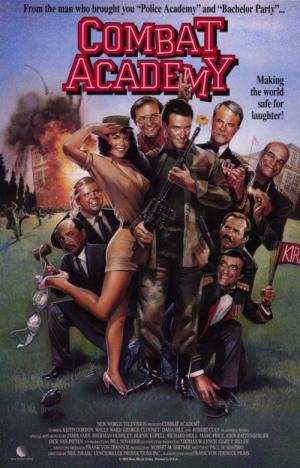 12 Best Combat High Movie ...
If you liked this film , you will for sure love these too! In this list we highlight some of the best films that share a very similar mood to 'Combat High', and are worth checking out.
1.
Nobody's Perfect (1990)
1h 27m Comedy
Four boys are sent, for different reasons, to a Military Academy. The life of discipline asks a lot of the four geeks. Of course these boys know how to make a party out of the hard times. Will they be "real men" after one year.
1h 34m Comedy Romance
Greg is near the end of his senior year in high school, wanting to go to the prom, eyeing Cinny (the school's beauty with brains) from afar, and regularly trippin', daydreaming about being a big success as a poet, a student, a lover. His mom wants him to apply to colleges, but Greg hasn't a clue. One of his teachers, Mr. Shapic, tries to inspire him, too. He finally figures out he can get close to Cinny if he asks her for help with college applications. But friendship isn't enough, he wants romance and a prom date. So, he tells a few lies and, for awhile, it seems to be working. Then, things fall apart and Greg has to figure out how to put the trippin aside and get real.
4.
Kicking the Dog (2009)
1h 31m Comedy
Twelve friends spend one last great summer together, partying and reminiscing, ultimately realizing they will soon go their separate ways in life
5.
The Curiosity of Chance (2006)
1h 35m Comedy Drama
It's the '80s once again, new wave angst and genderbending fashion are all the rage, but new kid at school, Chance Marquis, is trying to find new ways to stand out. Being an odd and somewhat awkward teenager makes him the target of the school bully. To deal with this dilemma, Chance turns to the opposite ends of the high school spectrum for help. On one side is the flamboyant drag queen and at the other, the varsity jock, Levi Sparks with whom Chance develops a unique friendship.
1h 34m Comedy
A wild weekend is in store for three high school seniors who visit a local college campus as prospective freshmen.
1h 35m Comedy
After falling victim to a humiliating prank by the high school Queen Bee, best friends and world-class geeks, Mindy and Jodi, decide to get their revenge by uniting the outcasts of the school against her and her circle of friends.
8.
Revenge of the Nerds (1984)
1h 30m Comedy
At Adams College, the jocks rule the school from their house on high, the Alpha Beta fraternity. So when a group of socially-challenged misfits try to go Greek, they're instantly rejected by every house on campus. Deciding to start their own fraternity to protect their outcast brothers, the campus nerds soon find themselves in a battle royale as the Alpha Betas try to crush their new rivals.
9.
Where's the Party Yaar? (2003)
1h 26m Drama Family
Set in the Ozark Mountains during the Great Depression, Billy Coleman works hard and saves his earnings for 2 years to achieve his dream of buying two coonhound pups. He develops a new trust in God as he faces overwhelming challenges in adventure and tragedy roaming the river bottoms of Cherokee country with "Old Dan" and "Little Ann."
10.
Cromartie High School: The Movie (2005)
1h 25m Comedy
When a good student named Kamiyama gets placed in a high school filled with disobedient kids, he steps up to the plate and takes a position of leadership. Urging the young slackers and rebels to clean up their act, Kamiyama is in store for a lot of resistance.
11.
House Party: Tonight's the Night (2013)
1h 20m Comedy
A pair of high school rappers have two major goals - make music and get hot girls. The best way to get both is to throw the biggest and best house party ever! The night of the party, one of the boys is grounded by his parents, so it's up to his best friend to break him out of his house confinement and get the party started.
1h 39m Comedy
In the spirit of "Superbad" and "Dazed and Confused," "The Weekend" relishes the moments that made being a teenager so excruciatingly painful and fantastic. Over the course of a single weekend, various teenagers discover that, perhaps, they don't yet have it all figured out: Rich kid Jacob throws an elaborate weekend party, Benjamin thinks he's going to marry his hesitant girlfriend...
explore
Check out more list from our community