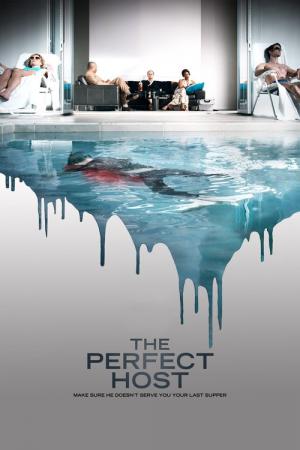 29 Best Movies Like The Perfect Host ...
If you liked this movie , you will definitely love these too! In this list we highlight some of the best films that share a very similar mood to '', and are worth checking out.
1h 27m Action Comedy Thriller
Needing a new partner capable of intricate cons, Richard Gaddis, recruits Rodrigo, a crook with a perfect poker face. The two plan a big-time scam: selling a fake Silver Certificate to currency collector William Hannigan. Rodrigo distrusts his new associate, but needs money to help out his ill father. The situation becomes more complicated when Rodrigo falls for Gaddis' sister, Valerie, drawing another player into the game.
1h 47m Drama Thriller
Novelist Paul Sheldon crashes his car on a snowy Colorado road. He is found by Annie Wilkes, the "number one fan" of Paul's heroine Misery Chastaine. Annie is also somewhat unstable, and Paul finds himself crippled, drugged and at her mercy.
1h 41m Action Thriller Crime
Tiffany, Charlie and Vernon are con artists looking to up the ante from their typical scams. They figure a good way of doing this is taking down Dean "The Dean" Stevens, a well-known cardsharp, in a rigged game. However, they first need enough money to enter a game with Stevens, so they decide to strike a deal with fellow crook Larry Jennings to scam a local gangster -- which turns out to be a bad idea.
1h 28m Comedy Crime Thriller
Gabriela, a Columbian immigrant, is obsessed with understanding violent crime. The current string of murders by "The Blue Blood Killer" of affluent Miami socialites provides her with fodder for her scrapbook of death. She lands a job with a post-murder cleaning service and during a Blue-Blood clean-up job, discovers evidence that police have overlooked.
1h 28m Crime Thriller Mystery
Single father and former cop Tom Cutler has an unusual occupation: he cleans up death scenes. But when he's called in to sterilize a wealthy suburban residence after a brutal shooting, Cutler is shocked to learn he may have unknowingly erased crucial evidence, entangling himself in a dirty criminal cover-up.
10.
The Underneath (1995)
1h 58m Thriller
FBI agent Dennis Quaid tries to catch a serial killer who kidnapped his son.
1h 57m Action Adventure Comedy Crime Thriller
Roper, a hostage negotiator catches a murderous bank robber after a blown heist. The bank robber escapes and immediately goes after the man who put him behind bars.
13.
Under Suspicion (2000)
1h 50m Thriller Crime Drama
A lawyer is asked to come to the police station to clear up a few loose ends in his witness report of a foul murder. "This will only take ten minutes", they say, but it turns out to be one loose end after another, and the ten minutes he is away from his speech become longer and longer.
15.
Righteous Kill (2008)
1h 41m Action Crime Drama Thriller
Two veteran New York City detectives work to identify the possible connection between a recent murder and a case they believe they solved years ago; is there a serial killer on the loose, and did they perhaps put the wrong person behind bars?
16.
Internal Affairs (1990)
1h 55m Crime Drama
Keen young Raymold Avila joins the Internal Affairs Department of the Los Angeles police. He and partner Amy Wallace are soon looking closely at the activities of cop Dennis Peck whose financial holdings start to suggest something shady. Indeed Peck is involved in any number of dubious or downright criminal activities. He is also devious, a womaniser, and a clever manipulator, and he starts to turn his attention on Avila.
1h 21m Thriller Drama
A slick New York publicist who picks up a ringing receiver in a phone booth is told that if he hangs up, he'll be killed... and the little red light from a laser rifle sight is proof that the caller isn't kidding.
1h 26m Thriller
Two kids find themselves in the centre of a deadly game of cat and mouse after taking a sheriff's cruiser for a joy ride.
19.
3000 Miles to Graceland (2001)
2h 5m Action Adventure Comedy Crime Thriller
It was an ingenious enough plan: rob the Riviera Casino's count room during an Elvis impersonator convention. But Thomas Murphy decided to keep all the money for himself and shot all his partners, including recently-freed ex-con Michael Zane. With $3.2 million at stake, the Marshals Service closing in, Michael must track down Murphy.
1h 37m Action Crime Drama Thriller
When Fred gets out of prison, he decides to start over in Miami, where he starts a violent one-man crime wave. He soon meets up with amiable college student Susie. Opposing Fred is Sgt Hoke Moseley, a cop who is getting a bit old for the job.
21.
The Last Supper (1995)
1h 32m Comedy Thriller Crime Drama
A group of idealistic, but frustrated, liberals succumb to the temptation of murdering rightwing pundits for their political beliefs.
22.
Kiss the Girls (1997)
1h 55m Drama Mystery Thriller Crime
Forensic psychologist Alex Cross travels to North Carolina and teams with escaped kidnap victim Kate McTiernan to hunt down "Casanova," a serial killer who abducts strong-willed women and forces them to submit to his demands. The trail leads to Los Angeles, where the duo discovers that the psychopath may not be working alone.
23.
The Art of the Steal (2013)
24.
Perfect Stranger (2007)
1h 49m Thriller
A journalist goes undercover to ferret out businessman Harrison Hill as her best friend's killer. Posing as one of his temps, she enters into a game of online cat-and-mouse.
1h 46m Mystery Crime Drama Thriller
The gruesome death of a prostitute brings suspicion on one of her clients, James Wayland, a brilliant, self-destructive and epileptic heir to a textile fortune. So detectives Braxton and Kennesaw take Wayland in for questioning, thinking they can break the man. But despite his troubles, Wayland is a master of manipulation, and during the interrogation, he begins to turn the tables on the investigators, forcing them to reveal their own sinister sides.
1h 33m Crime Thriller Comedy Mystery
A pair of cops investigating a drug invasion stumble upon a mysterious bank vault.
27.
The Real McCoy (1993)
1h 40m Action Crime Drama Thriller
Karen McCoy is released from prison with nothing but the clothes on her back. Before being incarcerated Karen was the bank robber of her time, but now she wishes for nothing more than to settle down and start a new life. Unfortunately between a dirty parole officer, old business partners, and an idiot ex-husband she will have to do the unthinkable in order to save her son.
1h 31m Drama Thriller
A naive young man assumes a dead man's identity and finds himself embroiled in an underground world of power, violence, and chance where men gamble behind closed doors on the lives of other men.
explore
Check out more list from our community